By Joe Dooley
The eagerly awaited Allianz National Hurling League semi-finals take place this weekend as a double header in the Gaelic Grounds in Limerick.   
Kilkenny and Galway square up in the first game at 2pm and this should be a cracker.  
The Cats, who are the defending league champions, will be going all out to retain their title and will approach this game very simply as another game that has to be won. 
They have huge competition for places in the team and every player that gets handed a jersey will want to hold onto it for the year ahead.
Brian Cody has been changing his starting selections for every game and I expect he will have a number of changes from the quarter-final. 
Both JJ Delaney and Jackie Tyrrell appear to be nailing down the central defensive positions with JJ in particular bringing a steadying influence to the full-back line. Michael Fennelly is also likely to push hard for a starting place on the team.
"Galway appear to be more determined this year"
Sunday's game will be a step up in speed and intensity from previous matches and it will be a sterner test for some of the newer players such as Joey Holden, Padraig Walsh and Mark Kelly in particular who are all pushing hard for inclusion in the starting 15 for the year ahead.          
Galway appear to be more determined this year and Anthony Cunningham has introduced a number of young players with Ronan Burke, Daithi Burke, Padraig Brehony and Cathal Mannion up front being the most impressive.
The return of Joe Canning to the starting team should give a huge lift to all involved. They had a comfortable win over Limerick last time out.
The westerners will aim to really test themselves against Kilkenny. It is all about the performance for the Tribesmen and let the result look after itself.
This potentially could be a very hard hitting game and I expect the Cats to shade it on the basis of their form in the league to date and the competition for places within the squad.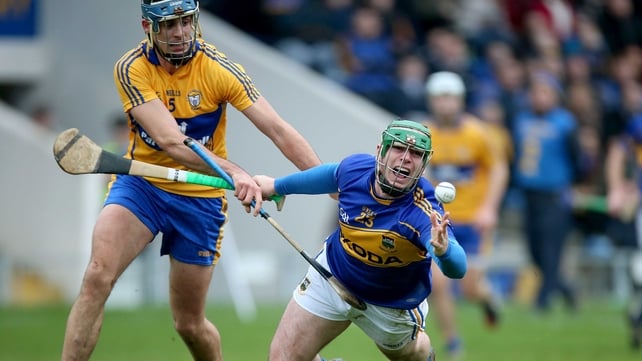 Tipperary take on All-Ireland champions Clare in the second game. Tipp had a relatively slow start to the campaign but in fairness to Eamon O'Shea and the players, they never doubted themselves and are now in a league semi-final following two very good wins over Dublin and Cork.
They will relish the opportunity to test themselves against Clare who, with Kilkenny, appear to be carrying the strongest panels in the game at the moment.
O'Shea's troops should still be concerned about the high scores they are conceding. Against Cork they shipped 4-19 in 60 minutes, having raced into a 2-04 to no score lead after ten minutes. 
On the plus side their forwards ran up a big tally of 3-25. High scores will not come every day so tightening up in defence is a must if they aim to win any titles this year.
Brendan Maher has been playing a captain's role and leading from the front with John O'Dwyer very impressive up front and both Noel McGrath and Seamus Callanan are also playing well. 
Clare have had a very satisfactory league campaign to date showing great character in winning some very tight games, which will have pleased Davy Fitz. 
They did make hard work of overcoming a well organized Laois team the last day out but deep down Davy will be glad to have gotten that tight game to bring his players down to earth.
Clare are not a county with a side board full of league medals so I expect them to be going all out to win on Sunday. It will be interesting to see what tactics Clare employ on Sunday. 
Clare are a very young, mobile and hungry side and I think they will have enough to get over their neighbours on Sunday who probably at this stage have one eye on 1 June and their championship opener with Limerick.
Hurling Relegation/Promotion Play-off
Offaly defeated Kerry in the relegation play-off last weekend. Kerry won all six games including the Division 2A final against Carlow - only to have to face Offaly to secure promotion to Division 1B. It was a game too many for the Kerrymen. 
The number of teams playing in Division 1A and 1B should be increased to seven with one down / one up in each group each year. The more teams that are playing Division 1 hurling the better for the promotion of the game.
Carlow are making great efforts to raise their standards and the successful run of Mount Leinster Rangers shows the quality of hurlers they currently have in the county. It is a pity they cannot compete at a higher level in the league and the same for Westmeath.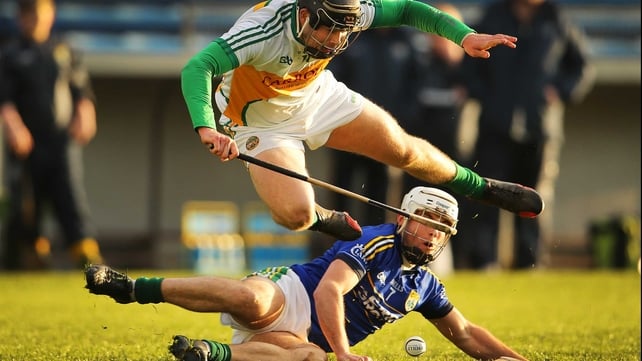 Offaly Hurling
Offaly have had a poor league campaign and they must now focus on getting ready for Kilkenny in Nowlan Park on 7 June and a lot of hard work needs to be put in ahead of this clash in front of the Sky Sports cameras. Everyone in the county needs to get players and management ahead of the summer campaign.
At club level in the county great effort is being put into underage coaching and the standard at senior championship is very respectable. However, there is a serious apathy towards getting involved and supporting the county teams.
Support at home and away games has been poor. We have been struggling to compete at colleges and underage levels for a number of years now and if not addressed, more worrying times lie ahead for Offaly hurling.