By Joe Dooley
Last weekend's Super Sunday final round of league games produced some fantastic hurling as most teams were seeking wins to ensure qualification for quarter-finals - and more importantly - to avoid the relegation play-offs. 
All teams have now completed five rounds of the league in a tight six-week period and a number of observations can be made this early in the season. 
The current league format, particularly in Division 1A, where every game is fiercely competitive, puts intense pressure on managers and players to get results very early in the season with little room for slip-ups or trying out new players. The requirement for a strong, fit panel of up to 30 players is more crucial than ever.
The high levels of fitness already reached by all teams is a compliment to all involved. This requires a lot of organisation and hard work by management teams to ensure players are fully conditioned and aerobically fit for the commencement of the league. Players are also making huge personal commitments with pre-season training commencing earlier every year.   
"Kilkenny, Clare and Tipp in particular have being finding the net regularly in games"
Overall, the standard of hurling has been excellent with some very exciting and high-scoring games. Kilkenny, Clare and Tipp in particular have been finding the net regularly in games, while Waterford have only scored one goal while conceding 13. It takes a lot of hurling to score the differential of 36 points.
Almost all teams are now playing the possession game, which is based on supporting the man in possession and also involves a lot of short 20-, 30-, 40-yard passes and running off the ball. I would hate to be back hurling at corner-forward hoping for a quick, first-time pass from out the field.  
The consistent high level of performance of some players has also caught the eye with Colin Fennelly, Padraig Walsh, Mark Kelly (all Kilkenny), Seamus Callinan (Tipperary), Pat Horgan, Seamus Harnedy (both Cork), Conor McGrath (Clare), Lee Chin (Wexford), Conor Cooney (Galway) and Alan McCrabbe (Dublin) all being to the fore at key times for their counties.
Kilkenny's approach to the league has been the most radical with different team selections each day with the result that there is now huge competition for places. It would appear that only Clare can match that strength in depth in their panel at the moment.
While Cork have struggled a little in Division 1B, I was very impressed with their athleticism and mobility. If they could string together more incisive movements up front to create goal chances, then they will take plenty of beating before the year is over. They are also working hard to find new players.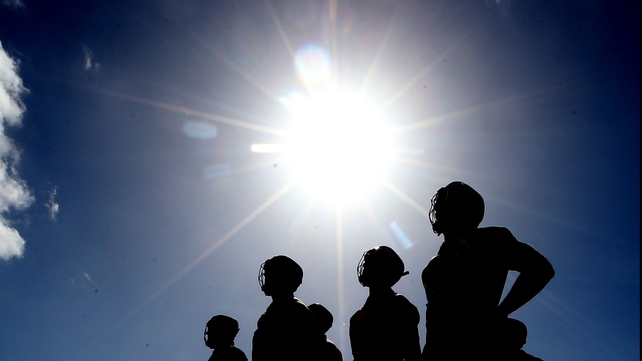 Looking forward to Sunday's games
Tipperary got through by the skin of their teeth last weekend and face an improving Cork in Thurles. These two great rivals always bring the best out in each other. Tipp will have been buoyed by last weekend's result and the intensity of playing in Division 1A might be enough to see them come through by a narrow margin. This could go either way. 
Clare are away to Laois and have been very impressive despite playing below full-strength teams and will be too strong and mobile for Laois. Cheddar Plunkett is doing great work with Laois and they can be very happy with their progress so far this year. 
Kilkenny had a very impressive win over Waterford last week and travel to Wexford this weekend. Do not be surprised if this is much closer than expected. Liam Dunne is doing great work with Wexford and is building a strong panel. The competition for places in Kilkenny should ensure they win with a few points to spare.
Limerick have struggled in their last few games and an improvement will be required if they hope to get one over Galway at home at the Gaelic Grounds. Galway have strengthened their team during the league and, with the return of the Portumna players, I expect them to shade this game.
Waterford and Dublin face each other in the Division 1A relegation play-off.  Home advantage should be worth a couple of points to Waterford who have suffered big defeats in the last two weeks.  This is a pressure game for both teams. Dublin's desire to not want to go straight back down to Division 1B should be enough to drive them on to victory.
Offaly and Antrim played a meaningless game last week which got the headlines for the late start to the game. Sunday's rematch in the Division 1B relegation play-off game in Ballycastle will be a much livelier encounter. Offaly have struggled in the league this year and are still minus a few players with injury. Both Cork and Wexford were lucky to come away from here with wins. This game should go down to the wire.  
Live radio coverage of Saturday's Allianz League action on An tSraith Náisiúnta from 19:00 on Saturday 29 March on RTÉ RnaG and RTÉ.ie (Worldwide). Live coverage and updates of all Sunday's action on Sunday Sport from 14:00 on Sunday 30 March on RTÉ Radio 1, RTÉ RnaG and RTÉ.ie (Worldwide). Television highlights on League Sunday from 19:30 on RTÉ Two and RTE.ie (Ireland only).