Almost one week on from qualifying for their first-ever Olympics, members of the Ireland hockey team appeared on Friday night's Late Late Show.
Ireland secured their ticket to the Tokyo Games following a dramatic two-legged victory over Canada which was settled by shootout that went to sudden death.
Bethany Barr, who scored a crucial goal in that shootout to help seal an incredible win in Donnybrook, was joined by her twin sister and Ireland teammate Serena in the Late Late studio.
During the chat, Bethany told an inspiring story about their older sister Charlene, who was born with Cystic Fibrosis. She sadly passed away in 2010, but her desire to help others has led to the founding of 'Charlene's Project.'
"In 2008, she was told that she needed a double-lung transplant to survive," Bethany revealed.
"She had been out to Uganda with our whole family and she decided that if she had to drop out of school that she was going to raise money to build a school in Uganda so children there could get an education.
"Sadly, Charlene passed away before the first school was built but we as a family have kept her vision alive. So in 2020 it'll be 10 years since Charlene passed away and we're aiming to build a secondary school for over 6,500 kids in Uganda."
Bethany Barr went on to explain that she was in Uganda working with Charlene's Project during Ireland's silver medal heroics in last year's World Cup final.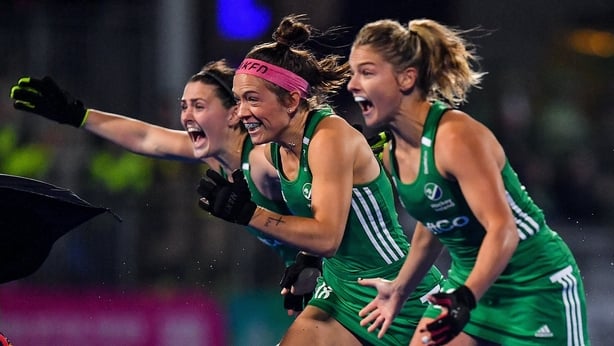 "It was actually funny, you could only watch one channel in all the TVs in the guest house. So I had the whole guest house watching the World Cup final.
"I was out there doing work with Charlene's Project doing education and sports, teaching hockey. That's something that's very close to our family and we've been back and forth to Uganda."
Bethany also said that the date of Ireland's Olympic qualifier victory over Canada last weekend coincides with the date of their sister's passing, which makes Ireland's achievement all the more poignant.
"Charlene was at one of our school hockey games before she passed away on 31 October which was a few days before the qualifier. I think that was something special because we know she would have been there and she supported our hockey so much.
"It's been a special time."
Faith is hugely important to the Barr sisters. Bethany was under immense pressure when she stepped up to take her penalty in that dramatic shootout against Canada.
Ireland were trailing 3-1 at the time, with their Olympic dream slipping away from them. But Bethany says that her faith in God helped her ensure she hit the target.
She started by explaining the significance of a cross drawn on her arm which says 'AO1'.
"It's something really important to us. We would really aim to play to an audience of one which is Jesus. Our faith is something that's very important to us.
"When I went up to take the penalty, we were 3-1 down and it was something I kept repeating to myself - 'audience of one.' Because I knew if I missed, our dream was no longer going to be alive.
"It was something that gave me peace. I wasn't doing it for myself, I wasn't doing it for the team, I was doing it for God."