Shane Lowry expects sharing a playing group with Phil Mickelson at the US Open will be a "wild" experience.
The third major of the year tees off on Thursday at a time when the advent of the breakaway Saudi-backed LIV Golf Series is a casting a long shadow over the sport.
Six-time major winner Mickelson has been at the heart of the debate.
He has joined the breakaway and played at the inaugural event at the Centurion Club last week, having emerged from a self-imposed period away from competition after controversial comments about the breakaway series and the PGA Tour were published in February.
Lowry is due to tee off with him and Louis Oosthuizen of South Africa at 6:47pm Irish time.
Speaking to RTÉ Sport's Greg Allen ahead of that opening round, Lowry anticipates a higher level of intensity given the company he will keep, but will not allow the furore to be a distraction.
"Regardless of whether Phil had joined LIV in the last few weeks or not, playing with him here in Boston is going to be pretty wild anyway," he said.
"Because the crowds are going to be loud. Judging by the reception he got (on Wednesday) on the putting green on the first tee, they're going to be cheering for him I think.
"It's whatever way I want to be with it. I could make an excuse and say it's going to be a distraction but it's not.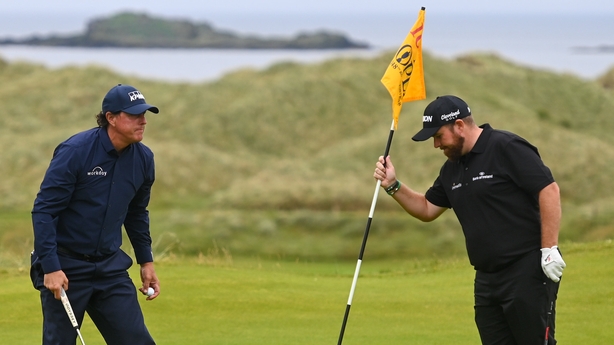 "I'm a big boy and I'm well able to look after myself. I'm going out there and playing with one of the marquee groups there this week and there's nothing I can do about who I'm playing with. I just need to look after myself."
He added that being grouped with Mickelson for the early rounds of a major could be a good omen based on past experience.
"The last time I played with Phil in the first two rounds of a major, it was Portrush in 2019 so hopefully that has some sort of an omen about it," Lowry said, referencing his maiden major win at The Open Championship.
"I've been long enough playing the game out at the back end of the field late on a Thursday or a Friday with two guys that no one's really heard of so I'm happy to be a in a big group and I'm happy that there are going to be big crowds out there. Hopefully I can feed off them and play good golf."
On his own chances of contending for victory and adding a second major to his collection, the Offaly native feels not forcing things could stand him in good stead.
'I'm hoping that the golf gods will pay me back, hopefully in a big way on a week like this or St Andrew's in a few weeks'
"Obviously I want to win and I do feel like the last couple of weeks have been a little bit frustrating," he said.
"But I still need to keep telling myself I'm playing good golf and putting myself there most weeks. It's quite a consistent run in my career and I'm pretty happy with the golf that I'm playing.
"I'm pretty comfortable out on the golf course so patience is everything in this game and I just really need to be patient over the next few months.
"I think if I am, I'm hoping that the golf gods will pay me back, hopefully in a big way on a week like this or St Andrew's in a few weeks.
"But if not, it'll pay me back in some way possible I suppose."