Greg Norman is determined that professional golfers will no longer have to slum it in economy class.
You might think that the Great White Shark had enough regrets from his career, given he was in the habit of frittering away one or two majors a year at his peak.
But judging by his extensive recent interview on Sky Sports News, what keeps Norman awake at night is not blowing the six-shot lead at Augusta in '96 or Larry Mize and Bob Tway holing miracle shots in play-offs against him.
No, Norman is still sore at not getting his due financially, at all that 'value' that went unrealised.
"I felt sorry for me in my career, I felt sorry for every top player in the game of golf, who carried the burden of being the best player in the world that we didn't maximise our true value."
The Shark was quick to concede that "we made a lot of money" but is still adamant that he and the rest of his generation of modest millionaires were cruelly short-changed.
He is bitter on behalf of himself and the other big cheeses of his era - the Faldos, the Seves, the Freddie Couples, hell even the Tom Kites and the Ray Floyds could be thrown in there - that they never got to roll around in the kind of dough that CR7 pulls in.
"Did we make our true maximum value like Ronaldo does? Heck, no!" he cried.
Norman sees his generation of golfers as akin to those former professional footballers in the 1970s and 80s unable to live off the fat of their sporting earnings and forced by economic necessity to become pub landlords.
By contrast, what Norman's Super Golf League offers to this era of players is "generational wealth", thanks to the largesse of the Saudi Arabian Public Investment Fund.
This is the sore point. Norman insists the Saudis aren't his bosses even though it is they who are putting the money up. He has mounted a couple of inelegant defences of the Saudi regime and what he insists is their willingness to change.
The Saudi regime, Norman conceded, has some work-ons and some learnings going forward.
His remarkably airy and glib "we all make mistakes" comment in response to questions about the brutal murder of Jamal Khashoggi - which US intelligence agencies have concluded was approved by Saudi crown prince and PIF chair Mohammad Bin Salman - was condemned this week by Amnesty International. (More appropriately, Norman did also describe the murder as "reprehensible").
On the Saudis' deplorable record on LGBT issues, Norman eschewed the usual 'I have many gay friends' line, noting: "I'm not sure whether I even have any gay friends, to be honest with you."
At other times, he fell back on the always trusty 'You think our country/golf tour is so innocent' approach.
"The European Tour was connected with the Saudis, right? Happy to take their money for years and years. The PGA Tour is in China. Uighur issues. Happy to take their money. Put it in the bank. No problem."
Norman is a good old mate of the former US President Donald Trump.
The PGA Tour, no one's idea of a cold house for Republicans, was sufficiently bothered by the 6 January insurrection that they took the 2022 PGA Championship away from Trump's course at Bedminster, giving it to Southern Hill in Tulsa. This is a last-minute switch by golf standards, given they already know where the 2037 Ryder Cup is going to be held.
The Super Golf League aren't weighed down by the same moral qualms and the first eight events include two at Trump courses, one at Bedminster and the 30 October finale at Doral in Miami.
Regardless of the problems in the background, Norman isn't bashful about promoting the power of golf to shape the world.
"The game of golf is an economic indicator," he said. "The game of golf will take a communist country and make it a free market capitalist country."
Having brought down communism, the game of golf has its sights trained on Islamic fundamentalism.
According to Norman, the next generation of Saudis are throwing off the yoke of Wahhabism - and they are doing so by the mechanism of golf. "They want to change that culture. And you know how they're doing it? Golf."
The Shark insists that LIV is "not a breakaway" and he has no interest in feasting on the carcass of the PGA Tour. Rather, the Super Golf League is purely "additive" (a word he uses a great deal) to the golf eco-system. To that end, they are not organising tournaments that collide with events of historic significance, the majors, etc. Alas, the Irish Open, to no one's great surprise, is not protected. The SGL's second event at Pumpkin Ridge in Oregon is on the same week.
The prize fund of the Irish Open has doubled this year, rising from €2.5m to €5m. The prize fund in Oregon is just over €19m.
One of LIV's big ideas is the expansion of team golf. The final tournament of the year at Doral is a team matchplay event, consisting of 12 teams of four.
In the Sky interview, Norman has outlined a vision of team golf that sounds somewhat reminiscent of Formula 1, complete with 'Team Principals' and a transfer market and the like.
"Their (the players') commitment to LIV when it gets to the League in 2024 will be because they will own a franchise, they'll be part of a franchise. They'll be part of a 'soccer' team that's going to grow in value. You'll be able to say 'I want to be traded for x'.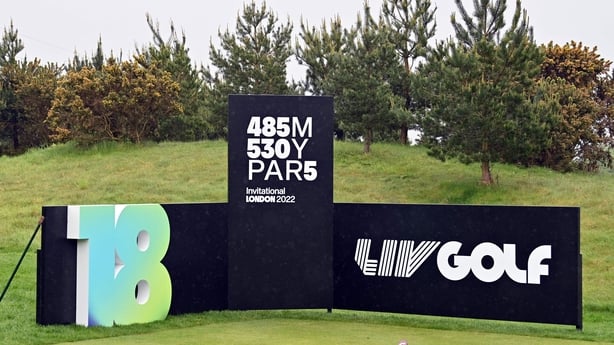 Indulging in further tedious business jargon, Norman started fantasising about being a Team Principal and all the added 'value' that would have flowed from that.
"I wish I had this opportunity to be a Team Principal. I would be looking at my Team Principal value as being a multiple factor, like 10x or 12x of the revenues I could generate as 'Team Shark', for example."
It's unclear yet whether these Team Principals will in fact be playing Team Principals or non-playing Team Principals. The latter would be more amusing and would certainly add to the sum of nonsense on display.
We imagine some old codger or Champions Tour luminary buzzing around on a golf buggy. Or better still, sitting in the butler cabin in front of a bank of monitors like Toto Wolff. Perhaps arguing via walkie-talkie with Bryson DeChambeau that team orders insist he lay up on this occasion. And then deciding whether or not to trade DeChambeau when he bombs it in the water anyway.
Norman's vision is that the fans will support these franchises in much the same way they do American football teams.
Judging by the mantra on their website, the Super Golf League is more relaxed about crowd etiquette than the elders of the PGA Tour, in the same way that the PDC dispensed with the 'best of order' appeals in the darts. They've evidently concluded that this genteel fuddy-duddyness is holding the game back.
"Teams to root for. Colors to wear. Cheers and Jeers welcome", the motto on the website reads.
In the SGL, every day is Brookline '99 with Monty on the tee.
Who will be on the tee? Norman remains tight-lipped on the identity of the players. According to LIV, 19 of the top 100 have sought to play in the inaugural event at Centurion, including six of the top 50.
Lee Westwood is widely assumed to be one them. Martin Kaymer, likewise. After a recent exchange with a disobliging PGA rules official, Sergio Garcia blurted out that he "couldn't wait to leave this Tour."
And what of Big Phil, another great of the game with a keen sense of his own value. The man once known on Tour as 'FIGJAM' has labelled the Saudis "scary m***********s" but was prepared to overlook these qualities for a shot at re-shaping the PGA Tour.
Mickelson is not a man who is easy-going when it comes to money. He once corrected golf writer John Feinstein for claiming that "your number one issue is how much you pay in taxes", saying instead that it was his "No. 1, no. 2, no. 3, no. 4 and maybe no. 5" issue.
It's not the first time Norman has tried to form an upstart Tour. In late 1994, himself and Rupert Murdoch dreamt up an eight-event World Golf Tour for the game's high rollers which would offer astronomical prize pots.
The Washington Post said at the time that "Norman's gall and greed stunned much of golf". At a meeting of the players, then elder statesman and beloved grandfather of the sport Arnold Palmer made clear he regarded the whole enterprise as a disgrace, killing the project.
But the Shark appears determined to go the whole hog this time. With Saudi backing, he is LIVing his best life.