Colin Montgomerie has criticised Padraig Harrington's captaincy for the 2021 Ryder Cup at Whistling Straits, suggesting that mistakes in pairing and selection contributed to Europe's record defeat.
Against a formidably strong US team on home soil, Europe struggled from the first, eventually slipping to a 19-9 loss, their worst since the Great Britain & Ireland team was expanded to include the entire continent in 1979.
Montgomerie, one of the most celebrated Ryder Cup players of all-time, said that better decision-making might not have altered the result last September - but would have prevented it turning into a record loss.
"Last year, too many mistakes were made," the Scot told the BBC. "Yes the US played well but Europe didn't play to their potential for the first time in my memory and we have to do that to have a chance in Rome.
"It was a heavy and poor defeat. We need to have a bit of a rethink about how we pick the team and how we get our top 12 playing.
"Were our top 12 playing in that Ryder Cup? Possibly not. Were they playing in the right groups? Possibly not. Would it have changed the result? Possibly not.
"But it wouldn't have been a record defeat and that was a shame, so we've got to get that back on track in a hurry.
"We need to find another Viktor Hovland and another Jon Rahm and quickly.
"There are a number of talented guys out here, they've got to show the winning mentality and not just win once, but win again and again and prove they can do this again and again."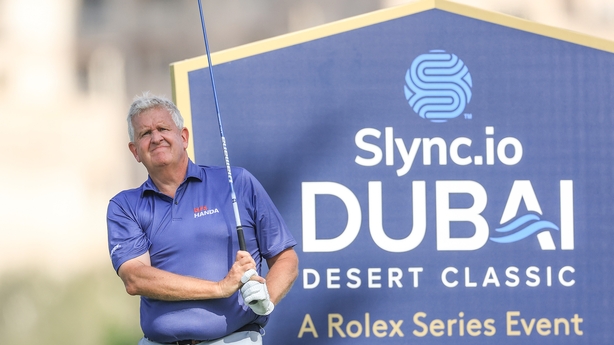 Speaking to RTÉ's Greg Allen in November, Harrington insisted that he wouldn't change any decision or partnership, noting that many of the critics hadn't considered the rationale behind his decisions from all angles.
"It's easy when you're just picking on one point and arguing it but you're not giving the counter(point) or the knock-on effects," Harrington said.
"I was a bit frustrated because I wanted to get back into that and explain things and say 'yeah, that sounds good but...'
"I wouldn't change anything. Nothing. No decision at all, no partnership. I fully understand why every decision was made at that moment in time and why it was made. I worked very hard with the vice-captains. There were no snap judgements or anything like that. We were very well prepared."
Montgomerie added to the momentum currently gathering behind Luke Donald to succeed Harrington as captain. The former World No. 1 is favourite to captain Europe in Rome in 2023, with Lee Westwood having ruled himself due to his playing ambitions.
"The safe pair of hands is Luke. The safe pair of hands is safer than another risk and we don't need another risk at this time because if we lose in Rome I don't fancy our chances in New York at Bethpage Black (in 2025).
"The crowd are going to be unruly and that's only because a New York crowd is loud and unruly. We've got to get a result in Rome or we might lose three in a row."