European Ryder Cup captain Padraig Harrington admits the raucousness of the American crowd at Whistling Straits was "above expectations" but the Dubliner doesn't believe the US players went too far when whipping up the crowds.
Europe shipped a record defeat in Wisconsin, losing by the widest margin since the GB & Ireland side was extended to encompass the entire continent in 1979.
With trans-Atlantic travel curtailed due to the pandemic, the crowd was even more one-sided than usual in favour of the home team and while the atmosphere wasn't held to be as nasty or contentious as in previous events in 1991 or 1999, some European players and fans did take exception to the behaviour of the galleries.
Shane Lowry recounted afterwards how his wife Wendy received "dog's abuse" while Harrington previously disclosed that parents of players were upset at what they were hearing.
However, when reflecting on the experience with RTÉ Sport's Greg Allen, Harrington was relatively philosophical about their treatment from the home crowd, acknowledging that the Americans often return from Europe with similar gripes and stressing that the European leadership managed to keep word of these comments from reaching the team room.
He did, however, allude to the fact that the smattering of European fans - living in the United States - who were in attendance had reported feeling "intimidated" if they cheered Europe's play.
"Look, we've had a long history of wives being abused. American wives will say they're abused when they play in Europe. This has been going on since '99, where people inside the ropes are always getting a bit of stick," Harrington told RTÉ Radio 1's Saturday Sport.
"None of that stuff came into the team room. If someone wasn't happy, they weren't bringing it back to the players or the rest of the team. This is stuff we heard afterwards.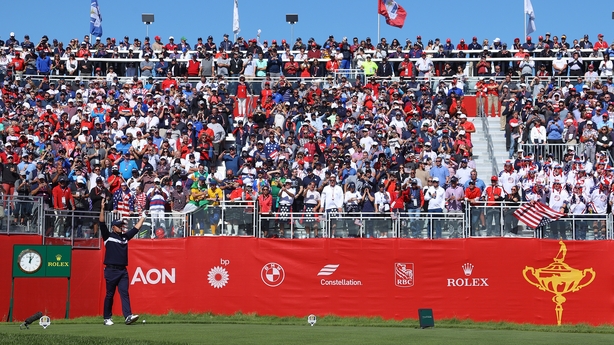 "I guarantee you if you talk to the American wives, when they come over to Europe, they're upset about what's being said to them out on the golf course.
"Some nasty things are always going to be said by people, thinking they're being funny with a few drinks on them, but it's not really funny.
"This time around, the crowd were above expectation (in raucousness). Since then, I've talked to European fans who were living in the States, who were there, and they were intimidated into not cheering. Every time they cheered or clapped, they were getting abuse outside the ropes.
"Inside the ropes, if somebody said something to us, they were kicked out. But the European fans outside the ropes did not have a pleasant experience, from what I hear.
"Obviously, there'll be more people from both sides in Italy. It would actually be more raucous if you had two sets of people cheering. The atmosphere wasn't as electric as it has been with other Ryder Cups (for that reason)."
"I guarantee you if you talk to the American wives, when they come over to Europe, they're upset about what's being said to them out on the golf course."
While the European captain drummed it into his players that stray comments from the galleries were irrelevant to the action, he nonetheless insisted beforehand that it be made clear that fans would be ejected for abusive behaviour - and this policy was adhered to.
"I insisted that there was an inclusion on the tickets that people would be kicked out for abusive behaviour. They advertised it around the golf course. And they did remove people for abusive behaviour.
"I reminded my players that nobody is coming over the ropes. No matter what is said, people shouldn't take it too seriously.
"Because at the end of the day, it really is only words. That's all it is. As long as they don't interfere with players before they hit the shot, everything else is words.
"There has to be a strict policy of not letting anybody interfere with play - like Lee Westwood in 2016 had a three-footer on the last green and he just wasn't let hit that putt under normal circumstances. They just kept shouting as he got over the ball. He wasn't given that moment to settle over the ball. He stood off it twice.
"Eventually, he just had to hit it, knowing that at any moment, somebody could shout out or do something. That has to be stopped because you have to let players play.
"Listen, the crowd (at Whistling Straits) were above expectation but remember, we did lose heavily. In Wisconsin, the local fans are generally pretty good sports fans. And they are very nice and welcoming as a state. They were good."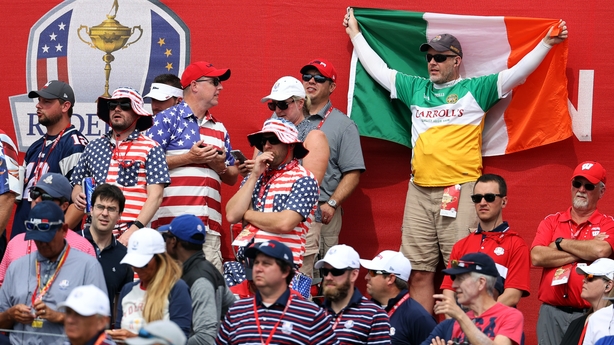 Attracting much disapproving comment on this side of the Atlantic were the American pair of Daniel Berger and Justin Thomas, who were filmed whipping the crowd into a frenzy prior to the Saturday foursomes. 2017 PGA champion Thomas was captured necking a can of beer and slamming it on the ground to entertain the home support.
While some objected to the spectacle, Harrington is adamant the Americans "didn't go too far" with their antics, though, in keeping with the spirit of the psychological battle, he did make a point of trying to eyeball and discourage them.
"No, I don't think they went too far. I did stop them doing it but I don't think they went too far," Harrington recalls.
"That's competitive play. That's what you do. Three of the four (American) players who weren't playing on Saturday came out and they started to giving away freebies on the first tee to get the crowd excited before the first group to get the atmosphere going.
"We (Europe) start singing songs 20 minutes before the first tee. You go down to a Ryder Cup in Europe and they're singing songs for 30 or 40 minutes, to get that atmosphere going.
"It's a very American thing as well. I know for us Europeans, it looks odd, but it's an American thing to shotgun a beer. I don't think they went too far but I did skip my lunch that day, because I saw them doing it, and I went down to the first tee.
"In that particular instance, I went down and stood on the first tee for 20 minutes before the tee time and then never left the tee box in between tee times so that they couldn't get back on the tee box and start rising the crowd. When I arrived on the first tee, they left and didn't come back."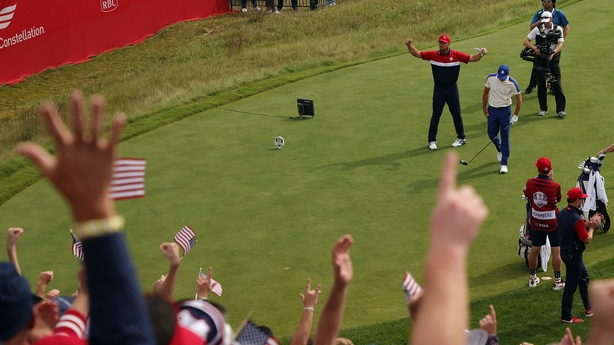 Reflecting on the aftermath, Harrington admitted that he initially found it difficult not to respond to some of the criticism flung his way over decisions taken during the week.
"You're frustrated when you lose. I don't read anything that's written about me. But you hear stuff back and everything that's said sounds very logical when it's in isolation.
"It's easy when you're just picking on one point and arguing it but you're not giving the counter(point) or the knock-on effects. I was a bit frustrated because I wanted to get back into that and explain things and say 'yeah, that sounds good but...'
"I think I've got through it now. I'm not so frustrated. I owe a duty of care to my players first and foremost, and to the European Tour, and the fans. Yes, we let the fans down in the sense that we didn't win.
"But from the players' perspective and, I assume the Tour, I did as good a job as could be done. That's all I could control."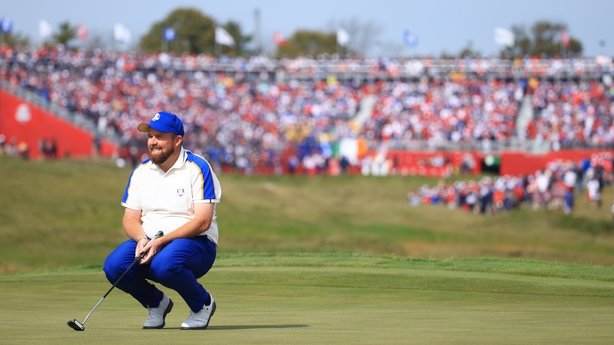 Poring over the stats in the wake of the loss, Harrington found that the biggest disparity between the teams was in driving - but even that was marginal, with the Americans a couple of percentage points more accurate and a mere four yards longer.
However, over the course of the three days, this marginal advantage added up to a big difference on the scoreboard.
"Logically, with the bookmakers, we were heavy underdogs," Harrington says. "I had convinced myself we were going to win and my team believed they were going to win on Friday morning.
"Ideally, we would have had a fast start and would put them under pressure and things would start to fracture in their team. We would have momentum, we would quieten the crowds. That would be the ideal.
"Yeah, we got a bad start but we felt we could come back from it. There's no doubt, in hindsight, that momentum was too much to overcome.
"I saw the stats afterwards. The biggest difference was driving. They hit 1% more fairways, they hit it 2% less time in the wild areas, and they hit it four yards longer. That's all the difference in the driving but it was over all shots. Incrementally, they were a little bit better off the tee but at the end of the day, it comes to a big difference.
"As I said to my players afterwards, yeah, we lost and we lost heavily. But it's only a little difference. Nobody needs to change anything. They just need to keep doing their own stuff, if they have belief in what they're doing. There isn't as big a difference as people would like to lead them to believe there was."
Harrington, who praised the US team and leadership for being "well-schooled" and avoiding their mistakes of yesteryear, insisted he wouldn't change any decision he made during the week.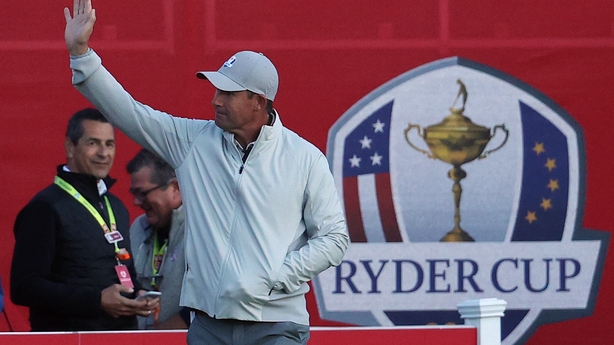 "I wouldn't change anything. Nothing. No decision at all, no partnership. I fully understand why every decision was made at that moment in time and why it was made. I worked very hard with the vice-captains. There were no snap judgements or anything like that. We were very well prepared.
"I managed to be a captain to everybody in that team. Nobody got left out. The US went with four pods of three and many of those pods didn't mix with other groups in that team. Whereas, we had one pod of 12. We had a very, very good team atmosphere. It really was a great week in that sense, in terms of team bonding.
"Looking back, what would you change? I'd change Covid! We were on top of the world in 2018 and the US were at the bottom. How low did they feel in 2018? Maybe that extra year helped them ascend to the top.
"In terms of decisions, no. When I look back on it, I know why that decision was made at the time. The only thing I'd change is the result."