The 2021 season started with ten walks to raise funds for Children's Health Ireland at Crumlin and ended with Collin Morikawa asking him for tips on how to attack the Jumeirah Golf Estates in Dubai – it's been another whirlwind year for the world's most recognisable disabled golfer Brendan Lawlor.
The Louth man has been at the forefront of the game's development both on and off the course and although he is marginally behind world number one Kipp Popert in the rankings, his is a career that continues to trend upwards at an extraordinary rate.
Lawlor has enjoyed plenty of highs since his first European Disabled Golf Association [EDGA] event – a second-place finish in France in 2019 – and last year he became the first disabled golfer to compete in a European Tour event as he teed it up at the ISPS Handa UK Championship at The Belfry alongside the likes of Martin Kaymer and Lee Westwood.
Highs have followed highs and he rounded off a brilliant 2021 by claiming the EDGA Dubai Finale by four shots at Jumeirah Golf Estates in November, an event played alongside the European Tour's World Tour Championship.
"It definitely helped to have a lead going into the back nine but it still doesn't put away the nerves that you have," he said of that success.
"You can either crumble under those nerves or push through it and thankfully the shot on 17 was probably the most clutch shot I hit in my life. I hit it to three, four feet and holed the putt.
"I had a few interviews that week and people were asking me about Collin [who won the World Tour Championship on the same day].
"I was telling people he was very Tiger Woods like, he gravitates towards the green and he has a big presence about him.
"When we were chatting though he is a normal guy, we were chatting about normal things.
"What I love about the pros is that they're accepting us for our talents. He saw that I went out on shot two under par on one of the hardest courses in the world. He wasn't looking at that as a disability golfer doing well, he was basically saying 'holy s**t, you hit two under on that course? That's outrageous.'
"They're chatting to you as pro to pro rather than disability pro to pro, which is lovely."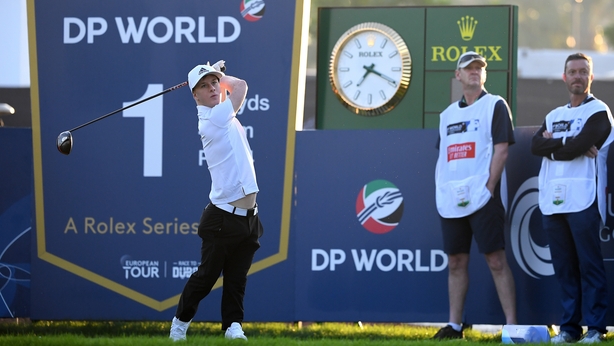 That respect for Lawlor is understandable given the obstacles he has had to overcome in his life. He was born with a rare bone growth condition called Ellis-van Creveld syndrome with those affected generally have shorter limbs. Lawlor himself stands at 4"11'. Crumlin Hospital was a rock in those early years as he underwent numerous surgeries and treatments and he was delighted that he could give something back this year.
With his family providing the ideal support network and his grandfather Bill creating a mini course on the farm when Lawlor was a youngster growing up, golf soon became the epicentre of his life.
And all that effort, all those hours on the range hitting ball after ball culminated in victory at the EDGA Dubai Finale in November, holding off the challenge of Canadian Kurtis Barkley to make it three wins in the five-event series.
"We got word that an event was going to happen in June, and that was the Welsh Open. I had the World Invitational too so it was a double thing. We started to get the game ready for that.
"It was very hard to motivate yourself when you didn't have anything to play in. You were going to the range and hitting the ball for the sake of it.
"As soon as we got the word, I got the head down, knuckled down and worked my ass off.
"I went to Wales and won it by six shots and then I went to the ISPS HANDA World Invitational presented by Modest! Golf and thankfully won that as well by six shots.
"I played really well, but the score didn't reflect how tough it was to win. These guys were on my case from early on in the round and I pulled away in the latter stages.
"Dubai was just the icing on the cake."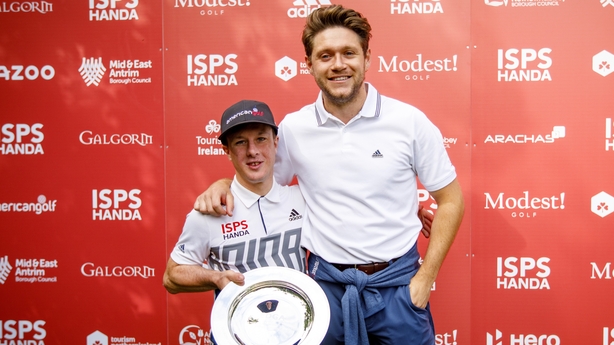 The audience watching his brilliant tournament-clinching approach at the 17th was likely one of the biggest ever for one of his shots as Sky Sports had committed to extensive coverage of the season-ending event.
That, along with the ever-increasing interest from major brands, is crucial to breaking into the public conscious, Lawlor said.
"To move the game forward in disability golf is a huge aim, trying to get more people into the game. Seeing what can be done.
"When you have big brands like Sky, Taylor Made, Adidas supporting disability golf, it helps your case to promote the game when these people are behind you every step of the way.
"You're not a voice saying these things, you're a voice with these big organisations behind you and you're not on your own. You need to express how you feel and the message you're trying to present.
"Before we were playing events and we might have had one hole shown. On Sky this year there was a full-on documentary about what we can do and then the coverage of the event itself.
"Disability golf has to show what we can do. Playing behind closed doors, there isn't much traction. To help people bring up the game they need to be able to see what we can do. We need the TV rights, all that sort of stuff, to spread the message.
"I am represented by Modest! Golf and what I love about them is the inclusion side of it.
"They have the ladies, they have the males and then to be the first management team to sort of fly the flag for disability golf, they are reinventing the wheel quite a bit.
"They never treat me any differently, whatever they do for Tyrell Hatton [also represented by Modest! Golf] they do the exact same thing for me and that's why I have a lot of respect for these guys. They treat me as a normal person.
"Niall [Horan, joint founder along with Mark McDonnell] has a pretty hectic schedule but it's outrageous how supportive he is. It's not money for him, it's just pure passion for the game and just trying to help people and that's what I love about him.
"He's just a normal lad, likes going out for pints with the boys on a Saturday and money never went to his head. He'd do anything to help anyone. He's very well respected in Ireland, and rightly so."
Lawlor isn't happy just to play golf and let those things fall into place over time. He's pushes and then pushes a bit more, not content to wait.
21 year-old Brendan Lawlor from Dundalk is currently the third best disabled golfer in the world. This weekend he has the chance to go to World Number One 🏌️🥇 pic.twitter.com/VwGEcd2NYX

— RTÉ News (@rtenews) November 8, 2018
He has achieved so much in the game already but feels there is a long way to go yet. Increased prize money is one thing that will encourage more disabled golfers to take it seriously as a career and while coverage of the EDGA Tour is growing, more eyes on the screen can only show the world what these players can do. A Ryder Cup style tournament is something else he would love to see introduced.
However, there is one dream that stands alone for Lawlor – and that is to represent Ireland at the Paralympics.
When golf returned to the Olympic roster at the 2016 Games in Rio it seemed a likely outcome that the Paralympics would follow their lead.
As it stands, it is still not on the agenda, something that greatly frustrates Lawlor. He does recognise the obstacles though, and he has commended golf's top brass for at least explaining to him why things have moved slowly.
"That would be a massive goal, it'd be a dream to represent your country.
"I spoke to some high-up people this year, I had a talk to Jay Monahan [PGA Tour commissioner] and Keith Pelley [European Tour group chief executive], some of the biggest organisations in the world, and they're giving me valid reasons for why it's not in.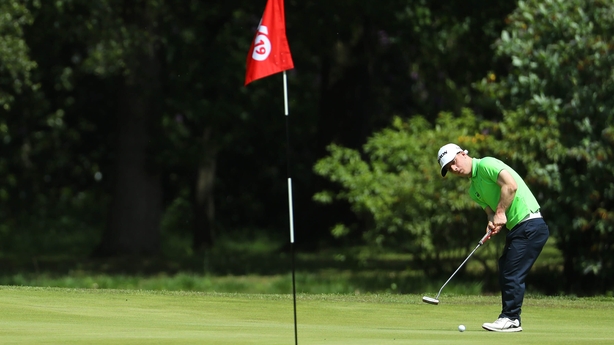 "It's nice to get the explanation. You're sitting at home thinking 'why the feck is this not in the Paralympics' but these people are explaining the nitty-gritty.
"It's a four-tier system and it has to pass all four tiers but there could be 20 sports going for that one spot."
Don't take that as acceptance from Lawlor, though. Ask him if he thinks he will ever play for Ireland in the Paralympics and the answer is emphatic.
"2028 will be the year, I know that. It can't be ignored now; we've gained too much traction.
"A lot of hard work has gone in and we're putting up a really good fight. We will 100% get to Los Angeles in 2028."
No better player to represent Ireland if the sport does get the green light for those games. Brendan Lawlor is a man who continues to break new ground.