Sixteen Irish players will tee off at the 2021 Dubai Duty Free Irish Open, with the big hitters quietly confident of succeeding John Catlin as champion at Mount Juliet.
Chief among them are previous winners Shane Lowry and Padraig Harrington.
Lowry could be forgiven for casting his mind to what lies ahead at Royal St George's in a fortnight, with the 2019 Open champion making his belated title defence at the iconic course.
The 34-year-old, along with Jonathan Caldwell, is the first Irish player to tee off at 8am and would love nothing more than to replicate the form shown in 2009 when he won the event as an amateur.
"I didn't know what it was back then, I just rocked up thinking it was another tournament and I went home with the trophy on the Sunday," he told RTÉ Sport's Greg Allen.
"I'm hopeful I'll have a good week, I feel my game is in good shape, but I felt great going into Torrey Pines and I didn't perform there as well as I would have liked."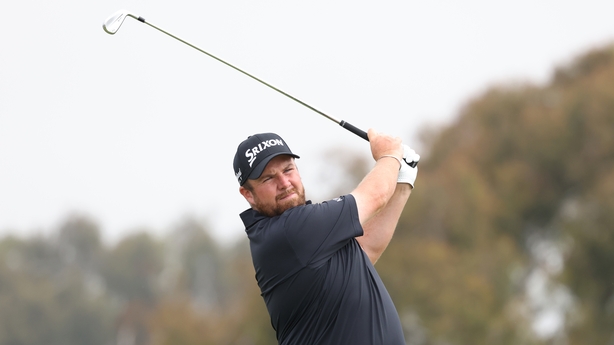 After a tie for fourth at the PGA Championship and a tie for sixth at the Memorial, a poor closing stretch in the third round at Torrey Pines halted his momentum.
The Kilkenny parkland course may not play as long as some of the monstrous PGA events, but the narrow fairways will test any wayward striking off the tee.
Will that suit the Offaly man?
"Every course is a Shane Lowry course if I drive it well, hit my irons well and hole a few putts," he says.
Hopefully I can go out there and be myself, let myself play the best golf I can
"Typically I haven't done great in Irish Opens over the years. This year, I am coming into it with a bit of form, so hopefully I can go out there and be myself, let myself play the best golf I can."
Ten minutes later, 2007 winner and three-time runner-up Padraig Harrington will bid to join a group of seven players to claim victory for the second time.
Eight weeks shy of his 50th birthday, the Dubliner says he is relaxed heading into the competition, buoyed by his recent fourth-place finish at the PGA Championship.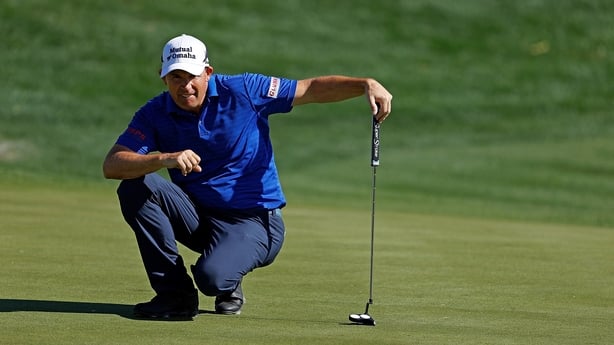 The looming Open is on the horizon, but focusing on that Harrington feels in one sense will boost his chances of success in Kilkenny
"There's no doubt, with the Open two weeks ago, you are definitely thinking about that. I'm trying to get ready for that and do the right things now so I'm ready for the Open.
"It actually could work out very nicely for the Irish Open this week. I'm being quite disciplined, I have seen some nice signs, I'm just not trying to put myself under too much pressure and let it all come out."
Harrington will lead Europe into Ryder Cup battle as captain against the USA at Whistling Straits and that event is the sole reason the Irish Open slips a single place in his list of priorities.
"Normally it is the fifth biggest tournament (after the four majors), but this year it's the sixth.
"I'd love to get out there and get myself into contention, give a bit of a buzz to the spectators that are here.
"It's going to be exciting, it's going to be fun."
At 1pm, the tournament favouite Rory McIlroy will be the main focus. McIlroy has featured in 13 of the last 15 stagings of the Irish Open - his foundation hosting four of them – and after three successive missed cuts, stormed to victory ion 2016.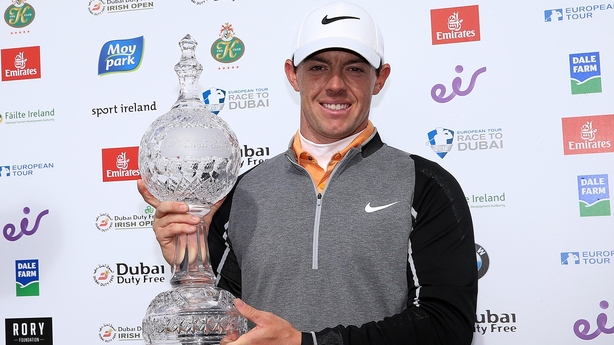 The 32-year-old produced his best tee-to-green performance since his WGC-HSBC Champions victory two years ago when seventh at Torrey Pines last time and should improve of putting mistakes that proved costly in both the US Open and the PGA Championship, he will prove a tough nut to crack.
McIlroy had originally planned to take a week off before the 149th Open at Royal St George's, but with strict coronavirus controls in place for the year's final major championship, McIlroy has left his wife Erica and daughter Poppy behind in the United States and added the Scottish Open to his schedule.
Whatever happens, it will bring back memories of his last time at the course, scene of a memorable first encounter with boyhood idol Tiger Woods at the WGC-American Express Championship in 2002.
"I was standing right behind him and his glove was still in his back pocket. I could have reached and got it and ran - it would have been a good story to tell him."
Meanwhile, 2010 US Open Graeme McDowell said this week he believes he can dig himself out of another career hole, despite admitting anything else he achieves will be "gravy".
Irish players' first round tee times (* denotes players starting on back nine)
8.00am: Shane Lowry, Jonathan Caldwell*
8.10am: Padraig Harrington*
8.20am: Simon Thornton
9.20am: Cormac Sharvin, Paul Dunne
12.50pm: Niall Kearrney
1pm: Rory McIlroy
1pm: Rowan Lester*
1.10pm: Graeme McDowell
2pm: Colm Moriarty
2.10pm: Caolan Rafferty*
2.20pm: Gavin Moynihan, Mark Power*
2.30pm: Neil O'Briain
2.30pm: Robin Dawson*
Watch live coverage of the opening round of the Dubai Duty Free Irish Open on Thursday from 1.30pm on RTÉ2 and RTÉ Player.