As if the air of anticipation surrounding the first major championship of the year was not pent-up enough, this Masters has the appearance and feeling of one that's ripe to burst with exciting narratives, on the thin enough premise that the will of the golf public desperately wish it to be that way.
The spectatorless major championships of pandemic stricken 2020 (all of them worthy but none of them epic) have given way to the prospect of actual cheers and roars among the Georgia pines in this second week of April.
It's not quite golf as we have known it to be for over a year, but it'll do for now.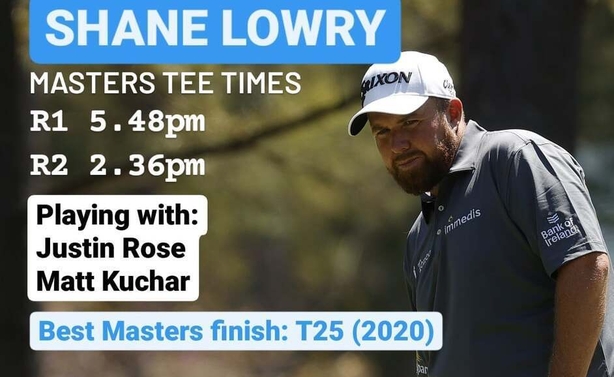 All the sense of this being a special week in prospect is helped by some pre-tournament storylines like that of Jon Rahm's wife Kelley giving birth to Kepa Cahill Rahm last Saturday, which ensured that every one of the top 50 players in the world would tee it up over the next few days.
It also allowed an unusually relaxed World No 3 to drive up Magnolia Lane yesterday, unworried by the prospect of getting scant practice in before he tees off alongside Rory McIlroy and Xander Schauffele this afternoon.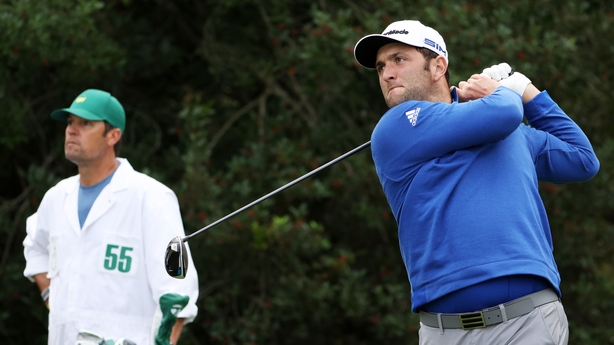 "Maybe (I) haven't prepared as much as I have in the past, but definitely mentally in a different state. A lot of times practicing for a major you spend so much time thinking about golf but for four or five days, it wasn't even on my mind, which is kind of refreshing," Rahm said before becoming the last registered player for the Masters.
Then there's the presence of former World No 1 and four-time major winner Brooks Koepka, who has surprised many by deciding to play just three weeks after undergoing knee surgery.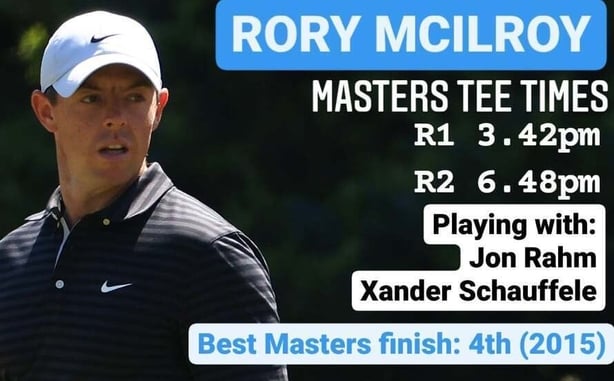 He mono-syllabled his way through one of the world's shortest press interviews yesterday, giving away little other than the terse offering that he "felt fine" and more pertinently: "It doesn't hurt when I swing."
However, it hurts him to bend down in a conventional manner to read putts so he has adopted an unusual leg-stretch pose to get close to eye level on the greens, which prompted a Power Rangers comparison that he posted on Twitter with the words "Same energy #TheMasters".
Same energy. #TheMasters pic.twitter.com/tqw4r83Acu

— Brooks Koepka (@BKoepka) April 6, 2021
And then there's Rory McIlroy, working away assiduously with his new coach Pete Cowen, hoping for a quick turnaround to what looks like being a longer process of rebuilding than might have been anticipated when the change was formally announced less than a fortnight ago.
"I'm trying to see the big picture here. I'm obviously focused on this week, but it's bigger than that. It's a journey, right, and it's a journey to try to get back to playing the game the way I know that I can play the game. So obviously this week is very important, but I'm still looking beyond that. I'm just at the start of a journey here," he said on Tuesday.
This time a year ago, McIlroy was the world's top ranked player. Now he's number 12 and the slide has been gaining momentum since a promising enough start to the year in Abu Dhabi where he opened with a 64 and led into the final round only to be completely outplayed by Tyrrell Hatton.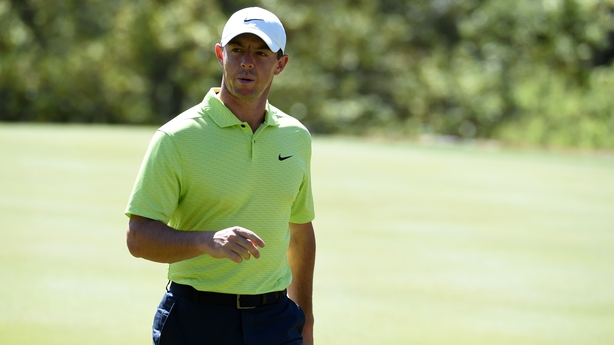 Six weeks later, a Sunday round of 76 at the Arnold Palmer Invitational was confirmation that the malaise within his game, when the pressure is at its most intense, needed a new pair of eyes.
Last November at the 2020 Masters, he opened with a 75 which effectively blew him out of contention straight away and even though he responded with a cumulative total of 14 under-par for his next three rounds, he was never really in the conversation about who would don the green jacket.
That has been a familiar tale for McIlroy around Augusta, all of 10 years on from his 2011 Masters meltdown when he infamously let a four-stroke lead evaporate in a final round 80.
Since then, he has finished in the top 10 in six of his last seven Masters without ever challenging seriously on Sunday.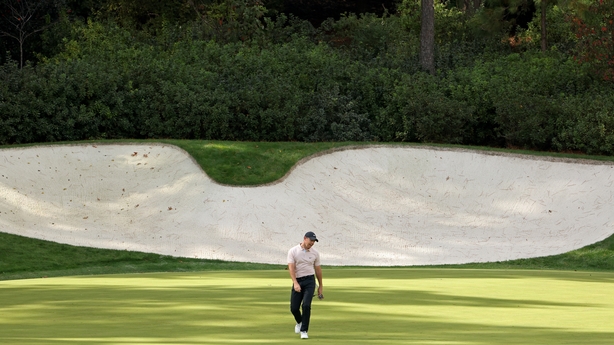 There is no doubt that he enjoys the configuration of the course as it sets up for his game, but often it seems the size of the occasion is one he has to come to terms with if he's going to mount a sustained four-round assault on the one major that separates him from becoming one of the undisputable greats of the game.
A green jacket around his shoulders this coming Sunday would make him only the sixth player in history to have win all four major golf championships – the so-called 'Career Grand Slam'.
Another player, even younger than McIlroy, who has the prospect of making such history later this year, is the back-to form Jordan Spieth whose victory in the Valero Texas Open last Sunday added an extra layer of intrigue to this week.
Spieth's 2015 triumph in the Masters at just 21 years of age broke several records including his making of 28 birdies in a performance that was bookended by a runner-up finish in 2014 and an implosion on the back nine in 2016 where his five-stroke lead vanished in two holes around Amen Corner.
Spieth, though, clearly loves Augusta and is such a proficient performer around there that although he's still only officially ranked 38th in the world at the moment, he is the joint third favourite after a 2021 campaign which has seen him post three other top-four finishes, apart from his victory last weekend.
The defending Masters champion and still World No 1 Dustin Johnson has had a quiet enough 2021, with the exception of his victory in the European Tour's Saudi International in February.
A new driver went into the bag at the World Matchplay in Austin a fortnight ago and it appears to have helped restored the extraordinary confidence he had off the tee last November, which was central to his five-shot victory in a Masters record of 20 under par.
The case to be made for World No 2 Justin Thomas is also very strong. Since posting a Masters debut finish of 39th in 2016, the recently crowned Players Champion has improved year on year around Augusta right up to his fourth place finish last November when he was tied for the lead entering the weekend.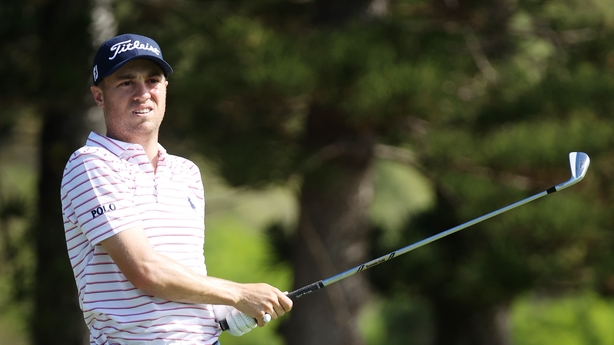 Thomas is among the world's best short-range chippers in the game - a crucial skill to possess on the tightly shaved slopes around Augusta's famous MacKenzie greens.
Of course there will be a lot of noise surrounding Bryson De Chambeau whether self-generated by words or explosive deeds with the driver but at least he has rolled back on some comments he made before the 2020 Masters when he described the course as a 'par 67'.
This week, while still stating how much of an advantage it is to be long around Augusta National he added the caveat: "Length is only as good as you can hit your next shot (sic)."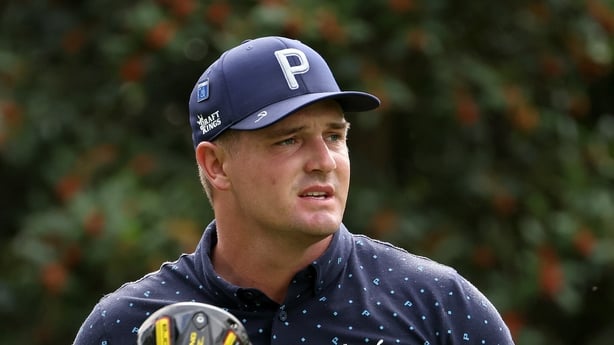 The humbling he suffered last November was completed when the shortest ball-striker in the field over the last two rounds, 63-year-old Bernhard Langer, finished a stroke ahead of him.
However, De Chambeau's negotiation of the tricky firm set up at Bay Hill last month, where he won the Arnold Palmer Invitational, and his third-place finish at the Players Championship, which does not set up well for his power advantage, suggests that he might be poised for his first ever top-20 finish around Augusta and maybe something an awful lot better.
The 2019 Open Champion Shane Lowry enters the week with a bit of form after his eighth-place finish at the Players Championship last month and he's been speaking about feeling as comfortable as he has in a long time.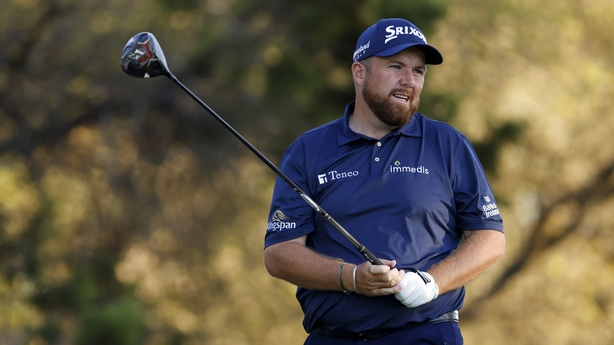 "I feel like my long game is in a good place and once I get my chipping and putting as well, who knows what could happen. I love difficult courses and I hope it plays that way," he said this week.
He may well get his wish.
On the eve of the Championship, the Augusta National Chairman Fred Ridley indicated that the preparation of the course was to be fast, firm and at its most challenging, which is right where the members want it to be.