It says something about the talent and expectation of Rory McIlroy that his failure to convert a one-shot lead after three rounds into a much needed tournament success in Abu Dhabi generated almost as much media attention as Tyrrell Hatton's emphatic, composed victory.
Like almost all such final round duels, there's normally a moment upon which the whole deal hinges.
That came on the par five 10th hole on Sunday where Hatton, having found trouble off the tee, holed from 29 feet for what seemed like an unlikely birdie, which maintained a two-shot lead and at the same time took the wind out of a potential back-nine charge from his playing partner.
It was a classic matchplay moment that would have a deep bearing on what followed.
And what happened next is quite significant in terms of where McIlroy's final round confidence is at right now after a 2020 campaign which posed many questions about his ability to convert winning opportunities.
A poor tee shot on the 11th left him with an awkward stance in the rough and from there he never looked like saving par.
The momentum was lost; the deficit went out to three shots and Hatton hit cruise control.
In the end, there was no real contest. The Englishman was a worthy champion posting a bogey free 66, equalling the best round of the day and doing what he had to do when it was most required.
It was a clinical display – something that McIlroy has been reaching for in vain since making a birdie on the first play-off hole to win the WGC HSBC Champions event in Shanghai in November 2019.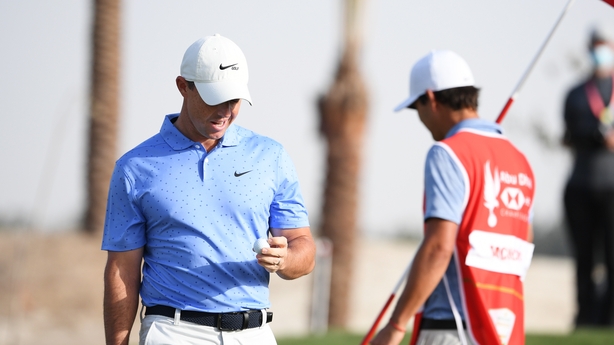 It should be easy enough to give the 31-year-old four-time-major champion a 'pass' for his winless year in pandemic stricken 2020, but even before lockdown last March, there were numerous ominous signs of a Sunday 'malaise'.
Almost exactly a year ago on the PGA Tour, a decent but not exactly stellar final round 69 saw him come up short of Mark Leishman in San Diego where he finished third.
A few weeks later he was tied for the lead in the Genesis Invitational in Los Angeles after three rounds only to shoot a closing 73, the worst by any player in the top ten.
In March, he was trailing Hatton by two shots in the Arnold Palmer Invitational entering Sunday only to shoot 76, the joint worst final round score of anyone in the top 15.
Then came lockdown and what had been an admirably consistent sequence of seven consecutive top five finishes by McIlroy gave way to eight events in a row in which he failed to crack the top ten.
He said he was struggling for motivation with the lack of spectators on the fan-free schedule.
The final tournaments of 2020 saw something of a resurgence with three top-eight finishes in five starts but his first round 75 at the Masters in November on a day of record low-scoring with 53 players breaking par, was hard to explain.
"I honestly have been playing so good coming in here and then I go into the first round and I shoot 75 and I'm like 'where the hell did that come from?', he said afterwards.
That observation was something of a window into what has been happening to McIlroy when the pressure has been at its utmost in tournament play since late 2019.
Whether it's the final round of a regular tour event or the first round of the one major championship that he needs to win to complete the career grand slam, there appears to be a common thread of expectation-laden circumstance to McIlroy's misfires.
But winning is hard in a small-ball sport with so many variables and tough opponents yet McIlroy's ability to consistently move into contention lends an air of having all the components to win all the time.
That's rarely ever the case and certainly not at the moment, so he has some 'figuring-out' to do to find consistency and composure on tournament Sundays or indeed in the first round of major championships in which his scoring average over the past 2 seasons of 72 leaves him, invariably, with too much work to do.
There is, though, a mercurial nature to McIlroy which indicates that maybe too much is read into the theory that he is not responding very well to pressure at the moment. He's someone who likes to work things out for himself based on the supposed analysis that it is likely to be a 'more lasting fix' if it is self-diagnosed.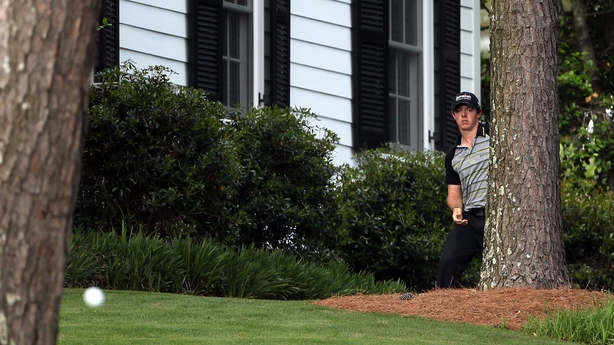 After his infamous meltdown at the 2011 Masters in Augusta, where his four-shot lead entering the final round disintegrated in a catastrophic final nine holes, he would go on to point to that experience as being "the most important of my career".
"I learned so much about myself and what I needed to do the next time I got into that position" he later reflected.
Nine weeks later, he would banish much of the hurt of Augusta by completing an eight-stroke victory in the US Open at Congressional near Washington where he would lay claim to, or else share in a dozen championship records.
In the near decade that's unfolded since then he has shown that he is not the 'next Tiger Woods' because that would be impossible given the unique singularly focused character of 15-time major champion.
McIlroy has a far broader more diverse nature and has sometimes been accused of being a bit 'too open and free' with his words or opinions. That's mostly down to a tendency to give honest unspun answers along with a self-nurtured intellect and a latently discovered curiosity about the world outside of golf that is relatively rare among elite sportspeople.
---
Gary Murphy: 'Sloppy mistakes' costing Rory McIlroy
---
He is also someone who has found ways of bouncing back when confronted by setbacks in the past and will likely do so again and thus break the current impasse between himself and the trophy-lifting ceremonies that he was born for.
In rising to world number one for the first time in 2012 during which he won five times, he then went on to have a barren 2013 followed by a second 'PGA Tour Player of the Year' season in 2014 which included two major championship successes.
So there is very little that has been linear about McIlroy's form but despite his tendency for the erratic, Sky commentator Wayne 'Radar' Riley, twice a European Tour winner and 1996 Irish Open runner-up, described him recently as the most talented player he has ever seen.
Frustrating but talented as many will echo in chorus and while it might be fourteen months since McIlroy has won, as recently as 2019 he did so four times and scooped the $15 million dollar Fedex Cup jackpot while being named player of the year for the third time.
So given the pandemic disruption of 2020, it might be a case of scrubbing last year from his memory much like he did the 'annus horribilis' of 2013 and given the 'peaks and troughs' trajectory of his career it might be reasonable to expect that he will figure out how to win again.
And winning, as he has manifestly shown on 28 occasions as a professional, can become a habit.