Robbie Cannon doesn't believe there will be a rush of golfers aiming to copy US Open champion Bryson De Chambeau's physical formula for success.
DeChambeau stormed to glory at Winged Foot over the weekend, with the American suggesting that his power driving - attributed to the 14kg he put on during the Covid-19 shutdown - helped to negate the treacherous rough that scuppered so many of his colleagues.
That has led to immediate speculation that golf courses will need to be redrawn and that we could soon see a generation built like rugby players but Cannon, a strength and conditioning coach to Shane Lowry and the Tipperary footballers, doesn't think the transformation would work for everyone.
"I can't see many guys on the PGA Tour going down this route," Cannon told 2fm's Game On.
"This guy is a scientist. He's got the perfect match in (coach) Chris Como and his trainer (Greg Roskopf),
"99% of golfers, if they tried to go down this route, they could end up doing themselves more damage. Some people could get injured.
"In the game of golf, one size does not fit all. Whatever has got you to a certain level, you can try to experiment and get a little but in extremes lie danger.
"This guy has gone down an extreme but he has had success.
"It has been years of hard work coming to fruition for him so you can't argue with that win."
61 players teed it up on Sunday in the final round of the #USOpen at Winged Foot. Only one finished the day under par.@b_dechambeau's clinching 67 is our @Lexus Top Performance of the Day. pic.twitter.com/UEMVfxr7eu

— U.S. Open (USGA) (@usopengolf) September 21, 2020
Cannon thinks that physics graduate De Chambeau's success has come more from a refinement in technique than in added raw power.
"Yes, he was driving the ball a long, long way the last few months but he has hit so many iron shots so close and that's been the secret to her turn of form.
"His first year as a pro he missed 14 cuts. He had this unbelievable inconsistency. He won a tournament at the John Deere then went out the next week and missed the cut at the British Open by seven shots.
"He realised there was a lot of inconsistency in his bio-mechanics and that he needed to make some changes. He started working with a guy called Chris Como and I think he's his perfect match as a coach, a very smart, scientific type of coach.
"They went on the journey of a swing rebuild. A lot of people talk about the change in body shape but the big change in his swing has been a change of technique. That's what has really happened with him in my view."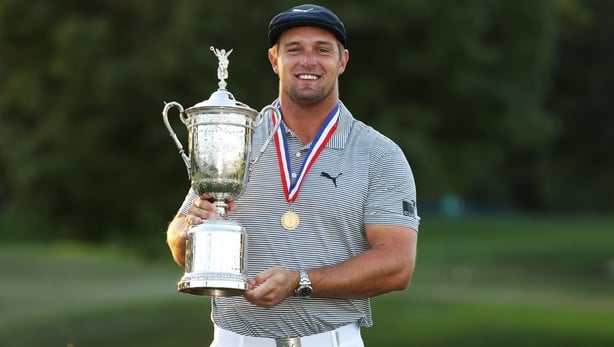 Cannon believes that De Chambeau has added the extra weight – "there's a lot of fat in there as well, I don't think it's all muscle" - in a bid to increase stability while extending into what can be riskier 'end-of-range motion' during his swing.
Cannon thinks that the 27-year-old might have reached the limit of the power he can safely generate but also suspects he will continue to innovate.
"I'd expect him to lean up a bit but who knows. This guy is just a complete scientist and I think himself and Como are probably only on the start of this journey.
"He's not doing this for looks. He's doing this because he wants to be the best golfer he can be and it all goes back to the bio-mechanics. He wants to have his swing, under pressure, as repeatable as possible.
"Last night, his swing was pretty repeatable whereas Matt Wolf, he got under pressure on the back nine and collapsed a bit.
"He might rein it in a bit, as he gets older, but I don't think he's finished experimenting. I think this is still quite in its infancy."