Open Champion Shane Lowry has not yet decided on a new home for the Claret Jug, but he's got plenty of people close to him he can ask for advice.
Lowry won by six strokes amid emotional scenes at Royal Portrush and he was triumphantly welcomed off the 18th hole by some of the biggest names in Irish golf.
The Offaly man is still struggling to come to terms with the first major win of his career but with a close group of fellow professionals who have already been here, he's got plenty of people to turn to.
Irish major winners Graeme McDowell, Padraig Harrington, Darren Clarke and Rory McIlroy all joined in the celebrations with Lowry and the newest member of the major club was keen to thank them for their support.
"It's incredible," he told RTÉ Sport's Greg Allen. "I woke up this morning and [the Claret Jug] is sitting on the bedside locker – where did it all go wrong?
"I feel very lucky and very privileged to be able to win the Open Championship, but to do it in Portrush is amazing.
"Padraig Harrington was great, he waited around for me on Sunday evening and it was great to see him there. He stayed around the club that evening in the player's lounge with all my family and he was just great.
"I haven't got to chat to him, I haven't got to chat to anyone at all really. I'm sure when I see him again we'll get to talk things over.
"I'm lucky that I've got people like him and G-Mac [Graeme McDowell] and Rory [McIlroy] and guys who have won tournaments like this to chat to and to see what I should do and what I shouldn't do."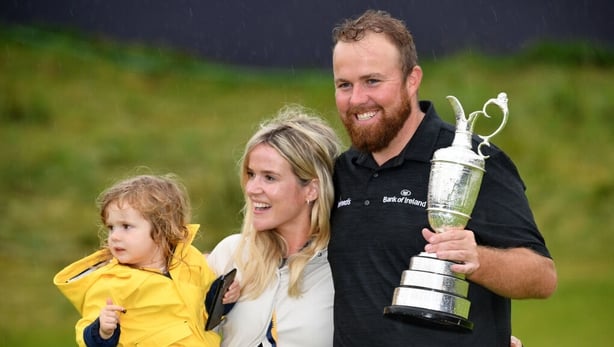 It's not just support from his fellow professionals however. Lowry was fervently cheered on for every shot by the sellout crowd during the final round and can scarcely move for well-wishers and supporters now.
"The support I've got from everyone has just been incredible. I got an hour to myself this morning and I tried to go through some text messages and I still have a few left.
"When the dust settles and I get to sit back and myself and Wendy can sit in the house on our own quietly in the evening, watch a bit of TV and have a chat about things, I think we'll begin to realise how big this is.
"I've always said winning the Irish Open as an amateur, I didn't think I'd ever achieve anything bigger than that, but this might just top it.
"One thing that I think has been great for me over the years is that the people around me have believed in me, almost more than I believe in myself.
"[Coach] Neil Manchip always said to me; 'you're going to win a major, there's no doubt about that'.
"Am I going to win more? Am I going to be consistently top 10 or top 20 in the world? I don't know, one thing's for sure, I'm going to just go out and be me and play as good golf as I can for the next 10, 15 or 20 years and I'll see where my career is at the end of it."
For now however, Lowry has a big homecoming to look forward to. Having celebrated in Portrush and then Dublin, the final stop on Lowry's victory parade is his home town of Clara this evening.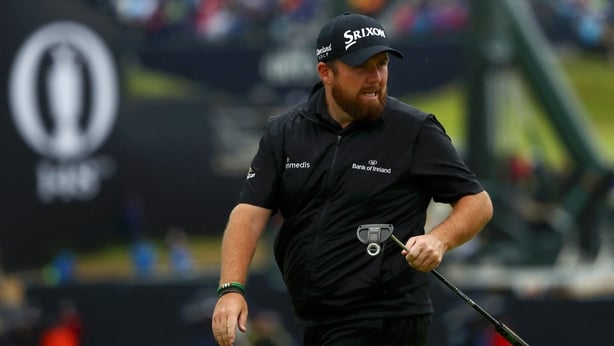 Clara GAA Club, of which Lowry is the joint club president, have organised a homecoming where he will be greeted by the public on the green in Clara.
"I think I'm ready for it, but having spoken to a few people, I don't think I'm actually ready for what's about to happen this evening," Lowry said.
He has taken the, perhaps wise, decision to skip this week's PGA Tour event in Memphis to allow for some recovery time after all the celebrations but Lowry is aware that he will have a target on his back next time he steps onto a golf course.
"That's going to be a little bit surreal – going to a tournament as a major champion. The first tournament I'm going to play is the Fed-Ex Cup play-offs and I honestly have no idea what I'm doing after that.
"It's incredible, I sat down last Christmas and I spoke about how I was 90th in the world or 80th or something and I was trying to get into tournaments.
"Now I'm in every major and every tournament in the world for the next five years, it's incredible."