Shane Lowry admitted it felt like an "out-of-body experience" after defying miserable conditions to win the 148th Open Championship at Royal Portrush.
Roared on by a sell-out crowd, Lowry carded a closing 72 to become the fifth Irish player to lift the Claret Jug after Fred Daly, Padraig Harrington, Darren Clarke and Rory McIlroy.
"I'm feeling unbelievably calm, to be honest," Lowry said. "I don't know why. It's not going to sink in for a couple of days, is it?
"It's just incredible to be sitting here with a trophy in front of me. Look at the names on it. I couldn't believe that it was me. I couldn't believe it was happening.
"I think a lot of people made the last-minute journey up here because I was leading and it was great out there today.
"It's funny, I sometimes struggle to play in front of the home crowd and have done in the past, but not over the last few days. I played lovely.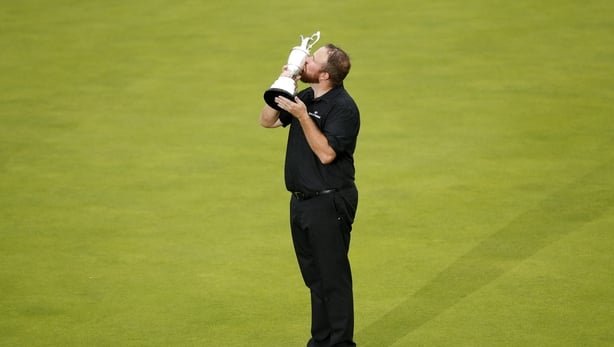 "Obviously I had a nice healthy lead going out and I hit a ropey tee shot on the first. Then you're standing on the first green, Tommy has a great chance of birdie and I'm putting for bogey from eight feet.
"There's a potential three-shot swing. He misses, I make, and there's only one-shot difference. Then when I was struggling around the turn I had a look at a few leaderboards and saw everyone else was struggling too and that settled me a lot."
With none of the chasing pack able to mount a charge, Lowry recovered from three bogeys in the space of four holes from the eighth with a crucial birdie on the 15th and was able to savour the walk down the final hole before embracing his wife Wendy, daughter Iris and parents Bridget and Brendan on the 18th green.
Lowry fought back tears as he thanked his parents, adding: "They sacrificed so much for me when I was younger and I'm so happy that I can hand them this trophy tonight.
"My wife and my little girl, to have them here today is just extra special.
"My wife knew no matter what to have Iris there waiting for me because if things didn't go to plan, at least she would have consoled me a little bit. To have her there, winning, obviously it's very special.
"I'm going to be coming back to play another 27 Opens (champions are exempt to the age of 60). She's going to be nearly 30 when I play my last one. That's going to be nice.
"She'll be able to see those pictures in years to come and it will be a nice memory to have."