There's a story Rory McIlroy likes to tell about New York golf fans.
At his first US Open here in Bethpage in 2009 he was about to tee off on a hole when a spectator standing closeby moved suddenly away from the ropeline - a movement which caught Rory's eye.
The fan promptly threw-up and then returned to his place to stand by the tee to watch the action again as if nothing untoward had happened.
Bethpage State Park might be 782 miles away from the previous major Championship venue at Augusta National but it's a world apart in almost every other sense, especially outside the ropes.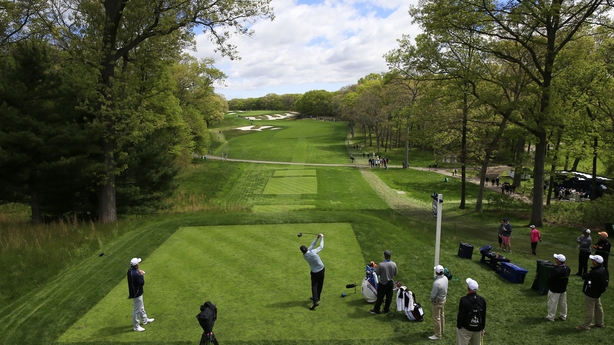 Golf here is for the ordinary sport-loving citizen of New York City and Long Island. Further west lie some of the most exclusive clubs in the whole of the USA but here in Farmingdale, 38 miles east of Manhattan, this a municipal golf facility, built in the depression years of the 1930's as part of Franklin D. Roosevelt's public works programme to help alleviate mass unemployment.
The venue has retained its everyman/everywoman status and reputation for the 83 years of its existence and it will likely be no different this week.
It's possible to tee it up on one of Bethpage's five courses for as little as $15. The centrepiece of the property, the Black Course, has a green fee of $65 on weekdays and $75 on weekends for New York residents.
Compare that to the exclusivity of invitation-only Augusta National and the $555 dollar price tag of the upcoming US Open venue at Pebble Beach and you get an inkling that this is about the most affordable golf at a major championship venue that you will come across anywhere.
And so with 60,000 mostly ordinary 'Joe and Josephine' golf fans scheduled to file in through the gates on each day, this is going to be a little different to your average major in terms of atmosphere.
When you add on the notably irreverent typical New York sports fan personality, and you'll get the sense that thick skin is required for every player inside the ropes.
No one knows that more than Sergio Garcia who was in the midst of his most debilitating 'grip yips' at the US Open here in 2002 and was constantly 'milking the grip' sometimes up to 30 times before pulling the trigger on a shot.
Impatient fans began to audibly count his gripping and re-gripping. Sergio snapped and riposted. Bad idea. He got completely ripped by the fans for the remainder of the championship and as the New York Daily News reported, Sergio turned from 'El Nino' in the eyes of the spectators, to 'El Diablo'.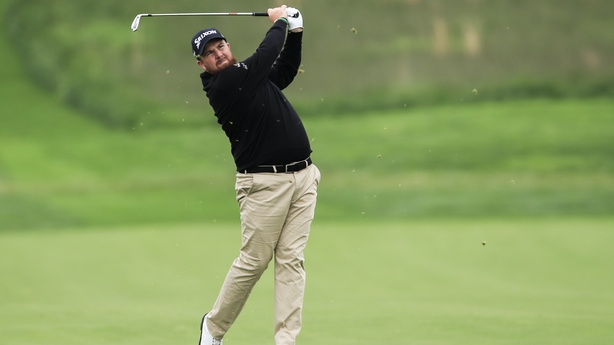 Shane Lowry knows there'll be a lot of New York Irish outside the ropes but may have to try and keep the blinkers on "It's going to be loud but I think that's something of a distraction that I'm going to have to block out but I'm sure there'll be loads of GAA jerseys so we'll see," he said after finishing second here in the Long Drive contest on Tuesday.
His 310-yard effort on the 16th hole was second to Max Homa's 318-yard strike. Neither are among the noted 'bombers'on tour but it was significant that the result of the competition required that the ball found the fairway.
As much as it applied to the Long Drive contest, accuracy as well as distance will also be relevant to the championship that will unfold over the next four days because 'long and straight off the tee' has been the consistent mantra among the players who have stepped into the preview press conference room all week.
It's been widely stated that while the course set-up is 'tough but fair', the two-inches-plus of rain which has fallen since Monday morning has made the rough lusher and wetter than would have be expected at this early stage of the season in this part of the north-east USA.
It has also made the 7400 yards of the course play more like 7,700 yards according to Brooks Koepka and when you consider that the pure yardage is similar to Augusta and this is a par 70 by comparison to the Masters par of 72, it's a strong indicator of the suitability of this challenge for long straight ball strikers. It might be the most important statistical category for players to excel in this week.
And yet, elite golfers with different skill sets have a way of figuring out how to play long difficult tests like this. One of the joint Bethpage Black course record holders is Mike Weir, a relative pea-shooter off the tee when he shot 64 in the first round of the US Open back in 2002, by comparison to the eventual champion Tiger Woods.
2009 ➡️ 2019

2010 - 🏆
2011 - 🏆
2012 - 🏆🏆🏆🏆
2014 - 🏆🏆🏆
2015 - 🏆🏆
2016 - 🏆🏆 #FedExCup champion
2018 - 🏆
2019 - @THEPLAYERSChamp 🏆@McIlroyRory's swing through the years.#LiveUnderPar pic.twitter.com/bPTZuSBEzH

— PGA TOUR (@PGATOUR) May 15, 2019
Incidentally another joint course record holder is Padraig Harrington who compiled his 64 in the Northern Trust Championship in 2012. He is among the four Irish in the field this week alongside McIlroy, Lowry and recent PGA Tour winner Graeme McDowell.
But the most focus in terms of predicting a champion is understandably dialled in on Woods and Koepka, the latter of whom seems to have finally garnered credit for his extraordinary run of three major championship titles and one runner up performance since June 2017.
Koepka is 25 under par for his last four majors and Woods 22 under. Francesco Molinari at -17 and Xander Shauffele at -16 are the next best.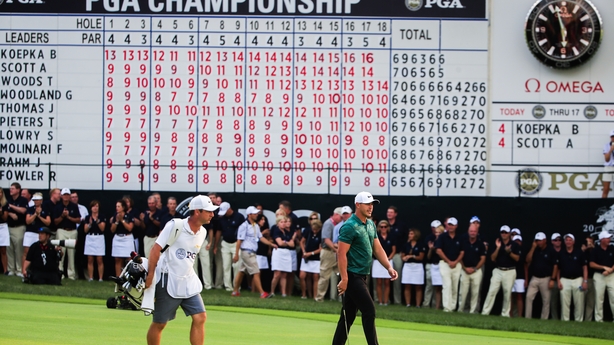 While Koepka and Woods are 15 years apart in age, they seem to have one thing in common which separates them from the field of leading candidates and that's the level of calm and focus they have applied when in contention during their respective major championship careers.
While we need little schooling on Tiger's historical record of closing the deal when given a sniff of a chance of winning, Koepka revealed his unique formula at his press conference this week for why he believes he has an advantage over his rivals on the biggest championship stage of all.
"There are 156 players in the field so you figure at least 80 of them I'm just going to beat. From there, you figure about half of them won't play well so you're down to maybe 35. And some of them just.....pressure is going to get to them. It leaves you with a few more and you've just got to beat those guys," he said on Tuesday.
Koepka fits the identikit winner's profile this week. There are no apparent weaknesses in his game and he's long of the tee and says he has dialled in a 'fairway finder' swing to make sure he hits the short grass.
But others among the world's top five players have those characteristics in abundance and so the World No 4 ranked McIlroy, World No 1 Dustin Johnson and World No 2 Justin Rose are perfectly equipped to challenge as well.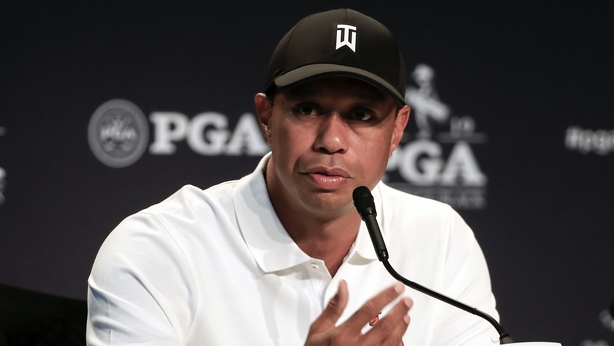 But so many eyes are focused on Woods. Las Vegas bookmakers make him Championship favourite but he hasn't played a tournament since his Masters win more than four weeks ago.
Maybe he's taking the Ben Hogan approach to one particular season back in 1953. That year, the 'Wee Ice Mon' struggling with injuries incurred in a car crash four years earlier, played just six tournaments and won five of them, including all three majors he contested.
It's odds-on that Tiger, a noted student of golf history and knowing his own catalogue of injuries, has read the Hogan story and is taking a leaf from one of golf's great comebacks - one that resonates with what he himself achieved just a month ago at Augusta National.