Tiger Woods believes a fellow competitor could miss their tee time in the US Open this week due to the traffic problems around Shinnecock Hills.
But the 14-time major winner will not have any such issues after docking his multi-million dollar yacht at nearby Sag Harbor.
"Staying on the dinghy helps!" Woods joked at his pre-tournament press conference ahead of his first US Open appearance since 2015.
Some journeys from official hotels west of the course have been taking up to two and a half hours and Woods added: "There's a good chance someone might miss their time. You get a little traffic or a fender bender and it's conceivable."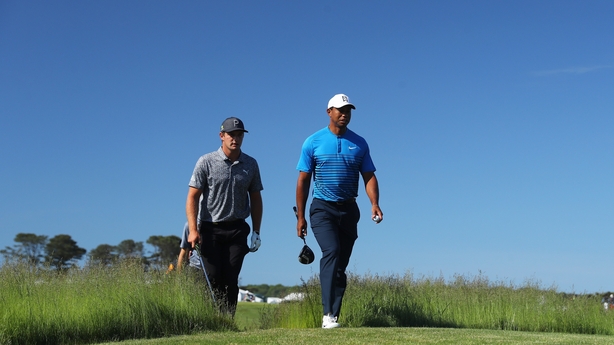 Woods spoke openly about the state of his game, but slammed the door shut on questions about his private life.
Barely a year after being arrested asleep at the wheel of his car in Florida, a bright-eyed Woods faced the media for a 25-minute press conference at Shinnecock Hills.
Asked how his life had improved in the ensuing 15 months, Woods curtly dismissed the question in just three words.
"It's gotten better," he said, making clear again that his new media and fan-friendly persona goes only so far.
He said that he watched last year's US Open on television, before he had been given the all-clear to start practising again after his April spinal fusion, not even sure he would be able to play again, let alone return to major championships.
"I had no expectation of getting this far," he said.
"A lot of this is pure bonus because of where I was. It's a great feeling and one I don't take for granted."
Although he has not yet won in his comeback this year, Woods has been competitive, including twice being in contention at back-to-back tournaments in Florida in March.
"There's two ways of looking at that: I've given myself a chance to win, which I didn't know if I was ever going to," he said.
"I loved how it felt being there. I would like to get myself there a few more times. So far this year I've only given myself a few chances."