After two days, during which Augusta National played pretty much as hard on consecutive days as it ever has, we now face a weekend of potentially much lower scoring.
The winds that have been gusting up to 30mph and more over the first two days are going to drop to the 8-10mph range, according to the forecast. 
The temperature is to rise and that means better scoring conditions because the ball flies further in warmer air and the course will dry out even more from the downpours it suffered at the start of the week.
So this could get interesting.
A firmer Augusta tends to mean a little bit more treachery around the greens but also, for players who are right on their game, these conditions can mean the most skillful players reach the top.
So it won't necessarily mean that the bombers will prosper at the weekend if it gets a little bit tricky and bouncy around the greens.
Round 2 of #TheMasters is complete.

1. Fowler, -4
1. Garcia, -4
1. Pieters, -4
1. Hoffman, -4
5. McGirt, -2
6. Couples, -1
6. Rose, -1 pic.twitter.com/r7CHP4UM6V

— PGA TOUR (@PGATOUR) April 7, 2017
The Contenders
Not a lot has happened for Rory McIlroy, he's hanging just five off the lead and says he needs a 66, 67 today to feel like he's going to have a chance.
He's playing well enough but will the Masters and what's it has done to him in the past – at this stage last year he posted a birdie-free 77, his 2011 final-round meltdown – play a part?
He is, obviously, a different player, with four majors under his belt since then.
He's had 16 competitive rounds in 2017; will it come to pass that that's not quite enough to see him at the sharp end of things on Sunday? We'll find out today.
If his putting can hold up, with his prodigious ball-striking talent, he has to be considered a contender for this title.
Interestingly one of Charley Hoffman's tour wins has come at the Texas Open, but the 40-year-old Californian has also finished second and third there. That could be significant because the Texas Open is a notoriously windy tournament.
He's a player of substance but is he a major winner? We'll find out what mettle he has this weekend.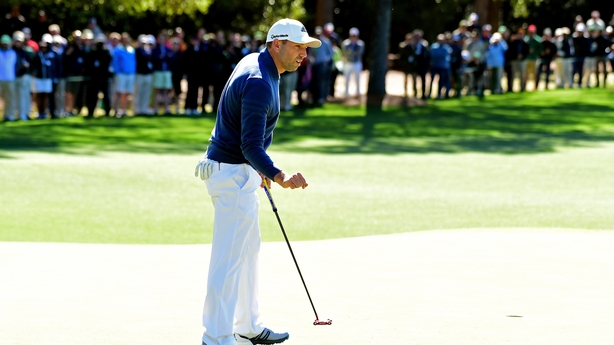 Sergio Garcia says he's more mature, he's calmer, and he's working harder to accept the bad breaks. That's the one thing in his career that has prevented him from winning a major. He can win on the big stage but could the Masters be too big for him?
If he can handle the pressure after 19 years of trying, a long stint of being rebuffed at this level of golf, on Sunday, he'll stand a chance. 
Thomas Pieters, playing in his first Masters like Jon Rahm, doesn't know what to fear and therefore has little fear because he hasn't been knocked back by bad experiences at Augusta.
Rickie Fowler, a recent winner of the Honda Classic, may just have the short game to prosper here.
Rahm has done very little except hang around the lead – he has all the game that's needed if experience doesn't come into it as much as they say it does.
57-year-old Fred Couples made a Friday move.

Expect fireworks this weekend at Augusta. pic.twitter.com/hFYKMgqqw3

— PGA TOUR (@PGATOUR) April 8, 2017
Fred Couples, 25 years after winning the Masters, is now 57 but has had four top-20 finishes here in his 50s.
He loves it here, the course was made for him, he's putting really well, which was not always his strong suit.
He's got to be considered a contender until the crunch moments and then we'll see if those old nerves can handle what's coming.