It's two years almost to the week since Rory McIlroy last won a Major championship, and although he's only 27, the pressure to put another Major victory on his CV has been mounting ever since Jordan Spieth broke scoring records in winning the Masters last year.
That was a performance that heralded the arrival of the so-called 'big four' in golf, with Jason Day and Dustin Johnson also subsequently passing McIlroy in the world rankings.
Now, if you factor in the recently crowned Open champion Henrik Stenson into the conversation, it's really getting rather cluttered at the top of the world of golf.
McIlroy could actually drop out of the top four in the world this week, in spite of being world No 1 less than a year ago.
"I feel like this is my best chance this year to win a Major." - Rory McIlroy
However he believes his game is right there at the moment to win a Major, and he feels entirely comfortable with the task ahead of him here at Baltusrol, which is a big-hitter's paradise – a category that McIlroy falls right into.
"I feel like I can really do well this week," the Holywood man said. "I feel like my game is in good shape, I had some really good practice sessions with my coach Michael Bannon last week.
"I'm hitting it good. Every aspect of my game I'm very comfortable with, so combine that with the layout of the course here and I feel like this is my best chance this year to win a Major."
For really the first time this season that 'big four' of Day, Johnson, Spieth and McIlroy are not completely dominating the conversation as to who will be the winner on Sunday.
This week, we're looking at the curious scenario of a Major championship which is struggling to emerge from the long shadow cast by the sensational conclusion of the Open championship 11 days ago.
It was an event of such staggering quality that the co-stars of the 'Duel at Troon' – Stenson and Phil Mickelson – are the ones hogging the preview headlines, and with good reason.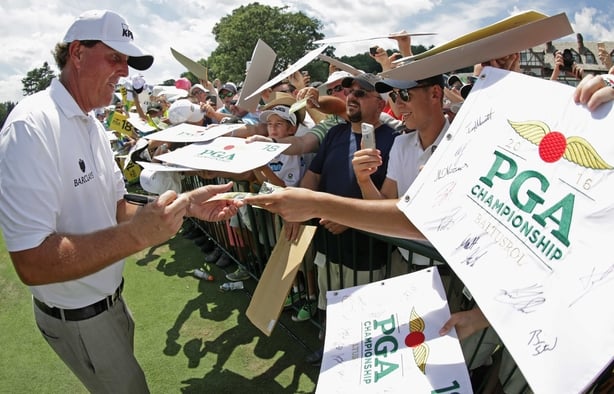 Stenson, the multi record-breaking winner of the Open, can't help feeling that this next Major may have come round just a bit too quickly for his liking.
"Preferably one more week would have been a good thing," he admitted. "At the same time when you've got the momentum and you're playing well it might not be bad to get straight back at it. I still think I've got a bit of fight in me."
Arguably Mickelson should be the real favourite this week. He actually won the PGA title when it was last held in Baltusrol 11 years ago and clearly he carries some real form into this from his runner-up finish at Troon.
"I don't look back on the final round with anything that I would have done really different, other than go over to Stenson's bag and bend his putter a little bit!" the American said.
"But I'm also starting to play good golf again. I'm having a lot more fun on the course. I had two bogey-free rounds on the course in a Major – that's really good for me. I'm back to the level that I expect to play at."
There are five Irish involved here. Darren Clarke, Padraig Harrington and McIlroy are all out early between 12.30pm and 1.30pm Irish time, while Shane Lowry and Graeme McDowell begin between 6.15pm and 7pm this evening.