Rory McIlroy is confident he can turn a B- season into an A+ by claiming a third US PGA Championship title in the space of five years.
McIlroy won the Irish Open in May and has recorded eight other top-10 finishes in strokeplay events in 2016, but failed to add to his tally of four major titles in the Masters, US Open and Open Championship.
The 28-year-old opted for "neutral" when asked to describe his 2016 campaign in one word, but feels he can find top gear once more at Baltusrol, especially after Monday's thunderstorm recalled the soft conditions which prevailed for his breakthrough US Open victory at Congressional in 2011.
"It's a fair golf course, everything is straight out in front of you," said McIlroy, who won the US PGA in 2012 and 2014 and has recorded three other top-eight finishes in his seven appearances. "There's no real hidden secrets to it and I feel that's what really lets me excel.
"I feel like I can play my game in PGA Championships. I can hit driver off the tee most times and from there, if I drive it well, I feel like I have a big advantage.
"There's been times (this year) where I got a little bit of momentum and then sort of got set back a little bit. It's sort of been a little stop-start in a way.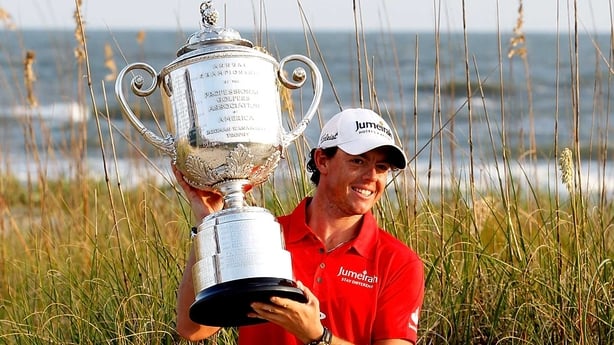 "I'm trying to stay as positive as I can. I feel like I am positive because my game is in good shape, but I guess I'm just maybe running out of patience a little bit in trying to make it happen.
"As for a grade, I'd say like a B- maybe. I could change that into an A+ on Sunday. There's a lot of golf left, last major of the year, and I want to give it my all to get in the mix and try to win another one of these things before I have to wait another eight months to try to get another opportunity at Augusta next year."
If McIlroy does not lift the enormous Wanamaker Trophy again on Sunday it will mean going two full years without a major title, the world number four having won the Open and US PGA in 2014, with a first World Golf Championship title sandwiched in between for good measure.
Since then, the likes of Jordan Spieth, Zach Johnson, Jason Day, Danny Willett, Dustin Johnson and Henrik Stenson have demonstrated the strength in depth of world golf by winning majors, but McIlroy believes he should still expect to be winning one a year himself.
"I'd love to sit here and say I'm going to win a major every year," he added. "I could retire at 40 and be very happy.
"I think it is realistic, I really do. We've seen in the past that is achievable. That's the benchmark. It's hard but I guess from 2011-14 I averaged a major a year.
"There's no reason to think that I can't do that for the foreseeable future. I have to play my best golf and sometimes it's hard to come up with your best golf each and every week. But I definitely think it's attainable."
McIlroy has finished third and fifth in his two events since missing the cut in the US Open and admits he was motivated by being left trailing an amazing 16 shots behind Open champion Stenson at Royal Troon.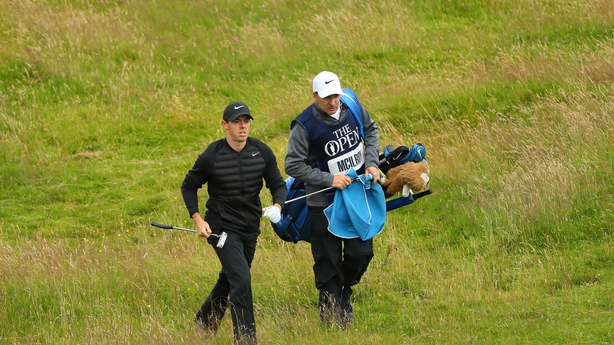 "I think any time you walk away from a big tournament and you haven't lifted a trophy, it's going to motivate you," McIlroy added. "How can you not be motivated by watching that golf on the Sunday of the Open Championship with Phil (Mickelson) and Henrik? Just going blow for blow down the stretch, that can only give you motivation and get the juices flowing.
"You see guys and sometimes you think that should be me and it gives you a bit of a kick in the ass to get out there and go practice."
McIlroy also has added motivation to get into contention and earn a late tee time for Sunday's final round, revealing he has tickets to watch fellow Northern Irishman Carl Frampton's world title boxing fight on Saturday.
"If everything goes to plan I will be able to get to the Barclays Centre (in nearby New York) to cheer him on," McIlroy added. "I've never been to one of his fights before so hopefully I'll have a late tee time on Sunday."
Korea's Byeong Hun An came out on top in the long drive contest at the US PGA Championship, much to McIlroy's dismay.
All players had the opportunity to hit one tee shot on the first hole, with the distance measured as long as the ball finished on the fairway.
McIlroy had set a daunting target of 345 yards early in the morning and looked set to win the gold money clip and a $25,000 donation to a charity of his choice, only for An to beat him by two yards.
"I'm a little bit gutted," McIlroy said with a smile. "That would have been a mini victory this week and I hit mine at half eight this morning when there was no wind. I pulled it a little bit, so I was a little concerned it might just miss the fairway left, but it just hung on.
"I'm not going to lie to you, I've been checking the board since to see if anyone's got up close to me. I saw Gary Woodland on the putting green just as he was going out and I said that's one of the guys I'm worried about. I thought he could maybe get it out there by me. But thankfully he missed the fairway.
"It's a cool concept. It's a lot of fun and I think the guys enjoy it."
McIlroy had to settle for a silver money clip and a $15,000 donation, with Belgium's Nicolas Colsaerts winning a bronze clip and $10,000 for third after a drive of 341 yards.