Masters champion Danny Willett experienced a mixture of the sublime and the ridiculous as he claimed a share of the lead with a remarkable 68 in the BMW PGA Championship at Wentworth.
Following on from a flawless 66 in his first round in England since winning his maiden major title at Augusta, Willett raced to the turn in a tournament-record 29 thanks to six birdies in seven holes from the third.
At that stage the world number nine enjoyed a five-shot lead and was on course to break the 36-hole scoring record of 13 under par, but dropped his first shot of the week on the 10th and also bogeyed the 15th, 16th and 17th to come home in 39.
The 28-year-old's 10-under-par total of 134 was later matched by first-round joint leaders Scott Hend and YE Yang, with South Africa's Jaco van Zyl a shot behind in fourth.
Willett's group was put on the clock for slow play on the back nine and he also had a lucky escape on the 17th when his sunglasses almost fell on his ball in the rough. If they had caused the ball to move, he would have received a one-shot penalty.
After 36 holes:

-10 Willettt
-10 Hend
-10 Yang
-9 Van Zylhttps://t.co/yr10myRF57 pic.twitter.com/tY4dj7ei5L

— The European Tour (@EuropeanTour) May 27, 2016
"I played great most of the day and then chucked a couple of horrid shots in there," Willett said. "I had a slow walk from 17 to 18 to try and gather my thoughts and after hitting two lovely shots into the last I came off with a slightly better taste in my mouth.
"You could have just chucked it and finished really poorly, but to make birdie on the last was good and shows a little bit of mental strength. It was still not quite the back nine I was hoping for but 10 under par, you'd have taken it at the beginning of the day."
Willett struggled to recall exactly when his group, which included South Korea's Soomin Lee and France's Victor Dubuisson, were put on the clock, adding: "The back nine all mingled into a pile of ****.
"It doesn't help when you get swirling winds round here because it's a tricky golf course. You'd like as much time as possible to double-check your numbers and make sure you're happy with what you've got.
"A couple of shots out there I hit a little bit too quickly and got the wind a little bit wrong, but you can't blame anything when you hit a couple of bad shots. We were out of position early and we were a good bit out most of the day.
"Nobody wants a six-hour round, but if someone is shooting a few over par in the group, they are going to take more shots which takes up more time.
"It's tough to get it fully right, but JP (European Tour chief referee John Paramor) is one of the fairest referees out there and all day he was monitoring the time, but you get a bit nervy when you're put on the clock with a few to play."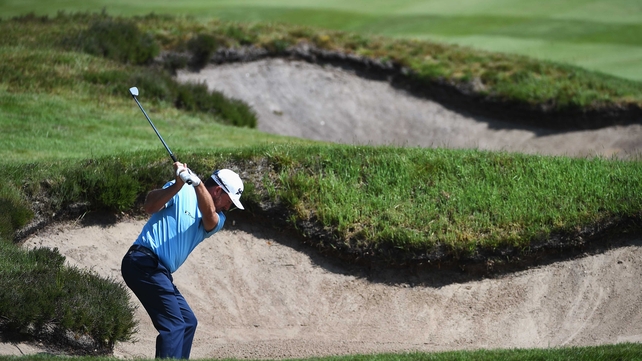 Graeme McDowell is the best of the Irish after his one-over-par 73 left him two-under for the tounament, eight off Willett, Yang and Hend.
Shane Lowry had a disastrous second day. His six-over 78 left him three-over and outside the cut, with his compatriot David Higgins a shot better off but still shy of making the weekend.
Ryder Cup captain Darren Clarke's tournament ended with a 77 to leave him 12-over.
Hend completed his 69 in style with an eagle from 18 feet on the 18th, while Yang - who created history in 2009 as the first man to come from behind to beat Tiger Woods in the final round of a major - carded four birdies, an eagle and three bogeys.
"I'd been struggling all day to get the ball over the centre of the club, get it around as best I can," said Hend, who won his second European Tour title in Thailand in March. "Came up 18, hit a nice little sliding driver down there and sort of chunked a six iron not as good as I'd like to hit it.
"I was in between six and seven and I took a six and caught it a little bit thick. But it was nicely on the green and knew I had a quick putt, so just hit the putt where I thought it could go and rolled all the way.
"It was quite nice and a good result considering I was floundering coming down the last few holes and put a positive spin going into the weekend."