Pre-tournament favourite Charl Schwartzel will take a slender lead into the final round of the Tshwane Open as he looks to win an eighth European Tour title on home soil.
South African Schwartzel struggled to an opening one over par 71 at Pretoria Country Club but carded a flawless 64 on Friday and carried on where he left off in the third round with an eagle and three birdies taking him two shots clear.
However, the former Masters champion gave the chasing pack increased hope with a bogey on the last.
His wayward drive into the trees led to a first dropped shot since the 15th hole of his first round.
That meant the world number 43 had to settle for a 66 to finish nine under par - one shot ahead of compatriot Zander Lombard, whose flawless 63 featured five birdies and an eagle in the space of seven holes from the sixth.
Overnight leader Anthony Michael and Joburg Open winner Haydn Porteous are two shots further back, Michael carding a 71 and Porteous recovering from a triple-bogey seven on the seventh to shoot 68.
"I hit the ball really well," Schwartzel said. "I think I only missed two greens and I gave myself a lot of chances for birdie, the same as Friday."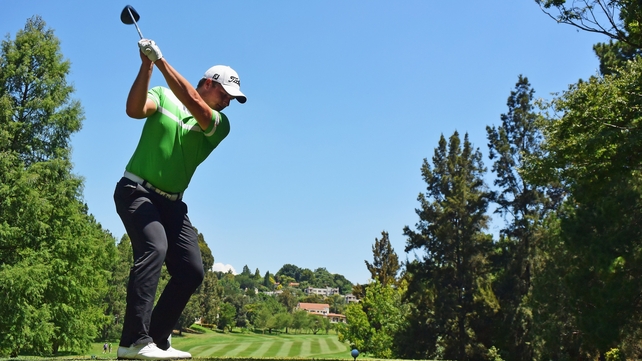 Schwartzel continued: "It's pleasing to me to see that the consistency of the long game is coming back and it's just nice to be in contention. There's nothing that builds confidence more than playing well. 
"It's very close and it's still going to come down to Sunday and who actually just shoots the best score. That's what it's going to be so I'm looking forward to it."
"I've played this course a million times because it's in my backyard." - Zander Lombard
Lombard (above), who was briefly hospitalised last weekend after being bitten on his left hand by a venomous spider, hopes local knowledge will give him the edge on Sunday.
"I've played this course a million times because it's in my backyard," said the 21-year-old. 
"It's a tricky course. You have to play it in the right places - it's not just hit it hard and putt well. You have to really hit the right sides of the fairways and the right sides of the greens to really get a round going.
"I did all of it pretty well on Saturday. I had a few miscued shots but I recovered extremely well and I'm really happy with my game."
Ireland's Kevin Phelan didn't make the cut following his four over par at the half-way stage. Peter Lawrie also headed home on Friday after posting 12 over for two rounds.