Jordan Spieth is still on top of the leaderboard on 16 under going into the final round of the 2015 Masters.
The way the Masters course is set up, slight errors will be punished severely.
Spieth was in complete control, seven shots clear of the field after 16 holes in his third round. But in the space of five to seven minutes, that lead was down to four and it could have been down to three another ten minutes later only for a brilliant saving par on the 18th. 
What do we make of that?
Spieth looks like he might be suffering a little bit of battle fatigue. He's been in contention in three consecutive tournaments running into the Masters, winning one of them. He has led after three rounds of the Masters and that is tough.
He admitted that the gap between the end of his second round and the start of his third round was 24 hours and it was a long time to dwell on a record-breaking performance over the first two rounds.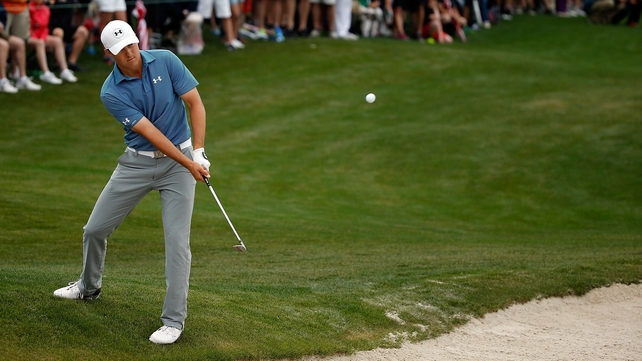 Maybe his concentration was affected. Five dropped shots in the space of 14 holes in round three compared to one dropped shot in the previous 36 holes points to that. There is no doubt that the pressure did lean on him. But apart from the mistake on 17 he has been very, very composed.
A terrific illustration of that was when he hit a bad shot on 18 into the crowd and it looked like an automatic bogey. He said himself it was one-in-five scenario to get up and down from where he was but he got up and down from where he was.
That shows the nerve of the man and I think that will stand to him in the final round the fact that he made that par on 18. If he hadn't made that par he would have slept on very negative vibes and thoughts overnight.
The pursuers
Jordan Spieth now has serious rivals. Justin Rose birdied five of the last six holes. Rose was an impressive winner of the US Open two years ago so he's got that fresh experience of been right in contention in his mind.
That gives him a serious advantage in the final grouping knowing that he's got little to lose and he'll be watching to see whether Spieth shows any of the elements of cracking that were present at times in the third round. Rose has a great chance, four off the lead. 
Phil Mickelson, five off the lead, also has a great chance. He's in the part of his career where these chances are getting fewer and far between. He wore a pink shirt in the third round in honour of Arnold Palmer, who was a famously gritty competitor and a multiple winner of the Green Jacket. In the final round, Phil will wear black as he always does on the final day of his Masters victories. It's a lucky colour for him and he also says it makes him play aggressively. He makes a big deal about it and he added that he will be playing aggressively in the final round to match his black shirt. 
Charlie Hoffman wobbled a bit towards the end of his third round with bogeys on 15 and 17. He may have run his course in what has been a good Masters for him so far. He's six shots back on ten under.
Rory & Tiger
Rory McIlroy and Tiger Woods are both ten off the lead. Rory believes he needs to card a 61 or 62 in the final round if he is to have any chance. That would be a major championship record. It's very hard to do. His comments came before he heard about Spieth's double bogey on 17.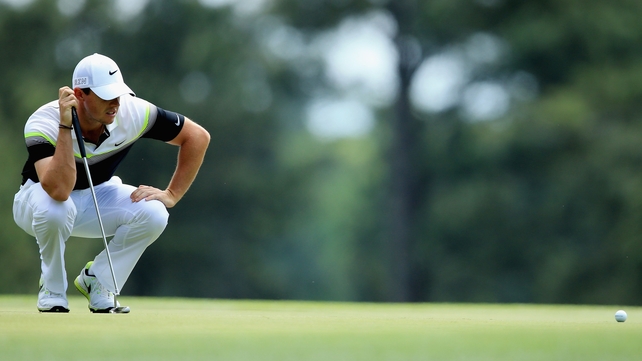 If Rory could post a 64, that would get him to 14 under, so he needs a serious wobble from Spieth.
Tiger Woods, I think, is happy to be in the top five. To be in that position after the season he has had so far is a sign that Woods is back to something approaching good golf, but nowhere near his best.
Prediction
I think Spieth will do it. He has set a record in that 16 under par after 54 holes has never been done before at the Masters, similar to his 14 under total after 36 holes. He reached 18 under after 16 holes in round three. That was only thee second time 18 under has been reached in the history of the tournament.
Spieth deserves this. He's really been gutsy in the way that he has led from the front and that par save on 18 in round three is the important hole that he has played so far because it gives him momentum going into the final round.