Pádraig Harrington has said he has never needed a win at any stage in his career as much as his stunning play-off victory in the Honda Classic.
On Monday, Harrington sealed his first victory in either the US or Europe in almost seven years after a thrilling final round at Palm Beach, beating American rookie Daniel Berger on the second play-off hole, the 17th.
It was a particularly sweet ending for Harrington given that he lost the lead on 17th during his final round after finding water before showing great nerve to sink a 15-footer for birdie on the last to force the play-off.
Speaking exclusively to RTÉ Sport's Greg Allen, Harrington explained the significance of the win. "You could definitely argue it's career-changing," the three-time Major winner said.
"I suppose winning the Majors was life-changing, in that way, but at this stage in my career, this win is massive.
"I won in here in 2005 at the Honda Classic, and it was my first win on the PGA Tour, and it was a big step up, but probably, it's hard to believe at any stage in my career I needed a win as much as I needed this win."
"I've found a bit of peace; it worked about 50% of the time this week. Typical me, I'm wondering can I make it better than that"
The Dubliner said that he was generally an optimistic person, and that this positivity had helped him throughout the years without a win, but admitted he had been disappointed in his performance on occasion.
"I've found a bit of peace; it worked about 50% of the time this week. Typical me, I'm wondering can I make it better than that, going forward. And hopefully, it works. Certainly, it's my answer, and that's the big point for me.
"I do feel like I can play as I've played, and better, going forward."
Harrington's last win in Europe or America was the 2008 USPGA at Oakland Hills and, although he showed flashes of his old play in winning the Indonesian Open last December, he admitted he had been struggling for form thus far this season.
"I was disappointed with my first four weeks out here," he said. "I really struggled again; a lot of mental errors, and I was struggling to get to grips with it.
"And then, I found something last week in Riviera [at the Northern Trust Open], and I was very keen coming in this week, and I definitively had a bit of peace on the golf course."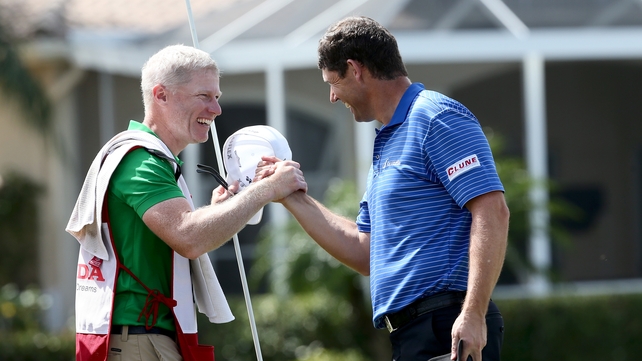 The win offers the prospect of an exciting new chapter in the Dubliner's career, one that had at times threatened to elude him.
He said that he did realise the significance of the win - which gains him an invitation to the Masters and an exemption on the PGA Tour for two and half years - but that, for the moment, he was keen to simply enjoy it.
"I've been trying to not think about what it means," he said. "I've been trying to just enjoy the moment.
"At times in the past, you win a golf tournament, and you're thinking about what it means, going forward. But really, it's about the moment; it's about enjoying it. I'm just taking it in, and enjoying all the texts and tweets and emails, and just staying in the moment, like I was on the golf course.
1st celebration meal. pic.twitter.com/VlpOb1OTBJ

— Padraig Harrington (@padraig_h) March 2, 2015
"I'm thrilled to be back in the Masters. It was so disappointing, sitting it out last year. I really feel like I can perform there.
"I will look forward to it, I'm going to be thrilled about it, but, at this very moment, I'm celebrating winning the Honda Classic."
Reflecting on how he played the 17th in regulation, Harrington gave an insight into his thinking during the final round.
"It was a three-quarter five iron for me. But effectively, there is water short, left and right of that pin. And anything long is going in the bunker. So really, you have to hit it close or don't hit it at all.
"Unfortunately, I was trying not to hit left, because I've hit it in that water short left once before, and I got a little bit out of my routine and hit a bad shot."
Faced with a wedge over the same water hazard he had just hit into, Harrington's positivity never faded.
"We were really hoping to get it up and down to give myself a birdie at the last to win," he said.
His considerations changed in the play-off, though. Faced with the prospect of going up 18th yet again with long-hitter Daniel Berger, who had an advantage on that hole, Harrington knew he had to take his chance on the 17th.
"When I got back to 17, I stood there and I said, 'Look. I've got to take this on. I've got to go for it here.'"
Listen to the full interview here: