Padraig Harrington has ended a seven-year title wait on the PGA and European tours with victory at the Honda Classic after a tense play-off with American rookie Daniel Berger.
Following a thrilling final round at Palm Beach, the victory was sweet for the 43-year-old Dubliner, a triple major winner who has dropped down the rankings after several seasons of struggle and went into the tournament ranked 297th in the world. He will now be 82nd.
Harrington's last win on either the PGA Tour or European Tour came at the 2008 US PGA Championship.
"I think I've found that mental edge that I've been lacking the last number of years."
Both players finished on six-under-par but Berger found water on the second play-off hole, the par-three 17th, and Harrington two-putted from three feet after having produced an exquisite iron shot off the tee.
The three-time Major winner - he won back-to-back British Opens in 2007-8 - would not have needed a play-off had he taken care on that hole during regulation.
Leading the rain-disrupted event on the 17th tee, Harrington sliced his tee shot into the water and made a double-bogey. That left him a stroke behind Berger, who had been nine off the pace at the start of the round.
Harrington responded in typically gritty fashion, setting up the play-off by sinking a superb 15-foot birdie putt at the 18th.
"Hopefully, this isn't an isolated win," he said. "I really do believe in myself. I think I've found that mental edge that I've been lacking the last number of years.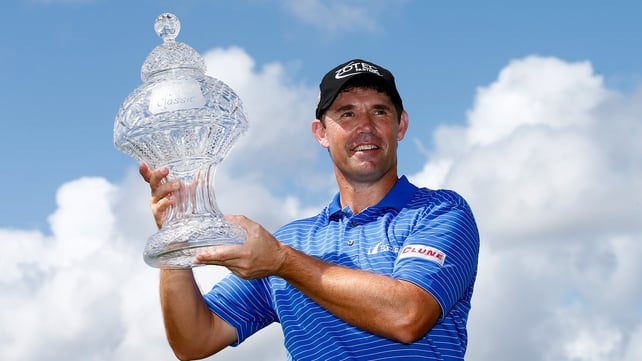 "Hopefully, I'll be able to stick with that going forward and be consistently contending because I know if I am contending I can win."
He added: "When I get in contention I can hit the shots. The problem has been actually when I'm starting the week, middle-of-the road shots, easy shots, I'm just not hitting them. When I've got tough shots I can hit them."
Ian Poulter finished with a disappointing 74 while Patrick Reed carded a 73 to fall out of contention as the field finished their final rounds on Monday following lengthy rain delays over the weekend.
Harrington had looked to be out of the equation after a bogey on four and double on six saw him reach the turn in 38 but a run of four birdies from the 11th coupled with a collapse from Poulter gave him a share of the lead with Reed.
Reed found the water at 15 for a double bogey and another dropped shot at 16 meant Harrington stood on the 17th tee with a one-shot lead over Berger.
But he then found the water and double-bogeyed to hand Berger the lead before a clutch putt on 18 earned him a birdie and a place in the play-off.
Birdies on 17 and 18 had given Berger the clubhouse lead at six under after a 64 but it looked unlikely that would be enough to finish top of the leaderboard when he walked off the course. Berger had also picked up shots on one, three, four, nine and 11 with his only bogey coming when he found the water on six.
Poulter's problems began on the fifth when a wayward tee-shot saw him record a double bogey and another errant drive saw him find the water and bogey the sixth.
Back-to-back birdies on seven and eight saw him steady the ship but he was in the water again on 11 as he recorded a double bogey and his chances of victory evaporated as he was in the water twice more on 14 to record a triple.
Paul Casey and Russell Knox also finished on five under after closing 68s with Jamie Donaldson a shot further back.
Jeff Overton, Jim Herman and Luke Donald finished alongside Reed on three under.
As it happened
5:02pm: HARRINGTON WINS HONDA CLASSIC. Three for par at the second play-off hole is enough for a superb win. Victory guarantees Harrington a place in The Masters and his first PGA tour win in over seven years. Fantastic.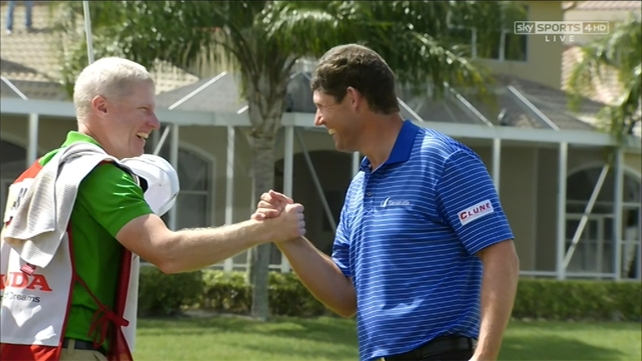 4:59pm: Berger's fourth shot goes wide. Finishes with a five. Double bogey finish for Berger.
4:58pm: Harrington will go up to 82nd in the world, if - as expected - he completes victory here.
4:56pm: Berger's third shot finds the green. But he's facing a bogey.
4:55pm: Berger is in the water! Harrington on the cusp of a major comeback.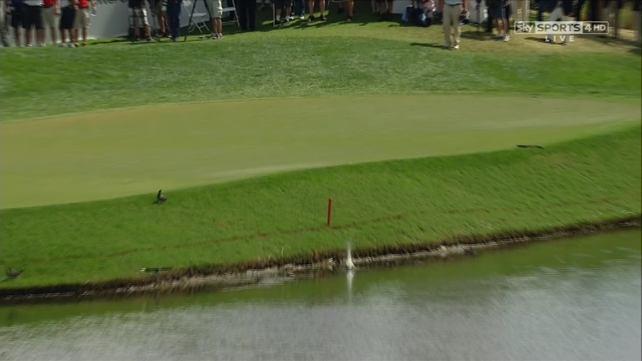 4:52pm: Both players are on the 17.Harrington lining up his shot. Into the breeze he avoids the water this time. It's a brilliant shot. He's about four feet from the hole.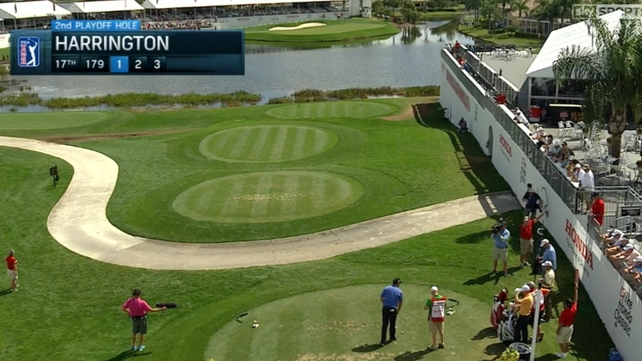 4:47pm: Harrington does likewise. We're off to the 17th. Two par 5s from both men.
4:46pm: Berger holes out.
4:45pm: Berger putt fails to go in. Goes a bit by.
4:44pm: Fine effort from Harrington - just passes the hole. Berger has a putt to win it.
4:43pm: Both putts will be downhill. Fairly similar lines. Harrington to putt first.
4:41pm: Harrington's shot lands not as near but the line is good.
4:40pm: Berger's shot is a delight - lands 12 feet from the hole.
4:39pm: Both men have the exact same yardage at 125 yards. Berger to hit first on the second.
4:34pm: Second shot from Harrington fines the fairway safely, as does Berger's.
4:31pm: Berger's drive is just a touch out of position but both men will be happy with their shots.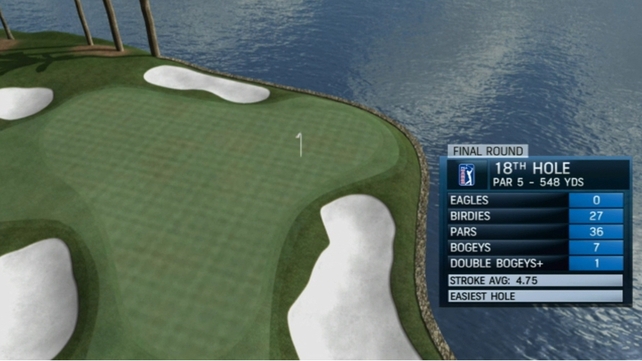 4:30pm: Good drive from Harrington.
4:28pm: Padraig limbering up on the 18th. Thr excitement of it all. Paddy to drive first.
4:20pm: That was a remarkable putt considering what was at stake. The play-off will be at 18.
Boom! 👊

— Shane Lowry (@shanelowrygolf) March 2, 2015
4:16pm
After making his way from practice range to the locker room @DanielBerger59 watches to see if @padraig_h birdies 18. pic.twitter.com/FcmcAwitfD

— Todd Lewis (@ToddLewisGC) March 2, 2015
4:15pm: Harrington's birdie attempt at the last goes in. Brilliant! We have a play-off coming. Well done Paddy!
The clenched right fist was last seen in Harry's dust-up with Sergio in US PGa in 2008.

— Philip Quinn (@Quinner61) March 2, 2015
4:11pm: Wind has freshened. Harrington's third takes an unfavourable bounce on the green. It's still there for hom to make the birdie.
In fairness to Daniel 'The Ice' Berger, he finished birdie-birdie. Harry odds on to finish 5-5, unless, unless.....

— Philip Quinn (@Quinner61) March 2, 2015
4:07pm: Harrington is in the bunker and this second shot will set him for a birdie attempt. Needs up and down for a play-off. Bit of work to do, though.
4:04pm: Harrington's ball bounced to the bunker.
4:00pm: Harrington at the last. His drive veers to the left and finds the left-hand bunker. Not great!
3:59pm: Poulter still has a chance if he can eagle the last.
3:56pm: Harrington needs to birdie the last to force a play-off.
Double bogey for Padraig Harrington at 17. A birdie at 18 forces a playoff with Daniel Berger. pic.twitter.com/KYMtIjDsPy

— PGA TOUR (@PGATOUR) March 2, 2015
3:53pm: Harrington putt is uphill. It falls short. He drops back to five under - a shot behind leader Daniel Berger.
3:47pm: Harrington's third is a good shot. Gives him a chance to come out with a bogey.
.@padraig_h looking to become first Sponsor Exemption to win on the @PGATOUR since @WestwoodLee at 2010 @fesjcmemphis. #TheHondaClassic

— The Honda Classic (@TheHondaClassic) March 2, 2015
3:45pm: Harrington at the drop zone, deciding how to play. Seems a bit ruffled our Padraig!
3:42pm: Third shot on the 17th next for Harrington. Poulter finds the green with his drive.
Harrington at 17. Splash. pic.twitter.com/UyGIWd2ugA

— PGA TOUR (@PGATOUR) March 2, 2015
3:40pm: Harrington drive on the par three 17th with a 5 iron finds the water. Oh dear! Wrong shot at the wrong time.
3:36pm: Harrington's par put goes on. Paddy is one ahead with two to play.
3:34pm: Reed's par put is missed. Drops to four under after 16.
3:32pm: Harrington birdie attempt (not par) is nicely judged downhill on a fast green. Should finish out for par.
3:31pm: Reed's third shot at 16 skips well past the hole. Has work to do to get a par.
3:26pm: Reed's approach is just off the green while Harrington is on the opposite side in short rough. Harrington's approach is fine, he'll aim for a par to maintain the lead.
Come on paddy if you ever made 3 pars in your life 🙏🙏🙏

— Shane Lowry (@shanelowrygolf) March 2, 2015
3:18pm: Harrington finds the fairway with his approach, just off the short cut of rough. Paul Casey's putt at the last misses the hole so he is out of contention now with a total of five-under.
3:17pm: Next up is the par-four 16th.
Padraig Harrington hits it to 9 feet at No. 15, but can't convert the birdie. Reed doubles 15 and Paddy leads by 1. pic.twitter.com/IDN99o9cbB

— PGA TOUR (@PGATOUR) March 2, 2015
3:15pm: The birdie putt for Harrington slips agonisingly past the hole, meaning Harrington will stay at seven-under.
3:13pm: Reed's approach after finding the water is poor and he ends up with double bogey. It's playing into Harrington's hands.
3:06pm: Brilliant drive from Harrington on 15. It sets up the chance of a remarkable five birdies on the bounce. Reed wasn't happy with his shot. He's in the water and voices his frustration in the aftermath. Harrington has to be considered favourite for the tournament now.
Padraig Harrington's last PGA Tour win came 2,396 days ago. He has 0 top-10's in his previous 30 PGA Tour starts.

— Justin Ray (@JustinRayGC) March 2, 2015
3:01pm: New leaders - Harrington & Patrick Reed after both birdied 14.
2:59pm: Poulter's long put for triple bogey goes in Drops back to three under.
2:56pm: Meltdown territory for Poulter
2.53pm: Harrington well placed to get a birdie on 14.
2:49pm: Poulter takes his drop. Third shot. Looks like he shanked it and is in more trouble. In water again.
2:49pm: Daniel Berger finishes his round at six under.
2:46pm: Ian Poulter is in the water at hole 14.
How good would it be to see @padraig_h get the job done today. 1 behind with 6 to play. 🍀🍀🍀

— Shane Lowry (@shanelowrygolf) March 2, 2015
2:42pm: Harrington was +3 over from his round before starting today. Birdies at 11,12 and 13 has given him a chance of winning the title.
2:40pm: After three birides in a row, along with Ian Poulter shootin a double bogey at 12, Padraig Harrington is in a share of the lead at the Honda Classic.