Galway hurling manager Henry Shefflin is happy to take the direct route of being in a Leinster final after his side topped the round-robin standings.
The westerners ended up on nine points after Saturday's win over Dublin at Pearse Stadium. Below them on six points each were Kilkenny, Wexford and Dublin, with the Cats' better scoring difference ensuring that Shefflin and Brian Cody will oppose each other again in a fortnight's time.
For the Tribes boss, it wasn't quite a case of better than expected, but still there's a pleasing aspect of being another step on the road to the All-Ireland series.
"At the start of the year our aim was to be in the top three, as our league campaign wasn't brilliant," said Shefflin to RTÉ Sport.
"They were four teams vying for those three positions. It was then a little bit comfortable for ourselves as we knew we had the cushion of seven points.
"If we got to nine points we knew we had that Leinster final place booked. The direct route, I think, is the best way to go. It's always good to get to finals and that's where we've ended up."
In assessing his side's overall performance, Shefflin wasn't entirely satisfied, but scoring bursts after half-time and an increased workrate did please the former Black and Amber star.
"I wouldn't say I was necessarily happy with how we performed but the breeze was strong even though it looked like we got a bit of a handle on it just before half time.
"We went three points ahead and they came back with the last two scores just before the break. We then had a phase of play and threw a couple of scores together. We did that early in the second half, the wind was strong and was going to be a factor in the game.
"If you keep it tight at the back and not concede any goals, our second week in a row not to concede any goals, well then that was also a factor in it.
"You're looking for your identity and your identity should be your workrate. Conor Cooney missed a penalty and a few frees but he was our biggest tackler out there. He put in a serious shift.
"That's what you're looking for. All the teams are putting in massive efforts that we don't see behind the scenes, gym work and all that kind of stuff. It's great then to see the lads put all that work on the line."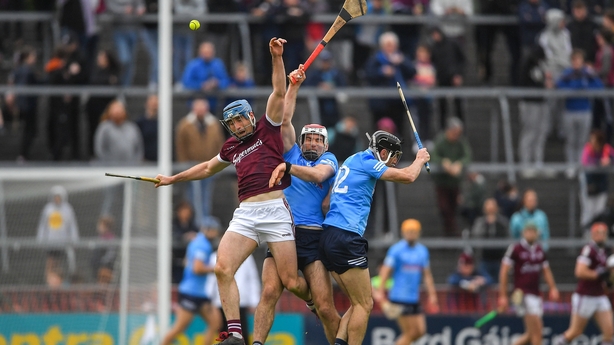 In casting an eye ahead to the provincial decider, Shefflin sees it as a new game, following on from Galway's one-point win over the Cats on 1 May.
"Every game takes on a life of its own. It's a cliché but it's so true. It's a final and both teams will prepare for it and the best team will win thereafter."
Shefflin's opposite number Mattie Kenny was naturally disappointed in seeing Dublin's championship campaign come to an end. Wexford's win over Kilkenny saw the Dubs relegated to fourth in the standings.
Kenny bemoaned the fact that his charges did not make more of the wind advantage they had in the first half, while also being critical of the number of frees they conceded.
"We had a strong breeze in the first half and I was happy enough with how we started the game. We created a number of chances but as the half wore on we gave away a few softish frees, a few technical frees that we shouldn't have and got turned over.
"We knew we had to build a four or five-point lead at the break. It was a four or five-point breeze out there. Galway got some momentum and we went in a point down. In the second half, playing with the breeze, Galway got some quality scores and stretched out the lead. It was difficult to claw it back and they were deserving winners on the night."
Dublin's target at the start of the campaign was to make the Leinster final, but the manager knew they would have to beat either Kilkenny or Galway to achieve that. They didn't and the sense of disappointment is now palpable.
"We won our first three games and it was a healthy position to be in. We knew we had two big games coming after that, Kilkenny at home and then coming down here tonight. We knew we had to win one of those to get to a Leinster final; that was our target.
"Ultimately we didn't achieve that. We're really disappointed going out of the championship tonight. It's massively disappointing to lose out on scoring difference."