Down forward Barry O'Hagan has rowed back on a comment lamenting the Tailteann Cup as "pointless" and said that they were made in the heat of the moment.
Speaking in the aftermath of the Mourne County's 0-23 to 2-07 Ulster loss to Monaghan, the Clonduff man didn't hold back on his view of the tier-two competition.
"For me personally, I don't know about the group, I have very little interest in it, to be honest," said O'Hagan after that Farney defeat that ensured Down would be a participant.
With a few weeks to reflect, and a first-round clash with Cavan to look forward to following Monday's draw, O'Hagan admitted that his outlook had changed.
"Well, that was probably within five minutes of our defeat against Monaghan, a heavy defeat," he said of those scathing comments.
"My own performance that day was bitterly disappointing. I thought maybe if I had kicked even two or three we might have been in it at that stage.
"Look, it was probably emotions and stuff like that that got into my head. I was a wee bit disappointed and one of the questions I was asked was, 'would you rather be in the Tailteann Cup or an All-Ireland qualifier?' So that's what made me make that comment and go down that route.
"At the end of the day, we are where we currently are at this moment in time with Down. If we put our heads together for this cup and try to develop our team, it can be beneficial for us in the long run and that's what our stand is now and hopefully it will go that way."
Following hot on the heels of O'Hagan's comments were even more volatile remarks from Kilcoo's Eugene Branagan when he was named AIB Club Footballer of the Year having played a starring role in the Magpies' first-ever All-Ireland title.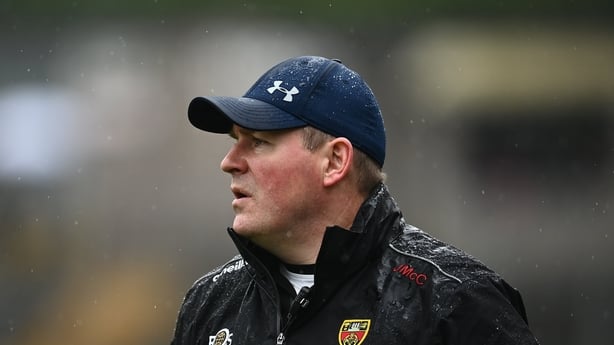 Indicating that he had no desire to pull on the famous red and black jersey, Branagan questioned the mentality that existed in the Down squad.
"I've no ambition to play for the county. I was brought up with the club. If the county had a winning mentality, maybe you would think about joining but at the moment I can't see that and I haven't seen it in the past few years and I would say it is a thing for most Kilcoo players."
O'Hagan said that Branagan was entitled to his opinion but disagreed with his view of the camp's mentality.
"Freedom of free speech, if that's what Eugene thinks, I am not going to comment on that. Everyone is entitled to their own opinion.
"If that's what he thinks, that's fair. It hasn't got inside our camp and we are all pretty happy - and that's part of it."
Since the Monaghan loss, a raft of Down players have exited the squad including Caolan Mooney, Ryan McEvoy, Gerdie Collins, Cory Quinn and Charlie Smyth.
Those departures were further blows for manager McCartan who had considered his own position after a breach in squad discipline at a training weekend ahead of the Monaghan championship game.
Add all those elements together, along with relegation to Division 3, and it feels like an annus horribilis for the five-time Sam Maguire champions. O'Hagan, however, took issue with such a suggestion.
"I wouldn't say the season has been a complete failure.
"If you go back through the stats throughout the league, I think we introduced something in the region of 22 players this year through league football. We had seven debutants that day against Monaghan. So again, that's all youth and well-being for the development of Down.
"Yes, on paper, we might not have won a game but at the same time we developed players and putting those players through that aspect of having those defeats might boost them for later on down the line that when we do start to get this ball rolling properly, that they're well equipped for it and that they're able to then share the dreams of victories then."
And for O'Hagan, such victories are hopefully just around the corner – starting with Cavan in two weeks' time and ending at Croke Park as the first-ever Tailteann Cup champions.
"You'd never turn your nose down at silverware. Last year with the club we did a league [delayed 2020 league] before the very start of the league [2021 league]. It was a chance to win some silverware and we went with open arms to try and take it and thankfully we did.
"This is a chance of more silverware. When you win you gel better as a team, or so I'm told, I haven't experienced that yet.
"It brings a good bit of momentum and with a bit of momentum you never know where you could go. Hopefully that starts with Cavan."
Listen to the RTÉ GAA Podcast at Apple Podcasts, Soundcloud, Spotify, or wherever you get your podcasts.