Rory Gallagher believes his Derry side earned the right to play in this year's Ulster Championship final following a hard-fought, yet impressive, victory over Monaghan at the Athletic Grounds.
Derry qualified for their first provincial decider since 2011 – they have not won the Anglo Celt Cup since 1998 – with a comprehensive 3 12 to 0-17 win over Monaghan in Armagh, and Gallagher felt that his side's three goals proved crucial to the victory.
The first arrived early in the game and it appeared to come straight from the training ground, as Gareth McKinless burst clear of his marker, joined in the attack and powered home from close range as Derry raced into a five-point lead before Monaghan had registered a score.
The second goal was in the image of Monaghan's own style as Odhran Lynch took a leaf out of Rory Beggan's book as the goalkeeper turned provider, pinpointing a long-range pass perfectly to Niall Toner.
Toner then fed Benny Heron and another close-range chance presented itself, with the same outcome, as the ball flew past the Monaghan stopper, as Beggan had no chance, with Derry leading by seven points at the break.
Gallagher believes that Monaghan are one of the strongest sides in the country and compares them to Tyrone, and knew that his side had to maintain their focus despite taking a commanding lead into the break.
After a disappointing first half Monaghan took the game to Derry throughout the second period, and while they closed the gap to three points at one stage, it was as close as they got to the Oak Leaf side.
Heron's second goal of the game, and Derry's third, then put the game out of reach for the Farney County as Gallagher's side remained clear to progress to this year's final, where they will meet the manager's former side Donegal.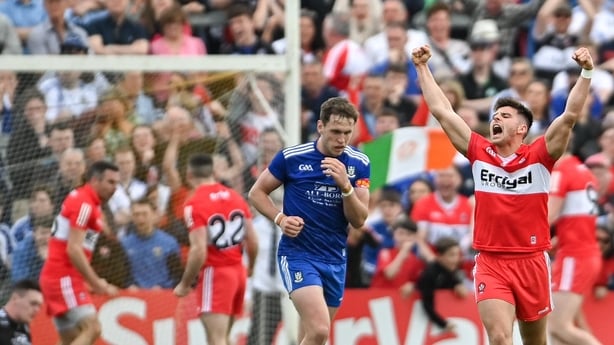 "They [the goals] gave us the platform to win the match," said Gallagher. "If we scored two goals, we were never going to be beaten, and we scored three."
"Some of the first half was brilliant," said Gallagher, when asked how it compared to the Tyrone performance.
"We probably sat back a wee bit [in the second half], a wee bit of apprehension, and a few things didn't go our way, but when you go eight or nine points up it's very hard to get pegged back."
And as expected, Seamus McEnaney's side did come back into the game with a dominant display in the second period, getting to within three points of Derry before Heron ended their hopes with the third goal.
"Not really," replied Gallagher, when asked was he concerned by the way that the Farney County played their way back into the game.
"Monaghan are a serious outfit, they're a well-established top six or seven team, and they were always going to come back at us.
"Monaghan were always going to come back at us. You could see with their body language at half-time that they were never beaten.
"But when they got back to three points we responded and stretched it out to seven or eight again.
"You've got to earn your right to win Ulster Championship games especially wen you are playing Monaghan or Tyrone."
Looking ahead to the final on 29 May against Donegal – Gallagher has become the first manager to lead three teams to the Ulster final – the Derry manager's thoughts rest solely with his current outfit but he is looking forward to coming up against his old side.
"I had an unbelievable time at Donegal, and special memories," said Gallagher.
"But his is a new chapter. This is about Derry now. We just want to be here. We enjoy it and we're looking forward to two brilliant weeks."