Padraig O'Hora doesn't shy away from setting big goals.
While Kerry's David Clifford was wary of proclaiming "lofty" targets in conversation with RTÉ Sport this week, his recent marker is open that ending Mayo's now 71-year wait for Sam Maguire is the ambition once again.
"You'd be lying to say it's not an All-Ireland," said O'Hora.
"We are fully aware that Mayo are in the top tier and are up there competing to win an All-Ireland championship.
"For me personally I'm motivated and driven by being better tomorrow, having a better training session and improving and pushing the guys around me so that we're properly set for the qualifiers."
Ah yes, the qualifiers. Following their Connacht exit, Mayo will knock on the back door for the first time since 2018, a journey which notoriously ended in Newbridge.
"I think they were a little bit better than us on the day," defender O'Hora says of the recent one-point defeat to Galway.
"There's not a massive difference between a lot of the teams in the country; it's a couple of percent.
"Maybe Galway turned up with a little bit better attitude? Maybe they performed a little bit better on the day. We knocked them out in the last two years so maybe that can motivate a team. They got a deserved win on the day. That was that."
Could doubts be setting in for James Horan's side, the result coming as it did in the wake of another All-Ireland final loss, to Tyrone this time, and defeat to Kerry in the league decider?
"We don't focus on it," he insists. "Football is a beautiful game in that you could be back at it a week after.
"We've had some fantastic performances and some less than fantastic performances in the last few years. You can pick your poison from any of those three games but it is irrelevant.
"What's relevant is tomorrow, next week and then the week after. As a group we don't dwell on the past; we are looking forward."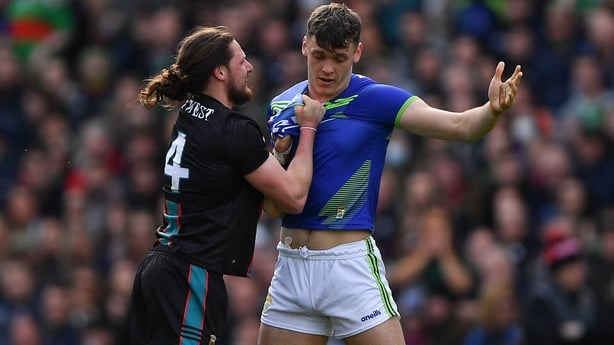 O'Hora was criticised after appearing to trying to rile Clifford on a day when the Kingdom's shining star bagged 1-05 from play against him.
"There is nothing to say," the Mayo man says of the moment they squared up to each other off the ball. "I wish there was a good story behind it but there's not. There's nothing funny there, there's nothing malicious.
"You play the game the way you play. The game was what it was. A few clips go out and everyone pays attention to it. You're on the pitch for a long time and you don't have to stay on the pitch in silence."
"I enjoyed the experience of the game. It didn't go the way I wanted it to go, but that's life.
"He's a very good footballer, that's all I can say about him really. I'm really fortunate to mark really good footballers all the time.
"I suppose you play to play against the best. You play for the big days, and you hope that you're fortunate enough to play against the best people in the country. I'm afforded that chance every week, playing against the likes of Cillian [O'Connor], Ryan [O'Donoghue], Tommy [Conroy] - the number of forwards that we have.
"It can depend on the day sometimes can't it? There are lads in our own Mayo camp who can give you a roasting on a weekly basis too. Other days, I have them pinned by the collar so I don't know.
"I was naturally a good defender, but I have to improve all the time because of the standard of footballers around me. We have some of the best footballers in the country so when you're training with them you have to improve - you either have to keep up with the pack or fall off."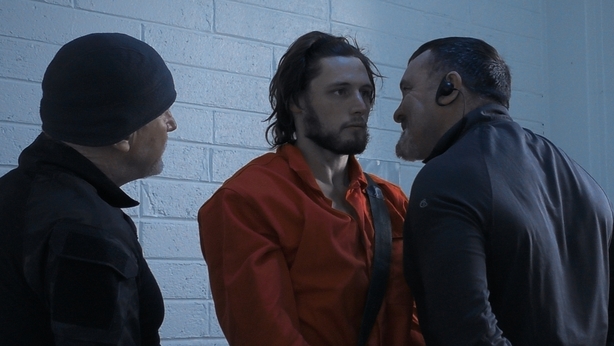 It might surprise some to learn that O'Hora is already 29, despite having only made his senior debut two years ago.
The former Mayo minor took the road less travelled, which included trying a range of martial arts and being among the winners of RTÉ's endurance show Special Forces - Ultimate Hell Week in 2020.
"I gave up football for two years, when I was 25, 26," says the Ballina Stephenites man. "I was on my own, on my own journey, everybody has their own story.
"I've done a load of mixed martial arts. I didn't compete in MMA but I competed in and trained in tonnes of different martial arts. I did karate, kickboxing, jiu-jitsu, boxing. I just tried and tasted loads of them."
"I had no ambition to play inter-county football at that stage; I got sick of it and stopped. And then I fell in love with it again.
"I had a really enjoyable club campaign, got to mark some great players, and then I got my chance with James. Ultimate Hell came before that, so it was just a kind of perfect storm for me. Everything came together and I am where I am now."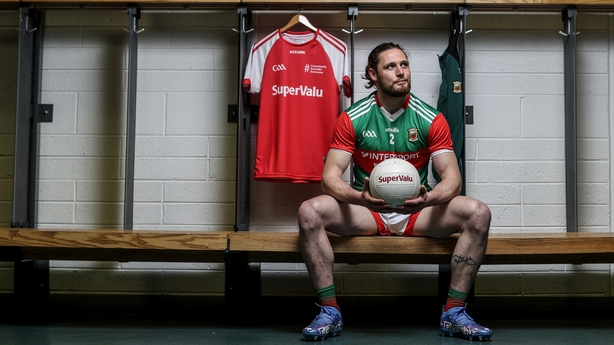 O'Hora works with the Western Care Association as a social care assistant and Mayo Mental Health Association as a community liaison officer.
The father of two says this work has "changed my mindset quite a lot".
"I work alongside the autistic community, or the neurodivergent community quite a lot, both in my professional work and in my community work.

"If you have a setback in football or an injury, it isn't the end of the world. I see people who have to struggle day-to-day, and who have to fight. They're very inspiring and I think it does influence my attitude towards football.
"Playing the game on a big day is great. The noise, the buzz, the energy, the atmosphere - that's what you play for, and I really do love it. But aside from that, what I'm doing with Supervalu is a big part of it. We are in the spotlight in relation to the media and some stuff can go viral, and it might be negative, but you also have the opportunity to speak about really important matters.
"For me, that is inclusion, especially for the neurodivergent community. I would really like to see more opportunities afforded to them in day-to-day living. If I can be part of that and I can start the conversation to improve our levels of inclusivity, then that'll be a great step."
"There's scope within the GAA with regards to clubs being more accessible. Sometimes it's really small barriers, especially for the autistic community. It might very well be a whistle that goes off at training. A parent might say, 'My son or daughter can't deal with whistles, or that kind of noise.' And for that reason, they never risking bringing them to training. And that might not be communicated, so maybe we can make a change there. That's just a simple idea but in general, we can take a look at people and ask what we can do to make things easier for them.
"The world doesn't fit everybody and we should be obliged to try and at least do our best to make things a little more accessible for the neurodivergent community. That's my passion, and Supervalu's passion with this campaign."
Listen to the RTÉ GAA Podcast at Apple Podcasts, Soundcloud, Spotify, or wherever you get your podcasts.
We need your consent to load this rte-player contentWe use rte-player to manage extra content that can set cookies on your device and collect data about your activity. Please review their details and accept them to load the content.Manage Preferences