Limerick manager John Kiely was delighted with his side's cool heads after they survived the concession of two late goals to Waterford.
The All-Ireland champions were seven points up and apparently cruising to victory in the 63rd minute of their Munster SHC round-robin clash until Stephen Bennett and Jack Prendergast hit the net 90 seconds apart.
Waterford failed to score again however as Limerick reasserted themselves to record a sixth successive championship win over the Déise, 0-30 to 2-21.
"It was one of those crackers really," Kiely told RTÉ Sport. "It ebbed and flowed. Waterford brought a fantastic challenge.
"We put a daylight between ourselves and Waterford with 10 minutes to go but then they popped up with a couple of goals and all of a sudden the game was back on the table again.
"One would have thought the momentum had turned completely to Waterford but we dug in, won some dirty balls and kept our composure.
"We used the ball well and still created the last four scoring chances in the game. We might not have converted them all but we did create them and very happy with that.
"There was huge intensity to the game from the very get go. It's hard to maintain that throughout the 73, 74 minutes. Our boys showed that they have it in the tank and the appetite is there in abundance."
The only dark spots for Kiely was the early loss of Cian Lynch to injury and a raft of second-half wides.
"It's a hamstring injury," he said of the reigning Hurler of the Year. "How severe it is we don't know, we'll have to get him scanned on Monday.
"He'll be out of training for a couple of weeks I would imagine but we'll have to wait and see.
"Our shooting efficiency is too low, we need to work on that but that will come. We'll refocus now and be ready for Tipp in two weeks' time."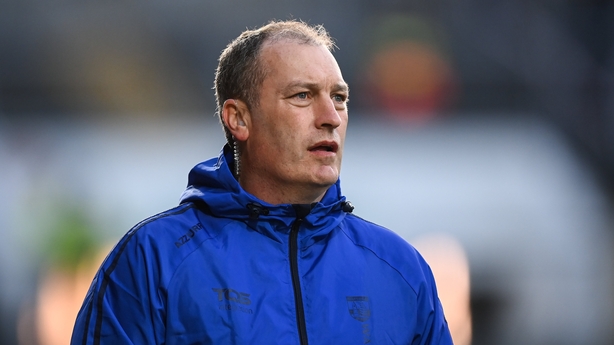 Waterford boss Liam Cahill was heartened by his team's fighting spirit but felt they had lost the middle third battle in the second half.
"A real good game for the supporters in the stands and at home I'd imagine but disappointed not to get something out of the match," he said.
"These players in Waterford don't give up easily and credit to them tonight, they hurled right to the death.
"[But] We'll have a lot of learnings tonight that we'll have to improve on if we're to have any chance of progressing in the championship.
"That middle third of the field, we didn't seem to get our fair share of return there at a vital stage. We'll work on that and trying to improve our decision-making as we go forward."