Kerry lost the 2021 All-Ireland semi-final to Tyrone by only one point. So close but not enough for a county that has taken home Sam Maguire 37 times.
On his return to the Kerry manager's hot seat, Jack O'Connor would have made some key observations from that loss.
Kerry gave possession away to Tyrone 35 times in that game. That's 35 attacks that they lost the ball, the majority of those turnovers in their forward line. Tyrone scored 3-14 in total and 2-09 came directly from those turnovers. Nearly 60% of the Kerry possessions in the game led to them giving the ball back to Tyrone.
While retaining possession may have been poor, Kerry were as efficient as normal when kicking for scores. They had a shooting efficiency of 65%. Compare that to Dublin's shooting efficiency of only 33% in the second half of their All-Ireland semi-final loss against Mayo.
It wasn't all negative: Jack would also have observed that in every game Kerry have plenty of primary possession. Their high fielding for kick-outs and ability to win breaking ball is consistently strong. When needed they can press the opposition short kick-outs, man on man or with two banks of four in the forwards to starve the opposition goalkeeper of space to kick into.
The biggest observation he would have made was that Kerry had simply conceded too many goals in allowing Tyrone three.
League 2018: 10 goals conceded
League 2019: 8 goals conceded
League 2020: 6 goals conceded
League 2021: 5 goals conceded (only played 3 games)
Jack O'Connor was proactive with his management appointments. The vastly experienced Diarmuid Murphy rejoined as a selector, Mike Quirke came on board, bringing with him his experience from his Kerry playing days, his basketball career and his time as Laois manager.
The most influential appointment may prove to be Paddy Tally. Kerry are not noted for appointing outsiders but when they do, they tend to be successful. Cian O'Neill was involved for Kerry's last All-Ireland success in 2014 and Waterford's Pat Flanagan was involved for three All-Ireland victories.
Paddy's influence on the Kerry team in the Allianz Football League final could be clearly seen from the first Mayo attack. Even at this early stage, Kerry players were working to get back and fill space in the middle channel and then press the ball carrier in a coordinated way.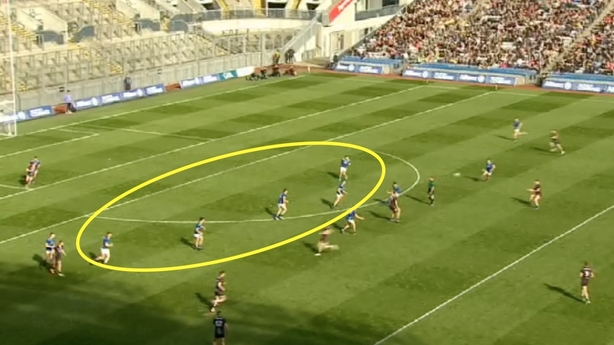 This pattern continued for the rest of the game. It was effective as Mayo were forced to kick for scores outside of the D and from tight angles.
Mayo only managed to get inside the D and gets shots off on three occasions in the game. Kerry players were quick to surround any threats.
Mayo only got a sniff of a goal chance once, when the ball came back off the post following a shot from outside.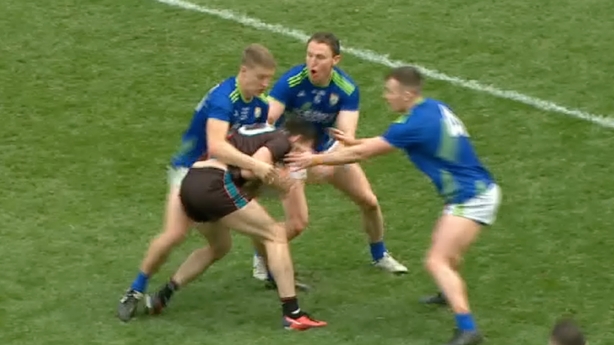 In order to set up defensively, Kerry made a number of adjustments that could be clearly seen last weekend.
They are now more frugal in possession. They still played with flair, willing to kick direct ball when it was on or to take on a man one-on-one but it is being done in a more calculated manner. Ball lost through kick-passing away, hand-passing away or in the tackle was eight in the first half and seven in the second half. This number would have been even lower if Stephen O'Brien had executed his passes better. With this number kept low they are reducing the number of counter-attacks they have to face.
On a side note, while Kerry are facing less fast counter-attacks, due to the ball they are winning in the tackle they are now creating more counter-attacks than ever before. Counter-attacks tend to create overloads, overloads near goal create goal chances.
O'Connor is selecting athletic players that are willing to work back but also able to transition to attack at pace. Players like Paudie Clifford, Gavin White and Diarmuid O'Connor carry the ball and support team-mates at such pace that goalscoring chances are inevitable. In the first half against Mayo, Kerry could have scored five goals.
When Mayo took kick-outs short or fast, Kerry did not over-commit to turn over the ball. Mayo were delayed, their running channels were blocked and they were forced sideways. It often took Mayo 20+ seconds to get anywhere near the halfway line with the ball. With the ball delayed this allowed Kerry time to set up defensively.
This takes massive discipline, concentration and fitness, and there were lapses. James Carr and Jordan Flynn made some excellent runs that cut through the Kerry defenders.
The most notable positional change is the role of Tadhg Morley. He is big, strong, athletic, well able to tackle and does the simple thing when in possession. He is now tasked with holding the centre, cutting out long kick-passes, doubling up on opposition forwards and when needed meeting ball carriers as they come through. His presence allows the other defenders to focus on marking their men.
In the picture below, Matthew Ruane has kicked a diagonal ball for James Carr. As the ball travels, Kerry have four players, including Morley, sprinting back to protect the goal.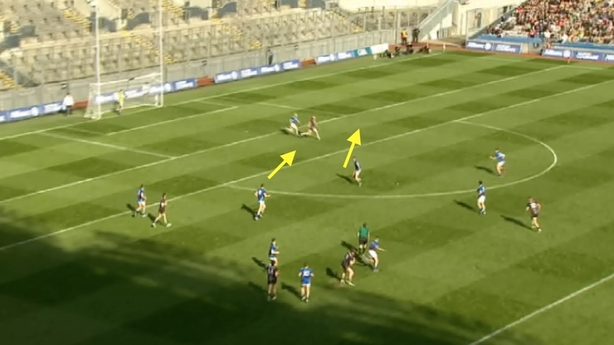 Credit should be given to the discipline shown by Kerry in the tackle. Mayo won only five scoreable frees in the game, three of those in the last few minutes.
Right up to the end of the game, they were determined not to concede a goal and Tadhg Morley was at the centre of most of their best defensive work.
The standout for me is, as a collective they have bought into the systems introduced by O'Connor and Tally.
When attacking every player contributes as needed, regardless of number on their back. Defenders Jason Foley and Gavin White scored goals last week.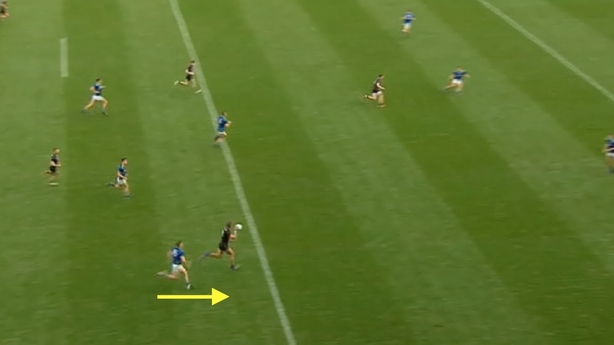 When defending all players have bought into the importance of working hard in a coordinated manner.
The picture above shows four Kerry players sprinting back over the half way line. I have highlighted Paul Geaney, an outstanding scorer, sprinting back to delay Aidan O'Shea. He knew he had team-mates back that could have pressed out and tackled but that would have left one-on-ones inside. He got back to O'Shea, delayed him and forced him to pass sideways. Overlap and goal scoring chance averted.
The attacking threat of Kerry is undoubted. Their past defensive fragilities are being addressed, only two goals conceded in eight games in this years Allianz League. Exciting times ahead for Kerry fans.