With three minutes of normal time remaining, Dublin were four points to the good against Donegal in the Lidl National Football League Division 1 league semi-final.
Yet, it took no more than 23 seconds three weeks ago for the reigning champions to lose their grasp on another trophy as Emma McCrory and Yvonne Bonner raised two green flags to victory and booked Donegal's place in the final.
"It was a bit manic," Donegal's Niamh McLaughlin told RTÉ Sport ahead of today's final against Meath.
"You go from chasing the match to needing to protect it, we've two minutes to see it out. It was a good way to find it though, not good for the heart but good for the neutral.
"I know a lot of people didn't actually see the end of the match, they had switched it off and they were like, 'Oh you won?' So, it was a bit crazy.
"When you win a game like that there's always a massive buzz on the pitch first because you're thinking 'has that actually just happened?' but it was back to work on the Monday and get the heads down and preparing that day."
Should Donegal go one step further and beat the current All-Ireland champions this weekend, it will be a first Division 1 title for the county. Their last appearance at this level was in 2017 where they faced a strong Cork side that were one point winners to become five-in-a-row title holders.
"I was injured so wasn't part of the playing squad [that year]," said the qualified physiotherapist.
"Micheal Naughton was in charge at the time and we had a very talented bunch of players. We did well to get to the final and push Cork close. It was in Parnell [Park] that year it, wasn't even in Croke Park so it's nice to be back in a final.
"It's not something we set out for at the start of the year to say we wanted to play in but it's nice to be here now and have a competitive game at this time of year, whereas leading into championship you're having friendlies or you are just training."
It's a novel pairing and one where Meath are also looking to climb the steps as first-time Division 1 champions although, given the recent wave of success the Royals have experienced, playing on the big days in front of sizeable crowds is becoming habitual for Eamonn Murray's side.
"Playing them is huge for us and they have only really lost one or two competitive games in the last few years so it is a huge challenge," said McLaughlin.
"We'll focus on the match itself and worry about the other bits when it comes to it.
"What they have done is amazing. People think all that success was the result of one year but they played in three intermediate finals and they were together for that plus the years before that, so it's not an overnight thing.
"It's a credit to them and what they have done for ladies Gaelic football in the last year is a fairytale story. It's great, you saw the crowd they had in Navan for a league game, like 7,000. When you think of ladies football that's absolutely mental for a day in March in Navan.
"It's a new challenge. They are very well coached and have been working towards this for the last four or five years so we are under no illusions."
We need your consent to load this YouTube contentWe use YouTube to manage extra content that can set cookies on your device and collect data about your activity. Please review their details and accept them to load the content.Manage Preferences
The Moville woman is a former Republic of Ireland soccer international and also played for Sunderland and Newcastle so she has seen first-hand what a professional sporting environment looks like. She credited current manager, Maxi Curran, for taking them "to the next level" when it comes to facilities and expenses since taking over six years ago.
"He's very good that way trying to get people sorted people who maybe need it the most, and going out for the squad as a whole," said McLaughlin.
"It's still not where it needs to be in terms of that equality. I know there's a big push on, especially on the GPA side of things.
"A lot of girls that are playing are students and it's not just Donegal people are traveling from, there's people all over the country at the same thing, and it is a big commitment and people do it because they want to do it.
"But, you shouldn't have to be struggling elsewhere for different things because you are paying for fuel to go to training."
Curran's past experience working alongside Jim McGuiness and Rory Gallagher with the Donegal men's team has allowed him to see the two sides of Gaelic football and the disparities between them.
"The expenses for ladies footballers is something that's going to have to be tackled by all aspects of the sporting society in the country at the minute," said Curran.
"While the guys get their 65 cent a mile, our girls will be lucky to get 5 cent a mile. And that's the counties that are going well. With the price of fuel at the minute, it's a massive, massive issue.
"So we're not burdened down by that challenge at the minute because they don't get anything as it stands. They get something at the end of the year but it wouldn't equate to five cent a kilometre.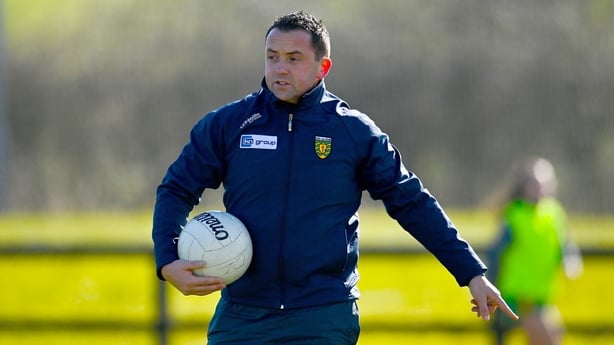 "We try and resource the thing as best we can – physios, strength and conditioning, pitch hire. To get the good quality pitches you have to pay for them. So they are well looked after just with the exception of the player mileage expenses.
"If you look at the balance sheet of any [men's] county team at the end of the year, it's probably six-figure sums for expenses. I would say if you put the top 10 teams in the LGFA together they wouldn't be paying a six-figure total. Maybe all of the counties together they wouldn't be up at six figures for their overall travel expenses.
"It's just a fact of life, there's poverty in certain parts of the world, there's not in ours. That's just the way it is at the minute, we're the poor relation as far as that exact element goes. But I think an awful lot of people are very aware of the massive improvements in the life of a ladies footballer and the whole landscape."
On Monday, the GAA launched their five-year strategic plan toward amalgamating the GAA, LGFA and the Camogie Association. Whilst the sentiment might be well received, there are reservations within both the LGFA and the Camogie Association regarding the fusion.
"I think it definitely should happen," said McLaughlin.
"I hope it does make a difference. There has been talk the last few years should it happen or should it not [but] I think now the wheels are in motion it's out there for people to see they have made this statement. They have put it out in public and people can see it so there's that extra bit of pressure to, maybe not pressure, but to follow through with things."
"I think it's a very big issue," said the Donegal manager.
"I think it's one of those things in life where you think it should happen but I think if you really dig deep into it, as far as I'm aware the majority of funding the GAA take in over a year is based on attendance. The ladies game currently is not attracting big numbers so therefore they are not generating that type of expenditure.
"For it [the money] to get as far as the players there would have to be a massive gesture on behalf of the men's game in order to give it any sort of parity. I think there is an awful lot of soul-searching to be done and an awful lot of meetings to be had between certain bodies before that happens. I think it is going to be a gesture from the men's game towards their female counterparts.
"At the same time it's not all about the big games either, the clubs are the grassroots of the association and there are an awful lot of females that are the backbone of clubs now as well. I'm sure it's something the GAA are aware that it's going to have to happen, but it's how soon it happens is another thing.
"We are here today at the launch of the Lidl League final, the involvement of bodies like Lidl and TG4 has definitely improved the situation. We are on the rise but I think it will take a long time and I don't know if it will ever get to a level of parity with the boys, to be fair."
Follow Donegal v Meath (4pm) live on RTÉ Sport Online and the RTÉ News app and listen to live commentary on RTÉ Radio 1's Sunday Sport