Three weeks ago, two goals in the space of 23 seconds buried Dublin's hopes of reaching a Division 1 league final and the conversation of Donegal being real All-Ireland contenders began to grow again.
Maxi Curran's side will travel to headquarters this Sunday afternoon to battle it out against Meath for a Division 1 League title for the first time since 2017. A headquarters which in recent times has become a happy hunting ground for Meath's All-Ireland winning manager, Eamonn Murray.
Captain Shauna Ennis climbed the steps of the Hogan Stand on 5 September last year to collect the Brendan Martin Cup and with her she brought the hopes and beliefs of many other players and supporters of the game to a higher level.
"I think apart from football and apart from GAA, it was such a brilliant story to come from Division 2 and down in intermediate in the space of a couple of years to win the big prize is a great story," acknowledged Curran.
"I don't think anyone that close to the game was that surprised because of the quality of player they have had and the continuity they have had and they have built so steadily. That is a lesson for everyone in terms of sticking with the process and sticking with the individuals.
"Eamonn and Paul (Garrigan) have been there now for three or four years and have had a really consistent trajectory upwards. A lot of people and teams chop and change a lot but it is a great story and it opens the door for teams at intermediate level or at the lower reaches of senior that the gap can be bridged with the right structures and group of players that buy in and do everything they are asked to do."
Speaking at the same media event during the week, Murray recalled the messages of thanks and praise he and his team received after their impressive win over Mick Bohan's Dublin last year.
Meath's rise from the ashes of Division 2 and 40-point losses to senior champions in a few short years struck a chord amongst GAA circles and their two-point win has left a glow of anticipation for the season ahead.
"Ah it's huge. I'm a tiling contractor so I've been in a lot of houses and all around Meath and when I go out people want to talk to you," said Murray.
"It's not just young people, it's the old people that are more important than the young people I think. And it's not just Meath. I'm going to tell you a quick little story about a man from Limerick that sent me a letter before the Cork match, thanking me so much for what we've done for sport. He was born in Kells but living in Limerick for 60 years, he was 90 years of age.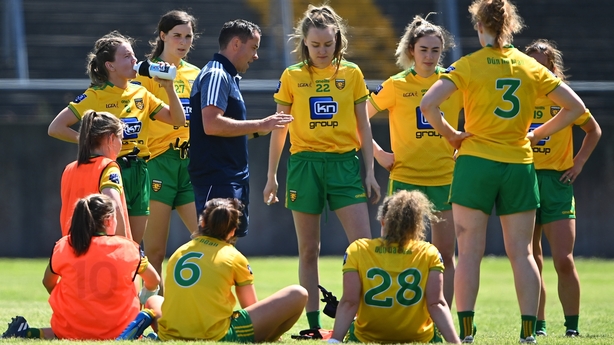 "It was very hard to read, the girls at home, my kids, they printed it all out for me. So I sent him back a letter and a signed Meath jersey. So he'd ring me then, he'd actually ring me at a quarter past 10 at night, we'd be on our way out of training and he'd chat to me. So I chatted to him after the final and this and that, lovely old man, I'd have gone to see him only for the Covid.
"I got a Christmas card from his niece, the only relation he had alive was his sister and she was 95. His wife had died and he had no kids. He had died two weeks after the All-Ireland final and got buried with the Meath ladies jersey on the coffin, down in Limerick. Isn't that a lovely story?"
The late Des O'Reilly was just one of many who felt that Murray's win was more than just a win for the Royals, it was a win for Ladies Gaelic football as a whole. The gravity of the impact such an occasion had on people was not lost on the Gowna native.
"Oh very moving, I'll never forget that. Jesus, I'll never forget that," said Murray.
"But not just that, I got letters from Down, from Clifden in Galway, from Kerry, from New York even, a few weeks after, just saying that what we'd done, how much they enjoyed it. That means an awful lot. Those stories I'll never forget.
"It's not all about lifting the cups. There are some other things that are far more important."
Lifting cups is the aim of the game however and the competition for silverware is fierce. The league is no longer looked at as the pre-season warm-up and heading into the championship as the league champions is strong ammunition to have in your camp.
'This is going to be one of the most open seasons we have had for a very long time'
"Nothing beats success," said Curran.
"I often say it's a bit like a chicken and egg thing, like how do you win without having won before? It's a thing no one can take away from you getting over the line in a tight game and even the Dublin game getting over the line will stand to us. It's important, it won't make or break our season but it will definitely put us on a great footing heading into the championship.
"It's 2007 since two teams other than Dublin or Cork contested the league final so that'll tell you the strength of the duopoly that was there but Meath, to be fair to them ,came and blew the whole thing out of the water for everyone and showed the thing is not a done deal.
"So the landscape is very different and I think this is going to be one of the most open seasons we have had for a very long time."
A win on Sunday would be a maiden Division 1 title for either Donegal or Meath so there is a lot on the line for both sides when they cross the white lines this weekend.
"I always say, every competition you enter you should enter to win. No-one enters a competition to get beaten. We're the same," Murray said.
"We'll try our best to take advantage of all these great days out. And the girls are buzzing. Kelsey Nesbitt hasn't played in Croke Park before. She had two very bad injuries. She came back a year ago and she got a full bill of health and she did the warm up with us and the first touch, the shoulder broke again, just a touch and she was gone again. She's a big steel plate in it. It'll mean a lot to her to play in it. Hopefully she'll lift that net out of it. I'm sure she will.
"Irene Munnelly then, she's our goalkeeping coach, she played in the league final in 2006 against Cork, the Division 1 league final, she's never stood on that pitch and she's playing for Meath for 15 or 20 years.
"Aimee Mackin (Armagh) is playing here on Sunday, it will be great to see her, she's never played on this pitch before, a very special day. You try to tell Aimee it's only the league, she won't (have any of that)...any day you play her is a good day."
Listen to the RTÉ GAA Podcast at Apple Podcasts, Soundcloud, Spotify, or wherever you get your podcasts.
We need your consent to load this rte-player contentWe use rte-player to manage extra content that can set cookies on your device and collect data about your activity. Please review their details and accept them to load the content.Manage Preferences
Follow the Littlewoods Ireland League Division 1 final between Cork and Galway via our live blog on RTÉ.ie/sport and RTÉ News app, watch live on RTÉ2 and RTÉ Player or listen to national radio commentary on RTÉ Radio 1.