Meath have won each of their last three finals played in Croke Park.
So it seems an unnecessary concern for captain Shauna Ennis to not be known as "one hit wonder(s)" after their emphatic All-Ireland win over Dublin last September.
"I think it was really important after last year that we did back up our win of last year with good performances in the league," Ennis said speaking at a media afternoon ahead of Sunday's Lidl National League Division One Final.
"In saying that, we were just taking each game as it came and just looking for a performance and improvement in each match. It's a bonus that we got to the final. Obviously it's great that we get a chance to compete for a trophy again in Croke Park.
"Any day that you get to come up to Croke Park is a good day."
Ennis knows the bitter taste of defeat. She was part of the Meath set-up in 2015 when they suffered a humiliating 40 point defeat to Cork in an All-Ireland qualifier. Things continued on a downward trajectory the following year when they lost to Westmeath by 16 points in the Leinster round-robin.
By 2017, Ennis had decided enough was enough. For the current All-Ireland winning manager, Eamonn Murray and his backroom team, that was only the beginning.
"Yeah, it wasn't enjoyable. It wasn't an enjoyable time to be playing for Meath ladies," said Ennis.
"Like I've said before, it wasn't that we didn't have the talent. We had really talented girls in Meath. It was just about the setup I think and a few things going wrong for us. Yeah, thankfully all that has turned around now.
"I had played since 2012 I think, when I came on the panel. So I played through some difficult times. I took the year off to focus maybe a bit more on club. I was doing my Dip as well, I was teaching so I had a lot going on that year.
"When I heard all the really, really positive stuff that came out of the camp in 2017, I was eager to be involved again. I heard that the training was fantastic and that the set-up was fantastic. Yeah, when I was asked to come back in at the end of 2017 I was more than happy to do that."
However, Murray didn't arrive at the camp with a silver bullet. He and his players have admitted that it took a lot of convincing the local talent pool to put a green jersey on their backs again.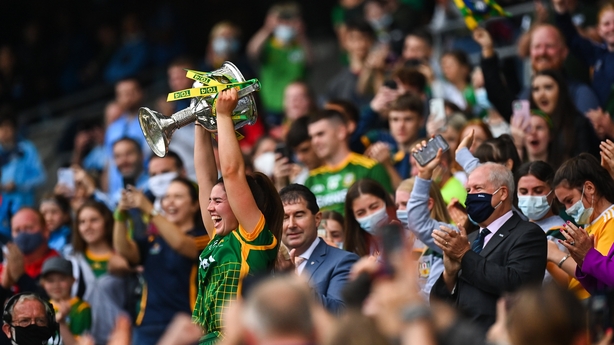 They suffered back-to-back Intermediate final losses in 2018 and 2019 before things began to take a turn for the better. Then, they rewrote history in 2021 by beating a five-in-a-row chasing Dublin team and have become the poster team for Ladies Gaelic Football.
"There were a couple of years where people were in and out and it was very unsettled. Then since the lads have come in in 2017, we've just built up such a good relationship with them and we're really, really close as a group.
"Obviously I've sung their praises many times but it's just a really good set-up and thank God they stayed with us for another year, we're delighted."
When things are going well, everyone wants a piece of the action. It's the nature of sport. Murray suggested at the event on Tuesday that poster girl Vikki Wall has been scouted by the AFLW for a move later in the year. Although he wasn't convinced of the attraction to the southern hemisphere game, teammate Ennis could understand the allure.
"Yeah, there is a lot of talk of Vikki going and that's her decision at the end of the day and we'll obviously respect her decision. Vikki's only young so if she wants to go and see a bit more of the world that's fine by us," she said.
"Look, I would definitely have thought about it a little bit but to be honest I think if I was going to go out to Australia I'd like to go out and just enjoy myself. I don't know if I'd like to be training professionally.
"But look, it's something I'm still open to and I definitely probably will think about it now in the next year or so but, at the same time, why would I want to leave Meath when we're going so well?"
On Monday, the GAA launched their strategic plan for a 'Six codes, one Association' after the GAA, the Camogie Association and the LGFA all voted in favour of amalgamation at their respective congress'.
"I would hope it would happen in the next couple of years. There's a huge driving force behind it now at the moment and there's a lot of motions and stuff being passed so we're really passionate about it and, yeah, I'd love to see that before I finish up, definitely," the Na Fianna player said.
For five weeks now, the GPA have been in a standoff with the GAA over player expenses issues. For members of the LGFA, the issue is something that they see in a very different light as only last year was a commitment made toward parity funding for female players.
"Ladies football, we've done it for years and years, not getting a penny for it so I don't think back in 2017 when I was weighing up my decision, I don't think that was even an option because we didn't get any expenses so it wasn't something I was thinking about.
"But in the last couple of years since we've joined the GPA it's great to be getting the same money and the same recognition as the male players are getting. It's improving year on year and it's only right at the end of the day.
"I suppose, again, it's hard for us because it's a relatively new thing in the LGFA to be getting expenses at all but I've seen a lot of lads getting stick on social media about it which I really don't think is right either, people attacking people on social media but look, as I heard someone say, you don't decide how many nights a week you train.
"That's up to the management team and if you want to be on the team you're going to have to be at training so yeah, I think it is only right that you get paid for every training you're travelling to."
Meath will travel to Croke Park this Sunday to take on Donegal in the Lidl National League Division One final, live on TG4 at 4pm.