At the start of the campaign, Limerick's aim in Allianz Football League Division 3 was to first protect their status and avoid relegation at all costs.
That soon changed. The Shannonsiders will rise to the league's second tier if they beat Fermanagh at home on Sunday.
It won't be an easy task. Fermanagh have won three games themselves this season and are well organised, home and away.
But after a superb series of results, including a win over Laois last time out, Billy Lee's side are firmly in the promotion hunt ahead of next Sunday's final group game.
Promotion would revive memories of Limerick's prominence in the league's top half back around the mid-noughties, but Limerick football committee chairman Gerry Phillips says their development work will continue regardless of whatever happens this weekend.
"The work that Billy and his team have done is unbelievable," Phillips told RTÉ Sport. "The core of the team are in their mid-20s and they have been coming up through the ranks. Around 2013 we sat down to put an academy structure together. We didn't have to reinvent the wheel because our hurling counterparts had started a similar system.
"Collette O'Grady, I and others put a plan together to draw the calibre of personnel we needed."
People like Paul Kinnerk, Muiris Gavin, Stephen Lavin and Dave McGuinness were involved at the very start, implementing structures.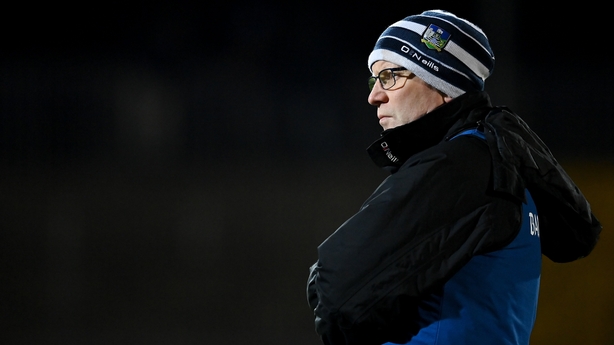 Kinnerk and Gavin recruited ex-county players to get involved at the various levels and that system worked.
"From there, the list of people involved in our academy teams from under-14 to under-17 was unreal," Phillips adds.
"Coming from where we came in 2013 and prior to that everything was now very structured.
"We were blessed, Jerry O'Sullivan took the Limerick under-20s then and we started making serious progress at that level too. It has all fed into the teams that Billy has worked with in the past few years. I would say that nine years of work has gone into it, it hasn't been an overnight success, but we are in a good position now going forward and we will keep working. We still have work to do."
Massive credit must also go to Lee for keeping the show on the road while the underage system produced graduates.
At various times in his reign, Lee had to deal with apathy, famously making 53 unsuccessful calls to players to join the county squad in 2018. That seems like an eternity ago now.
We need your consent to load this YouTube contentWe use YouTube to manage extra content that can set cookies on your device and collect data about your activity. Please review their details and accept them to load the content.Manage Preferences
They have steadied the ship in recent times, brought their athleticism and conditioning to a new level, allowing them to play with pace, power and purpose. McGrath Cup success in early 2020 preceded three steady and progressive league campaigns.
Back-to-back victories over Longford and Antrim kicked off this year's Division 3 campaign and they have scarcely looked back since.
They are now one game away from promotion – and Sam Maguire football instead of the Tailteann Cup.
Phillips says they cannot get wrapped up in looking too far down the road, however. He says that they will adapt no matter what result comes at the weekend.
"This is an important weekend and an opportunity to take another step along the road," he says.
"That's the way we have to look at it. The lads put in a massive shift so far and where we stand is testament to hard work gone in from players and management. We are safe now from relegation and perhaps we can go a step further. It's been a tight enough division so it's a fine position to be in.
"Long term, whether it's the Tailteann or Sam Maguire Cup, whether we win, lose, or draw against Fermanagh, what has been achieved thus far is outstanding.
"It's like putting a jigsaw together and if we are lucky enough to be promoted, we will embrace that. Even if we are not, we will embrace where we are and God knows what the possibilities might be in the Tailteann Cup."
Phillips is happy that Limerick football is fast carving out its own niche in a county that has dominated hurling's landscape in recent seasons.
"The success of the hurlers has been great, and we feel that a rising tide lifts all boats
"Looking back at the age groups from 14 to 17, there are very few dual players," he adds.
"Our 17s last year reaching a Munster final was a big thing, and that was a very good team with no dual players on it either.
"The success of the hurlers has been great, and we feel that a rising tide lifts all boats. The help we have received from the county board has been a huge help too. The main county board officers, John Cregan, Mike O'Riordan and Liam Burke has been significant too. They haven't shied away from helping the football academy with funding.
"It has all contributed to where we are now and hopefully where we are going in the future. This weekend is another big one but Fermanagh are a fine team and we can't look past them."
Listen to the RTÉ GAA Podcast at Apple Podcasts, Soundcloud, Spotify, or wherever you get your podcasts.
We need your consent to load this rte-player contentWe use rte-player to manage extra content that can set cookies on your device and collect data about your activity. Please review their details and accept them to load the content.Manage Preferences