The date 25 March, 2018 might not jump out straight away to Derry fans, but on closer inspection it should, because that represented the nadir of their struggles back then – it was the day they dropped through the trapdoor and into Division 4.
The margins were thin with Damian McErlain's men losing to Sligo by just two points in round seven and that loss, coupled with Offaly's win in Westmeath, sent them down. A draw would have saved them, but they couldn't rescue the situation.
Four years after taking the scalps of Kerry, Mayo and Dublin in a season that ended with a Division 1 final defeat to Jim Gavin's side, the Ulster side were now preparing for the prospect of facing lesser lights such as London, Waterford and Wicklow.
Four years on from that, however, Rory Gallagher's side are dreaming again of the Kerrys, Tyrones and Dublins of this world – if the latter escape relegation - after three wins from three to date in the Allianz Football League.
Those six Division 2 points were accumulated with the minimum of fuss as Down, Offaly and Cork were dealt with easily. Between them, those three teams managed the grand total of 0-20.
Sunday's clash with Clare in Ennis is sure to be a step up but if the Oak Leaf County can head north with another win tagged on, then promotion will be within touching distance.
Former Derry captain Gerard O'Kane spent 13 seasons in the red and white from 2004 until 2016, and while the supporters may have been up in arms about their fall through the divisions a few years ago, he wasn't panicking.
Barry Cahill believes that Derry could be set for a big season after their great start to Division 2. @GameOn2FM pic.twitter.com/zJTz4pGd1B

— RTÉ GAA (@RTEgaa) February 21, 2022
"I know it's easy to say in hindsight but I did say at the time that too much was being made of that relegation and the supposed fall and demise of Derry football," said the Glenullin clubman.
"People were forgetting that Slaughtneil had won the Ulster Club in 2014, '16 and '17, which meant basically that the spine was ripped out of the team for the first three or four league games in the following years as they had All-Ireland commitments.
"It meant we were playing up to St Patrick's Day without the Slaughtneil boys and when they came back in it would have taken them some time to settle.
"It was disappointing but you had to look on the upside, and that was Slaughtneil coming back and some great underage teams coming through."
McErlain was particularly confident about the second part of that having guided the Derry minors to the 2017 All-Ireland final, where a certain David Clifford helped himself to an astonishing 4-04 as Kerry proved too strong.
A number of those minor players were brought in around the senior team in 2019 to gain vital experience, and the county's recovery started in what would be McErlain's final year as a Division 4 final win over Leitrim at Croke Park made it eight league wins from eight.
Rory Gallagher's first season in charge of Derry in 2020 saw them miss out on back-to-back promotions as Down pipped them on the head-to-head rule, but they made no mistake last year in their Covid-hit condensed Division 3 campaign.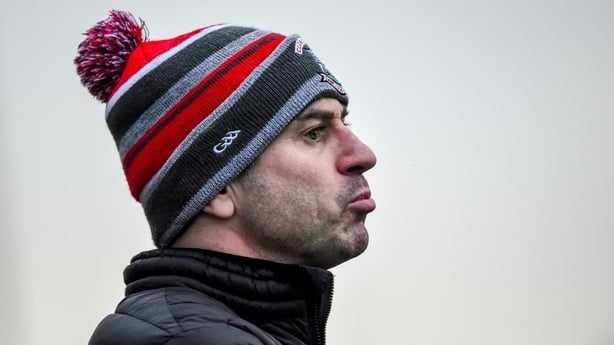 Those back-to-back promotions may arrive belatedly after all in a few weeks' time, and O'Kane is excited with what he has witnessed – and he also felt that the pandemic definitely helped their progression as a team.
"Over the last three years Derry have been one of most in form teams in terms of league football," he said.
"In March 2020, just before Covid hit, Derry played Cork and Cork beat them 3-13 to 3-11 in what Rory Gallagher would go on to describe as a 'two-point annihilation'.
"It wasn't like a Rory Gallagher team to concede 3-13 but he had only been in the door the autumn before so he was finding his feet and it takes time for players to buy in.
"Covid put a pause on their games and while they weren't out together training, it did allow them to get into the gym and do all their own work. Look at Derry now, from No 1 right through to No 15, all of them are strong, athletic and bursting out of their jerseys.
"That pause also gave Rory the chance to look at who he wanted and how he wanted to play. That break in the season let him decide how he wanted to go forward and since that, when they came back in the autumn of 2020, Derry have been on the up the whole way through.
"From what I hear on the outside, Rory is just obsessive about getting his gameplan and getting it sorted and running through it and running through it.
"He seems to now have 25-plus players bought in and that's allowed them to stop the big turnover that Derry usually experiences.
"Since that Cork defeat, Derry haven't lost a league game."
It has been ten wins on the trot since that Rebels defeat and if they extend that run to 11 at Cusack Park then they really will be in a golden position.
O'Kane has no doubt about their Division 1 credentials and he believes a first Ulster title since 1998 isn't beyond them this season either.
"In terms of where they can go, they have established themselves as a top-ten team and by the end of the league campaign I think you'll see them pushed into a top-eight team, a top-seven team.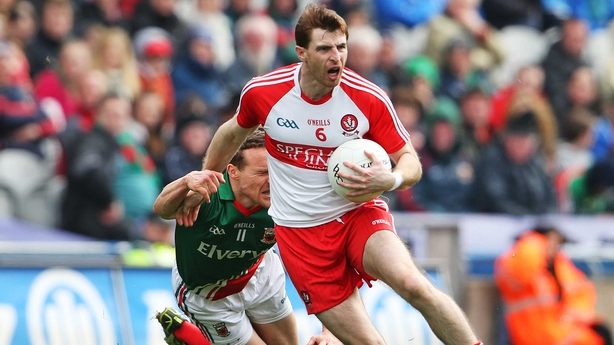 "Whether they can consistently stay there over the next two or three years is the big challenge, but I think they'll get promoted this year.
"They have four games left, three away from Derry, but I think if they beat Roscommon or Galway they'll probably go up.
"I was at Owenbeg on Sunday, Derry dismantled Cork pretty easily without Ciaran McFaul, who wasn't stripped. Gareth McKinless wasn't used, he's on his way back, Padraig Cassidy was eased in for ten minutes. Jack Doherty hasn't seen much league football so far.
"Whoever Rory picks in his first 15 when he has a full hand, he's going to have a bench loaded with five, six, seven players who are capable of coming in and changing the game. That's something Derry haven't had over the last six or seven years.
"I'm not saying they're at the level of Tyrone or Monaghan, who have lots of players who can change the game, but Derry now have that panel of 22, 23 players who can compete at the top level.
"Derry are a year or two behind where Armagh are at. Armagh got to Division 1 last year, stayed there and are kicking on now. I think Derry can do the same."
We need your consent to load this YouTube contentWe use YouTube to manage extra content that can set cookies on your device and collect data about your activity. Please review their details and accept them to load the content.Manage Preferences
Listen to the RTÉ GAA Podcast at Apple Podcasts, Spotify, or wherever you get your podcasts.