Ballyhale's 21-year-old goalkeeper Dean Mason hasn't extensive experience of losing at senior level - but he was more or less resigned to sampling the phenomenon late in the day in their Leinster semi-final last month.
Trailing the startlingly competitive St Rynagh's by three points in injury-time, the reigning champions were in a dire pickle until Eoin Cody shunted home a chaotic equalising goal.
"I thought we were done!" Mason admits to RTÉ Sport.
"I think it was Paddy Mullen hit a ball wide and I thought 'Ah Jesus, we're going home, this is it.' You'd nearly be ready to put all the sliotars and hurls in the bag or whatever.
"Then the ball went in (to the square), I couldn't see a whole lot, I could just see bodies everywhere and I just saw the net rattle, everyone jumping and I said 'How has this happened?'"
"That was our lifeline."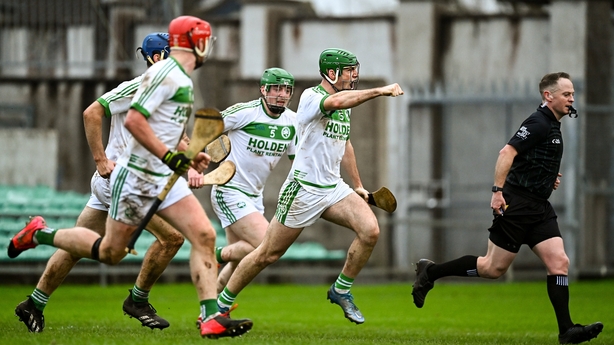 The whole thing could have spun out a couple of different ways from there. Either this was compelling evidence of a gradual decline or some poor team was going to get the brunt of the backlash the next day out. That, alas, was the lot of Clough-Ballacolla, the Laois team who'd made a heartwarming and impressive trek to the Leinster decider, offing the Wexford and Dublin champions en route.
They were in over their head in GAA HQ against a Ballyhale team in a rather mean frame of mind.
The All-Ireland champions racked up a cruel total of 6-23 in Croke Park a month ago, allowing just 0-14 in response. They pointedly refused to let up, either, despite the game being over as a contest very early in the second half - if not before then.
"There definitely was (a point to prove)," says Mason. "We were the man down in the semi-final and we just needed to keep fighting, keep fighting the whole way through.
"And we won, we said, right, we can't afford this the next day. We need to cover everything. We weren't that bad as such (in the semi-final), Rynagh's were very good, like. But in the final... when everything clicks for us, that's when we're at our best and that was a great performance that we put in in the Leinster final."
Ballyhale Shamrocks, only formed out of an amalgamation of Ballyhale and Knocktopher in the early 1970s, have long been the most successful team in the club championship roll of honour, however it was only two years ago (the most recent All-Ireland series) that they completed back-to-back for the first time.
Their success has come in three distinct waves. First in the 1980s, where they broke the stranglehold of the Cork city clubs which dominated the competition in its opening decade, winning three All-Ireland titles, in '81, '84 and '90.
After a decade and a half of a lull, we had 'the Henry era', in which they mined four titles between 2007 and 2015. Mason arrived with the next wave, alongside Eoin Cody, Darragh Corcoran and Adrian Mullen.
In Mason's telling, this inter-generational conflict in the parish is in fact a key motor behind their success.
They hardly need to draft in expensive sports psychologists in Ballyhale, when they have ageing former players in the pub to do the job just as well, telling you they don't fancy your chances.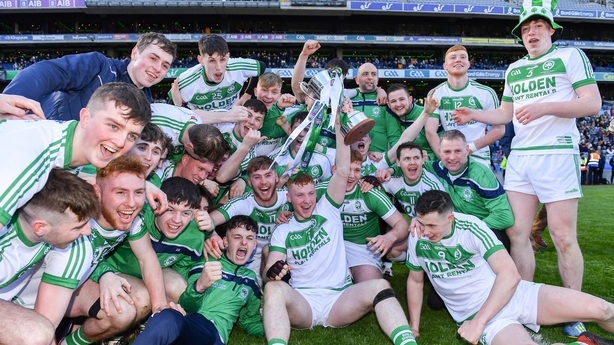 "I remember when I first came onto the senior setup and there was an older generation that won three club All-Irelands. And I remember some of the younger lads on our team - their fathers, uncles would have played (on the previous team) - and it was all about 'we want to beat that, we want to do better than that!'
"That was the way we set about it. To be better than the older generation.
"That was what the older lads in the pub would be saying as well. 'Ah, sure, you should keep driving it or whatever, but we don't think ye'll do it'
"That was the drive that was in us, to say we proved ye wrong."
Still young, Mason has impressed in goal, particularly on his puckouts. He was first shoved into goal at the age of 10 and despite the efforts of his father Niall - "when my father was over the team at underage, he would always play me full-back, half-back, centre-back or whatever" - he ultimately made the position his own.
In keeping with Kilkenny's best traditions, his own approach on puckouts is pragmatic.
"Myself and Mark Vaughan, the other keeper there, we'd always go training 20 minutes, half an hour early and we'd just try short puckouts, long puckouts, movement. When you come to a game, you don't have a set plan. It's whatever is kind of on at that time, they might have a man back and you try to adjust to that.
"So you play the ball to the corner back, centre back, half back, to bring the play towards you (our half) and then when it's one-on-one, you can go long again.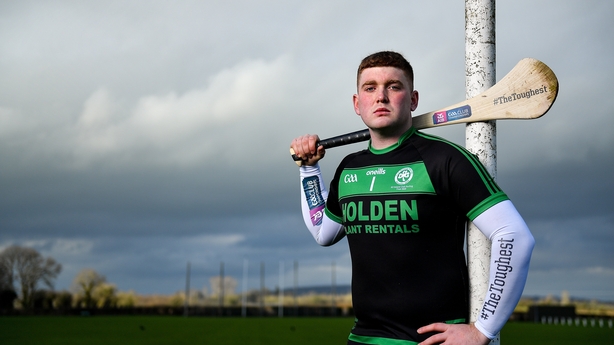 "There's different times there when you'd see a man move at the last second and then you'd have to stop and adjust yourself and then you'd go again."
Having been given his chance in the No. 1 jersey by Henry Shefflin in 2017, Mason had an All-Ireland club medal before he sat his Leaving Cert.
"It was crazy because we were still hurling with St Kieran's College at the time. You'd tell people we're after winning and people would say 'oh, you must be in college or something?' And I'd say, no I'm in sixth year, I'm doing the leaving cert. And they'd say, that's amazing, that's not heard of a whole lot."
As for Shefflin, the great man is currently managing a number of Ballyhale's opposing players this week. How do the Kilkenny champions feel about that?
"I don't know really, I haven't been texting him looking for any insight on them! As regards him going, I think it's a great opportunity for him. To expand his managerial skills. I think it's a great move for him.
"I was shocked to be honest. All along, it was just Davy Fitz, Davy Fitz, Davy Fitz. It was the Tuesday or Wednesday that it came through that Henry was going."