The notorious bear-pit that is the Galway club hurling championship has produced some of the finest teams of the modern era - the Cooney-inspired Sarsfields of the early 1990s, the Athenry team at the turn of the century and then, perhaps the most fearsome of them all, the Canning-led Portumna side who ran roughshod over the competition in the late 2000s.
In December, St Thomas' achieved what none of these illustrious outfits managed when they claimed a fourth title in a row - the first team in Galway to achieve the feat since Turloughmore in the 60s - and yet they are unquestionably the most unheralded.
Their record in the All-Ireland series hasn't helped. While Thomas' did win the All-Ireland title on St Patrick's Day 2013 - off the back of their first county title since the club was founded out of an amalgamation between Peterswell and Kilchreest in the late 60s - this more recent, more sustained run of dominance out west has yielded little at All-Ireland level.
Galway clubs won 12 All-Ireland titles between 1992 and 2014 - just over half - but nothing since then. St Thomas' have won five of the six since 2016, none of them easy, but have only trooped out in one All-Ireland final in that time, a heavy loss to Ballyhale Shamrocks in 2019. Otherwise, it's been four All-Ireland semi-final losses since 2016 - aka, their next match out after winning Galway. (Covid-19 accounts for the missing one).
Fintan Burke's involvement in the 2013 All-Ireland success was confined to a TV vox-pop - "I think there's a funny clip of me on the Six One news that was doing the rounds at the time. I was only around 15 or 16 and Marty Morrissey pulled me for an interview."
Since 2016, the half-back has been an imposing presence in the half-back line (and more recently for the county as well), the 24-year-old's arrival into the senior squad coinciding with the copper-fastening of their dominance in Galway.
Tommy Moore's new-found aversion to Galway has been a rather underplayed phenomenon and Burke doesn't think anyone is fixated on the topic, seeing it as merely a consequence of Ballyhale's dominance.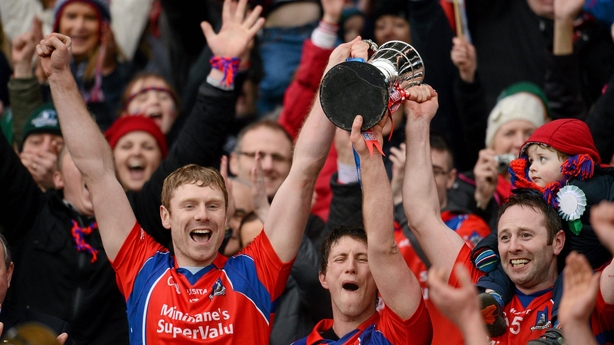 "Not really. I don't think it would be taken notice of," the half-back told RTÉ Sport.
"When you look at Ballyhale, they are kingpins for the last 10 years in club hurling. The likes of them take over.
"It's not easy to come out of Galway, have that break for so long. Obviously, it's better now that the championship is brought back a small bit closer.
"We finished 5 December, and it's now the middle of January. That's six or seven weeks without competitive games. You're trying to recreate it with challenges and in-house games, but they'll never get to the level of a championship [match], an All-Ireland semi-final standard."
This begs the question as to whether Galway clubs would - like their county team - be better off leaping into Leinster (or whichever provincial championship would take them).
Burke swiftly acknowledges that the opposite argument could be made.
Indeed, during Galway clubs imperial phase in the 90s, 2000s and 2010s, it was occasionally a source of complaint for others that they were availing of an easy run to the final.
"If you lose the next day, you're going to say, 'Jesus, I wish I was in provincial' but if you win the next day, you're going to say, 'Ah, it's a great job, leave it'.
"You could go into Leinster, and you could be out after the first round, and then you'd be giving out."
St Thomas' last All-Ireland semi-final victory was the tempestuous and controversial one-point win over Cushendall in Parnell Park in 2019. This only teed up a one-sided loss to their upcoming opponents in the decider, with Galway's new supremo on the sideline for the victors.
The 15-point defeat to Ballyhale was a fairly brutal reminder of the pecking order at the time.
"We never spoke about it or went into detail on it, but I think everybody learned what level Ballyhale are at compared to where we were and they were definitely a level ahead of us," reflects Burke.
"Hopefully we learned that we need to bring our 'A' game if we're going to go at all."
The day was especially miserable for Burke, who suffered a cruciate injury during the match and had to sit out the next six months, missing Galway's 2019 campaign.
"Obviously days like that you don't really ever want to think about. But there are times when you do have to think back about them and learn from them.
"It's not a good place to be after doing your cruciate in Croke Park. I suppose in fairness to the lads they kept the next year's county championship rolling so it gave me something to look forward to and build towards."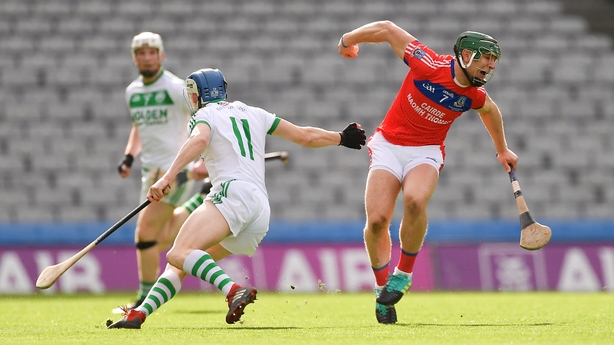 Their opponents this weekend are under new management but you could hardly say they've been weakened. The most successful club in the history of the competition completed their first ever back-to-back in 2020 and are now seeking a third on the trot (though the Covid gap-year may confuse the statisticians of the future on that).
Burke is blunt about the threat that they pose - in particular, their cast of forwards.
"If those six lads lined out for Kilkenny in the morning, no one would bat and eyelid. That's the level of hurling there. With Shane (Cooney) missing, probably from our most key position of centre-back, it puts us under that bit more pressure. You can only do what you can do. We're going to do our very best to keep them out.
Like Burke, St Thomas', a very tight knit club comprised heavily of Burkes and Cooneys (eight of the starting line-up for the recent Galway final were one or the other) keep trucking on, holding off the challenge of more glamourous or better resourced clubs.
These bursts of dominance in Galway hurling don't tend to last longer than a few others - and Burke is surprisingly forthright that their reign won't carry on for much longer.
"All the way up along, we'd be competing at a B or C level. Even now, I think we have no team coming through the club that are competing at the A level. It's about trying to get one or two good young lads every year coming through. We don't have the catchment to be competing at that stage. We have 15 young lads for most teams.
"In a few years' time, the pendulum will swing to the bigger towns and villages that people are moving into, the likes of Clarinbridge and Turloughmore which are closer to Galway city. That will put us under pressure being so rural. You just have to embrace the challenge, and go as hard as you can for as long as you are at it.
"You're hurling senior for 15 good years with your club and we know the crop of players we have now isn't going to be around forever and the crop that's coming mightn't be as good. It's more for us about making hay while the sun shines and trying to win as much as we can while we're on top. Because it's not always going to be as good as it is now."