The old dogs for the hard road.
Last October, a Kilmallock side that had contested nine Limerick semi-finals in a row but hadn't won the title since 2014 defeated a fancied Patrickswell outfit featuring the likes of Cian Lynch, Aaron Gillane and Diarmaid Byrnes.
Survivors from seven years ago include recent All-Ireland winners Graeme Mulcahy, Barry Hennessy and Paddy O'Loughlin (then just 17) and former Treaty wing-backs Gavin O'Mahony and Paudie O'Brien.
Their clubmates Philip O'Loughlin, Mark O'Loughlin, Kevin O'Donnell and Robbie Egan would also have been on the fringes of the Limerick squad around that time and they went on to win the Munster title before losing the All-Ireland final to Ballyhale the following St Patrick's Day.
Speaking ahead of this afternoon's Munster club finale against Ballygunner, O'Brien tells RTÉ Sport that getting over the line in Limerick has proven so difficult, Kilmallock "just haven't even thought about" going one better in 2022.
"It's hard enough to win in Limerick," he says. "All these games are extremely tough and you're playing the cream of the crop everyday.
"Anyone who is local knows we were just so lucky to get past the group stages here. We genuinely got through by the skin of our teeth.
"We're going very well prepared, no injuries, no issues. We're happy to be there and we've a huge task ahead of us on Sunday. We're facing one of the best if not the best club team in Ireland on Sunday. We can't look past them. They're too good.
"We're hoping we'll have enough to get over the line but even if you did, you'd have a huge semi-final a couple of weeks after."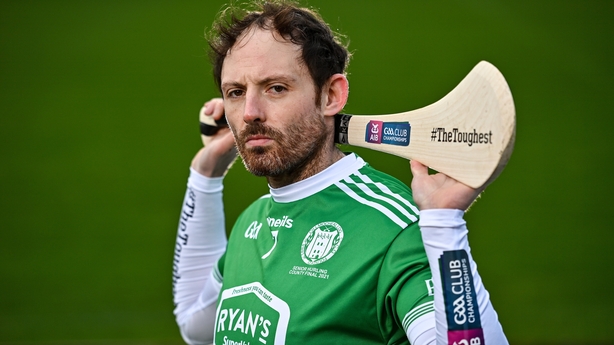 What's the secret to their veterans' longevity?
"There's a great spirit there and I suppose we're lucky in the fact that not too many lads have emigrated and we haven't lost too many. We enjoy each other's company and enjoy playing for the club. We're lucky in that sense.
"There's a middle group of lads in their mid-20s and then you've the auld lads like myself, Gavin (34) and Graeme (31) and a couple more. There is a great mix, we have great craic and that's a huge thing.
"We enjoy each other's company, enjoy socialising together, going to the gym together, going for pucks together and it's something that means a lot to us. The fact that we enjoy going training makes it a lot easier."
Kilmallock were underdogs against Patrickswell but won by eight points, favourites against Midleton and the gap was 10. Up against the eight-in-a-row Waterford champions they will be outsiders once again.
"We don't mind it and we don't even talk about it," says O'Brien. "I didn't even know we were favourites against Midleton until after the game.
"At the end of the day, we were probably outsiders to win Limerick and we were well justified to be outsiders. We had no right to be considered as contenders the way we played last year. We just took every game at a time and barely got into the knockout stages. We got a bit of momentum and got a bit of luck on the way, and here we are.
"We're not daunted (by Ballygunner). They're a serious outfit, we've a huge amount of respect for them. I think it's more impressive what they've done in Waterford as opposed to what they've done in Munster because I don't buy into the idea that the Waterford championship is weaker than the other championships. That's rubbish because you see from their county team and the players they have. There's great clubs there too.
"They've won eight counties in a row without ever getting caught. To show that maturity and consistency to always come back and win it says enough about their group to know that it'll be a massive battle on Sunday."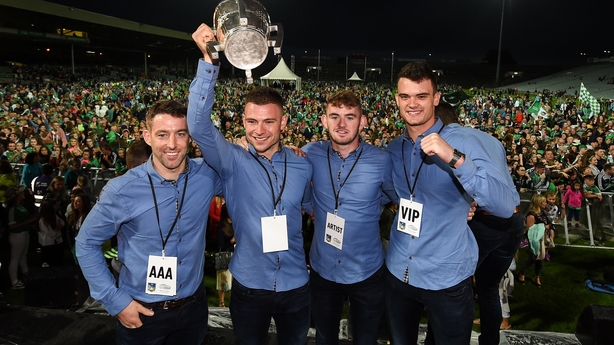 O'Brien (32) missed out on the John Kiely era, being told he was surplus to county requirements ahead of the 2017 season, but he is full of admiration for what the three-time All-Ireland winners have achieved and believes their success on the national stage has improved the club game in the county.
Not that he expects that to make any difference at Páirc Uí Chaoimh.
"They obviously bring up the standard in their own clubs, which brings the standard up in the championship," he says.
"There is a fair distribution of Limerick players around clubs. Nearly every club you meet will have one or two or three of John's [Kiely] panel on it. And even at that, the physical look of these lads, they're such imposing, physically fit strong players. You look at the younger lads coming up from the academy. It's not just the senior panel, it's what's being done at the grassroots in Limerick.
"We're all obviously hugely proud to be representing Limerick. As much as these are glory days and we hope they stay here as much as they can, they're not going to be here forever so it's important that [on] the days when they're not here, we represent ourselves, our players and our county with the same pride as we did when things are going well."
"We have our own group of lads, we prepare ourselves and whether Limerick are the best team in Ireland or the worst team in Ireland, it'll make no material difference to us on Sunday."