Andy Moran's Leitrim were on the losing side of the historic indoor game at the Connacht GAA Air Dome on Monday night, however, the former Mayo great was impressed with the facility and the quality of game that it produced.
Sligo ran out winners in the FBD League encounter, securing a four-point victory in the indoor arena, the game played in perfect conditions while a storm blew outside in Beakan, Mayo.
And Moran admitted that the pace of the game surprised him at such an early stage of the season, saying that he would have struggled with such conditions in early January.
Said in jest, perhaps, however, Moran was full of praise for the latest concept in the GAA as the game brought a new dimension to the early January competition.
"I'm not sure I would've been able to live in this place to be honest," said new Leitrim manager Moran, speaking to RTE Sport.
"It's really quick. Look at the scoreline, 1-21 to 1-17. Insane scoring on the first [week] in January.
"You'd never see that in an FBD game, it would usually be 0-09 0-08 or something like that."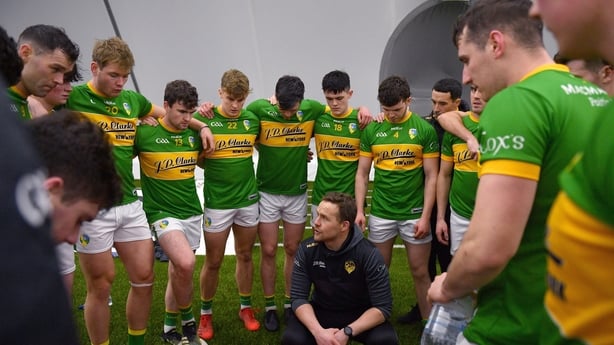 The winless streak continues for Leitrim, however, Moran was pleased with certain aspects of the game and believes his side are improving ahead of the upcoming league campaign.
"It was good, there were some really positive things in it, some stuff that we worked on in the last couple of weeks that came to fruition," said Moran.
"The problem is that we haven't won a game since March 2020 so we wanted to go after the game."
GAA President, Larry McCarthy, was an interested spectator at the historic occasion and suggested that the indoor route should certainly be explored to advance the game throughout the country.
"It's an absolutely phenomenal facility," said McCarthy. It was a tremendous game on a miserable night outside.
"If we could afford it, this is definitely the way to go.
"If there was one of these in every province it would be a tremendous fillip for the GAA in terms of clubs, schools and colleges being able to play games, certainly.
And having witnessed the high-octane encounter at the indoor arena, McCarthy also admitted that the benign conditions could certainly add a more skilful element to the game.
"On a miserable night like tonight, the speed at which these guys are playing is absolutely tremendous, so on that basis it does," he said.
Meanwhile, it is being reported that Kerry legend, Pat Spillane's son, Pat junior, looks set to make the switch to play inter-county football for Sligo.
Spillane, whose mother is from Sligo, plays his club football in Dublin with St Jude's and has never played for his native Kerry at minor, U20 or senior level.