Sligo 1-21 Leitrim 1-17
In the fantastic and futuristic setting of the NUI Galway Connacht GAA Air Dome, Sligo and Leitrim made history as the teams involved in the first-ever GAA Senior inter-county fixture played indoors.
Corner-forward Niall Murphy made his mark for Sligo, shooting a superb 1-10 to propel the Yeats County into the semi-final after a four-point defeat of a Leitrim side that played a big part in a thrilling fixture.
The air dome, part of the Connacht GAA Centre of Excellence complex at Bekan, is a wonderful facility where players can enjoy the all-weather surface, protected from the elements and with the inflated structure's height at 26 metres there's no fear that any shot (either stray or on purpose) will hit the ceiling.
The reduced attendance of 300 spectators were also encased in the white bubble, with everyone savouring the fact that the harsh elements were outside.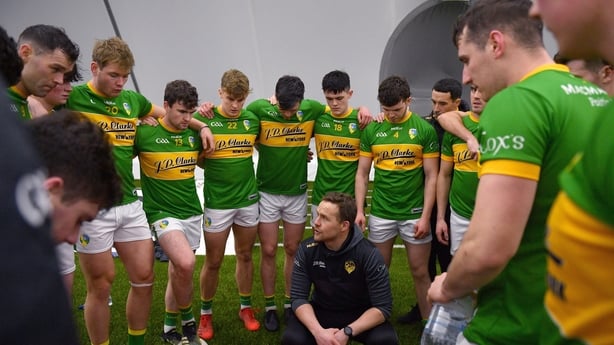 The game marked the start of Sligo manager Tony McEntee's second term at the helm, with Leitrim under a new boss, ex-Mayo star Andy Moran.
Proceedings were fast-paced and end to end.
Sligo corner-forward Niall Murphy kicked the game's opening score, a fine point, after three minutes.
Two minues later Murphy goaled – after being found by Alan Reilly's searching ball over the top – to give Sligo an early advantage.
Sligo, with their inside forwards looking especially sharp, built up a four-point lead, 1-02 to 0-01.
When the first-half water break came there were five points between the teams, 1-05 to 0-04, with the men in black controlling matters.
Brian Egan kicked a superb point and Niall Murphy continued to be a threat.
Leitrim were six points adrift, 1-8 to 0-5, and potentially in trouble. But they were revived by a neat goal from Darragh Rooney, after an exchange of passes with Ryan O'Rourke.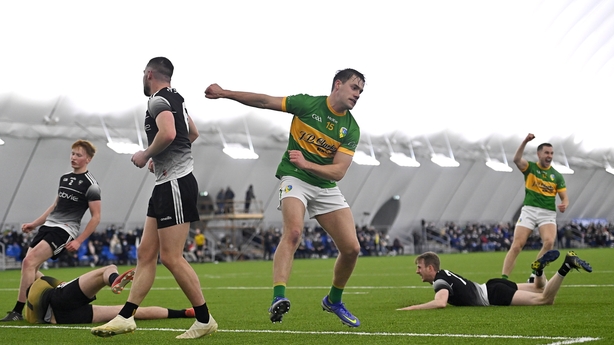 From then until the break it was tit-for-tat – Leitrim's most reliable source of scores was free-taker Keith Beirne, who contributed half a dozen points in that opening period, five of these coming from converted frees.
Despite having midfielder Cillian McGloin black-carded in stoppage time at the end of the first-half, Leitrim drew level before half-time when Ryan O'Rourke pointed a free to make it 1-10 apiece.
The second-half was just as brisk. The sides exchanged points within five minutes of the restart but that would be the last time that Leitrim would be level as Sligo powered in front to lead by six points, 1-17 to 1-11, when the second water break came around.
Niall Murphy maintained his scoring prowess, with Pat Hughes also a useful target man at full-forward.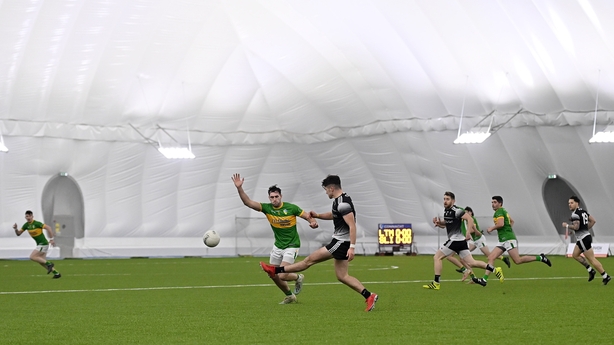 Leitrim made a game of it in the final 15 minutes and they twice made it a two-point game in the closing stages.
Corner-back David Bruen kicked Leitrim's 16th point with arguably their best score of the second period, and when Keith Beirne landed his ninth point of the game - his sixth free - there were only two scores between them.
Leitrim needed a goal to change the outcome, however, with Sligo finishing strongly through points from who else but Niall Murphy.
Sligo will return to this venue to take on Roscommon in the semi-final this coming Saturday.
Sligo: Eamonn Kilgannon, Evan Lyons, Karl McKenna, Mark Walsh, Keelan Cawley (0-1), Paul Kilcoyne, David Phillips, Gavin Gorman, Patrick O'Connor (0-1), David Quinn (0-1), Brian Egan (0-2, 1 mark), Donal Conlon, Alan Reilly (0-2), Pat Hughes (0-3, 2 mark), Niall Murphy (1-10, 4f)
Subs: Mikey Gordon (0-1) for Donal Conlon, 25; Adrian Cummins for Patrick O'Connor, 46; Steven Regan for Brian Egan, 55; Oisin Kennedy for Keelan Cawley, 55; Jack Haran for Karl McKenna, 61; Ian Barrett for Mark Walsh, 65
Leitrim: Brendan Flynn, Paddy Maguire, Mark Diffley, David Bruen (0-1), James Rooney, Donal Casey, Jack Heslin (0-1), Cillian McGloin, Donal Wrynn, Emlyn Mulligan, Keith Beirne (0-9, 6f), Evan Sweeney, Ryan O'Rourke (0-4, 1f), Shane Quinn, Darragh Rooney (1-0)
Subs: Riordan O'Rourke (0-1) for Evan Sweeney, h-t; Pearce Dolan for Cillian McGloin, 44; Paul Keaney (0-1) for Emlyn Mulligan, 46; Aaron Hoare for Darragh Rooney, 51
Referee: Thomas Murphy (Galway)