From a bad start, 2021 has ended up close to a perfect sporting year for Siobhan McGrath.
In January, the Ashbourne Cup was cancelled, depriving her and her UL team-mates of a tilt at six in a row.
In June, Galway lost the Littlewoods Ireland Camogie League final to Kilkenny, the team that had beaten them in the 2020 All-Ireland.
But the Tribeswomen delivered on the biggest day, McGrath's goal against Cork key as they reclaimed the O'Duffy Cup in September.
Last month Sarsfields, a rural club between Ballinasloe and Athenry, won their third Galway title in a row and now they get the chance to defend the All-Ireland club crown they won in 2019 against Oulart the Ballagh in Saturday's final (Live on RTÉ2).
Siobhan McGrath hits the back of the net as Galway go back in front against Cork.

The Rebels need to respond or Galway will be the champions. #rtegaa #sundaygame pic.twitter.com/cPHbsCRtVb

— The Sunday Game (@TheSundayGame) September 12, 2021
"Winning with Galway was unbelievable but to lose on Saturday would put a bit of a dampener on the year overall," McGrath tells RTÉ Sport.
"It would be brilliant if we did get over the line. Please God now we'll do it.
"I think this is our fourth final to get to. The hype around the place isn't too crazy. You're just trying to keep your routine the same as any other match. We're just trying to focus on Oulart and the massive challenge they are going to face us with on Saturday."
This final is actually the 2020 edition of the All-Ireland club championships, which were cancelled as the pandemic began but then reinstated after protests from the clubs and mediation earlier this year.
"We're just delighted to even be able to play it," says the 21-year-old, who will line out alongside her three sisters: Orlaith, Niamh and Clodagh.
"We had to fight so hard in the first place to get this competition reinstated so we're absolutely over the moon to even be in this situation. It looked for a long time like we wouldn't get the chance.
"The fact that it's us and Oulart that are in the final, it's kind of nice because out of all the senior teams, we were the two that were pushing it the most to get it played. It's nice that all the hard work off the pitch has come to fruition."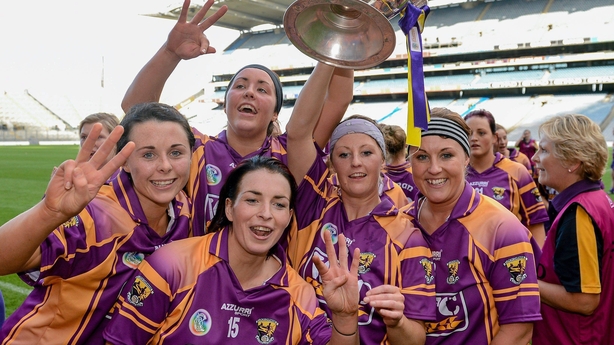 Oulart are backboned by former Wexford stars like Ursula Jacob, Mary and Una Leacy, and still have an incredible nine members of the team that first won the club All-Ireland in 2012 and bagged another in 2015.
They defied the odds to beat 2016, '17 and '18 champions Slaughtneil in last weekend's semi-final as Sars outgunned Drom & Inch.
"They're probably the most star-studded team that we've ever come across to be honest," says McGrath. "If you go down through their team; the likes of the Leacys, Ursula Jacob, Ciara Storey, the Keoghs, you could go on forever - a lot of them have won four All-Irelands with Wexford, they've all won two club All-Irelands, multiple All-Stars. It doesn't look like they have slowed down or anything yet. They're still firing on all cylinders.
"That Wexford team, I have great respect for them. They were kind of different to the likes of Cork and Kilkenny, there was a bit more character or something about them at the time. They were just so skillful, they really brought on the game of camogie so much. They were a class team at the time and they were definitely players I looked up to when I was growing up.

"You can't buy that sort of winning mentality that they have; that experience and that know-how to get over the line. While you're looking at them, you kind of just have to try to focus on your own game as well - not to get overawed by them, because in fairness, they are living legends of camogie.
"To think that they're still going strong all these years later just shows the determination that they have within their club and the never-say-die attitude that they have."
"To score 2-15 against Slaughtneil is some achievement. Any time we have played them it has been a pure dogfight and a low-scoring match. It just shows their firepower up front.
Win or lose, as Galway champions, Sarsfields will be back in the 2021 All-Ireland semi-finals next February.
"We have a long way to go yet before we even think about that," McGrath says at the prospect of a third All-Ireland medal in six months. "We have to get over the line on Saturday before we even look at 2021's campaign.
"If you were to lose, you could be kind of like,'Jesus, how are we going to face into another season?' or else you could be raring to go, trying to right the wrongs so hopefully we won't have to be thinking about that."
Watch Sarsfields v Oulart the Ballagh live on RTÉ from 1.15pm Saturday and follow our live blog on RTÉ Sport Online and the RTÉ News app