It has been a fine few months for Willie Hyland and Clough-Ballacolla.
In August, they beat Borris-Kilcotton in the delayed 2020 Laois SHC decider. In November, they retained the title against the same opposition.
The 10-time O'Moore County champions had never won a game in Leinster until this year but now, after victories over Wexford's Rapparees and Dublin giants Kilmacud Crokes, they have the chance to taste provincial glory on Sunday.
Laois' second all-time hurling top scorer Hyland - behind James Young - retired from county duty aged 28 due to hip issues in 2016 but still manages to line out for his club.
"You couldn't really write it to be honest," the 33-year-old tells RTÉ Sport. "We had a difficult 18 months before that when we were waiting for county finals to be played and were dealing with lockdowns and whatnot. To win the '20 final back in August, follow it up with the '21 final and have our two Leinster wins, it has been unbelievable. It's a great journey that we've been on. We don't want it to finish either.
"We won our first final in 2009 and we probably over-celebrated, we hadn't won it in 91 years. We then played Oulart the Ballagh in 2015 – we lost by four points and I felt we left that game behind us. Then in 20 there was no Leinster because of Covid.
"You savour every bit that you can. From a sporting point of view, when you lose and you've a year too get back and try rectify a loss, that's what makes days like the last couple of days that we've had all the sweeter. I'm in the twilight of my career so you really do treasure them.
"I'm only a passenger on this team now, I'm getting on. But I get more of a buzz from seeing family, friends and neighbours in Croke Park. We're a small little area. To see our people go to Croke Park on Leinster final day is just a hugely proud moment for me and all the lads.
"Every GAA club has die-hards, we have some die-hards who probably have never been past the Red Cow. So to see everyone going to Croke Park is just an amazing feeling for everybody. I think everybody is going on Sunday so it's a great occasion."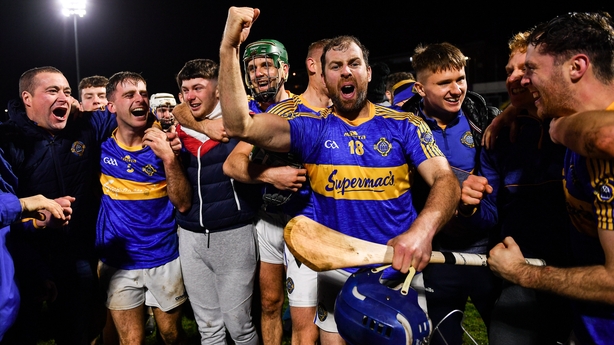 The club has just 300 members, drawn from the villages of Clough and Ballacolla, either side of the M8.
Their win over Kilmacud - a club 15 times their size - was regarded as a shock, though perhaps not to Hyland, who highlights the differing nature of a rural outfit.
"I heard that stat last week, the members thing. But it's not really relevant," he says. "You could say then why aren't Dublin winning the hurling All-Ireland every year?
"From our point of view, we don't have anything else. We don't have soccer, rugby, athletics. There's no Gaelic football even in Clough-Ballacolla. We have a handball club, that's about it.
"So if we have a young fella at nine or 10, the chances are he'll still be hurling at 18. Whereas if you're in a city or town club, there are other distractions, other sports. It's more about what else is available for kids of that age, and we're lucky that we hold on to our lads.
"We were 3/1 with the bookies in a two-horse race. That would have bugged us a bit alright.
"But we wanted to get to Croke Park, we wanted to get to a Leinster final. If we were underdogs or favourites didn't really matter. Thankfully we are there now but we don't want to finish this journey."
It's a good job Hyland and his team-mates don't mind being written off. On Sunday they are coming up against a side that could be the first to win three Leinster titles in a row and would then be going for a historic All-Ireland treble.
"Everybody knows this Ballyhale team are outstanding," he says. "They have won the last two club All-Irelands, multiple Kilkenny championships.
"They can score two, three, four goals in a matter of five minutes. That's the team they are.
"We have to try and get back to that intensity and performance that we brought to Kilmacud, and try to rectify some of the mistakes for Sunday. That's our focus at the moment.
"It's a great occasion for us. But we have to forget about the occasion and concentrate on what we can bring to it."