Nineteen and one but still not ready to declare - Loughmore-Castleiney's incredible contribution to the 2021 club championship season will continue on Sunday as the Tipperary hurling champions take on Waterford's Ballygunner in the Munster semi-final.
Incredibly, this will be the 19th week in a row playing for most of the squad as the majority also line out for the club's football side, who claimed the county title last month but saw their season ended at the provincial quarter-final stage last weekend.
Clare's Éire Óg were their opponents but, typical of this season, the team had to squeeze out a few more minutes with extra-time needed to separate them.
There has been little time to absorb the blow though, with all energy now pointed solely towards hurling matters as they prepare to travel to Fraher Field. And how about this for a contrast? Two hours earlier, in the other Munster semi-final, Limerick champions Kilmallock will be ending a seven-week gap without a game as they take on Cork outfit Midleton.
It has been a scarcely believable schedule for the Premier side and one that points to the difficulties that could dissuade clubs that may have an eye on becoming fully-fledged members of the 'dualling' society.
Winning seems to be the best tonic to deal with any potential fatigue issues though, as a number of teams have shown in the past.
As Meath took to the Croke Park pitch on 2 June, 1991 they were just four games away from a 17th Leinster title, or so they thought. In the end it took eight games before they got to lift the Delaney Cup.
Their four-game saga with Dublin has entered GAA folklore, but it's often forgotten that the Royals needed a replay to see off Wicklow in the quarter-final the next time out.
Perhaps referee Noel Whelan was just keeping in with the spirit of the season as he blew the full-time whistle just as Bernard Flynn was kicking a last-gasp winner, but Sean Boylan's side did make amends in the replay.
Laois, who also were involved in a semi-final replay with Louth, were dispatched before Offaly were downed in the provincial final.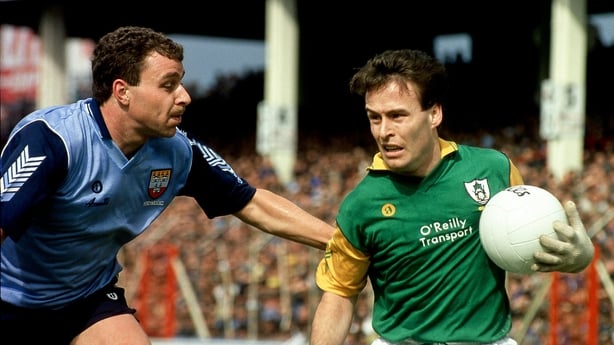 Eight days later the side eked out a one-point All-Ireland semi-final win against Roscommon.
A four-week break ahead of an All-Ireland final with Down was well-deserved given that the side had played nine championship games in just 12 weeks.
Two years later Armagh played six Ulster games – including the famous day at the Athletic Grounds when Denis Holywood, twice, and John Grimley struck the net in the final moments to turn a potential heavy defeat into an incredible win against Fermanagh – yet didn't even make the provincial final.
That match with the Erne County was a replay while they needed two games to get past Tyrone in the quarter-final. The semi-final with Donegal also required two outings. Six games in eight weeks and not even a runners-up medal.
Tyrone didn't get a runners-up medal in 2005, instead going one better after a stunning ten-game campaign resulted in Sam Maguire number two for the Red Hand County. Draws with Cavan, Dublin and Armagh meant that Mickey Harte's men faced a jam-packed calendar with the first nine of those matches being played in a 16-week period.
Perhaps Loughmore-Castleiney can identify closest with Derry's Slaughtneil though, who had their own incredible dual runs in 2016 and '17.
If all fit and ready, 17 players duked between the two teams managed by current Kilcoo manager Mickey Moran and Michael McShane, who is preparing the hurlers for a big Ulster semi-final against Dunloy on Sunday.
Back-to-back Ulster doubles – their camogs were also provincial champions in those seasons – threatened a very noted tradition in Gaelic games at the time, the St Patrick's Day All-Ireland Club finals.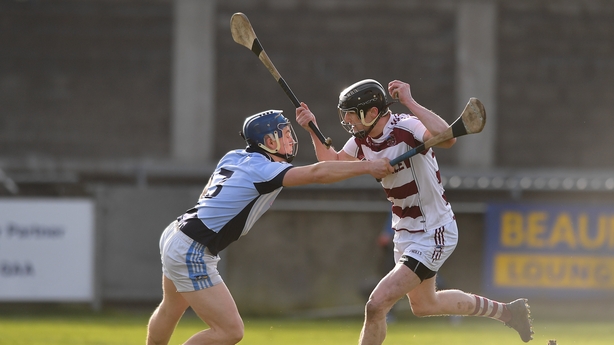 On 25 February, 2017, GAA fixture-setters had a bit of extra interest in the All-Ireland Hurling semi-final between Slaughtneil and Cuala. With the Derry side's footballers already through to the St Patrick's Day final at Croke Park, something would have to give if their hurlers joined them. As it was, a Con O'Callaghan-inspired Cuala were too strong and any tough decision around 17 March was avoided.
It was their county and provincial campaigns over those two seasons that will resonate with Loughmore-Castleiney – along with one game in the All-Ireland series.
In 2016, from their Derry hurling final win over Banagher on 11 September to their All-Ireland football quarter-final against London champions St Kiernan's on 11 December, Slaughtneil played nine times. A 16-week period.
The following year, from another Derry hurling final win over Banagher, this time on 16 September, until their Ulster football final win against Cavan Gaels on 26 November, they played eight championship games. An 11-week period.
"Ulster and Munster are due to play in the All-Ireland semi-final so if Slaughtneil keep winning and Loughmore-Castleiney keep winning maybe we can meet and play the first half hurling and the second half football," joked Slaughtneil hurling manager Michael McShane.
The Ballycastle native knows all about the bumps that accompany such a delicate schedule and he believes that if the club's success had come a year apart instead, there would be a minimum of one All-Ireland among the panel [the camogie team won All-Ireland titles in 2017, '18 and '19].
"It hindered Slaughtneil's opportunity to win hurling and football All-Ireland titles," said McShane.
"We went into the semi-final against Cuala in February 2017 and Na Piarsaigh in January 2018 with only half the work done that those two teams had managed in the same period simply because they were focusing on one code.
"You're doubling the risk of injuries; you're having to do a lot of work to ensure players aren't overloaded during a run of games like that. You're trying to get rest and recuperation and it's a very difficult thing to do.
"It's only my opinion, but it was no coincidence that in 2019 when we won Ulster but the footballers lost in the semi-final in Derry [to Glen], and we had time to prepare, we produced probably our best performance in my time here in the All-Ireland semi-final against Ballyhale.
"We had seven or eight weeks to focus on that match and while we lost [Colin Fennelly with a late goal to give the Kilkenny side a five-point win] we played some great stuff and a lot of that was because we were working on a single code.
"If it had of been like that for the Na Piarsaigh semi-final we would have had a better chance and I think we would have beaten them. Likewise the footballers who lost to Nemo Rangers after extra-time."
The fact that Frankie McGrath manages both Loughmore-Castleiney sides is key to their success, said McShane who had a good working relationship with then Slaughtneil football manager Mickey Moran.
"For a dual club to work you need two management teams who are going to put the players front and centre," he said.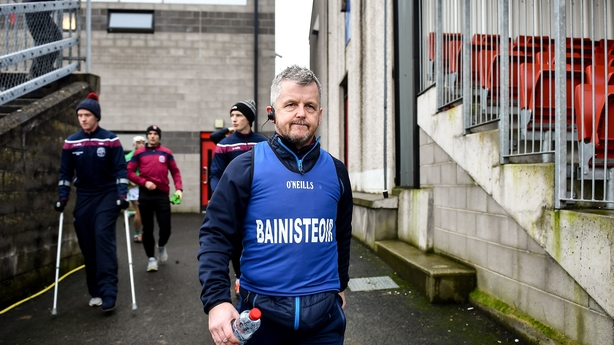 "Both managements have to look at it and work out what it takes to give the players the best chance to perform to their best in both sports. We had that in our management teams and that's why we had that chance to be successful.
"Loughmore-Castleiney have the same manager over their teams and that makes things a whole lot easier.
"There are lots of bumps in the road. Football managers and hurling managers want to do more than you actually can in a dual club. In any given week you only have seven days and if you have a match then you need your rest days so you only have a couple of days to train and you're trying to split that between two codes.
"Our template was that if there was a game on the Sunday, that's the code the players focused on that week. If it was a football match, they did football training that week. If it was hurling, it was the opposite."
Recovery obviously is key in situations like these, and McShane said that it wasn't just the physical end of things.
"You're getting players massaged and into cryotherapy baths, all the usual stuff.
"The big thing is just having days off, it's as much mental recovery as physical recovery. These are players at the top of their physical conditioning so it's not the exertion, it's just the grind of having to go to the pitch six nights a week.
"If you can get away from that, go to the pictures, lie in front of the fire and watch the Champions League, that's as important as any physical recovery."
For Loughmore-Castleiney, McShane believes that week 19 will be the hardest of all, but if they can manage to extend their season past this Sunday he feels that everything could open up for them.
"If they win this weekend they don't play the Munster final until 9 January. They'll have a great break.
"The problem for them is that their 19th week is going to be their hardest of all because they're coming up against an absolutely superb Ballygunner team.
"If they get over it, it will give them a chance to freshen up mentally as much as anything and they will be a very dangerous opponent for anyone."