Returning Down manager James McCartan has said that not being the county's first choice to replace Paddy Tally did little to impact on his decision to accept the role.
McCartan, who guided the Mourne County to the 2010 All-Ireland final in his first stint in charge, was ratified on Wednesday night after a reported management ticket involving Conor Laverty, Jim McGuinness and Martin Clarke failed to come to fruition.
The two-time All-Star said that what had happened previously in the process didn't matter as he accepted the job, with former Armagh defender Aidan O'Rourke coming in as head coach.
"We were approached months ago about this and we're just delighted to be the county's number one pick," McCartan joked. "I was on holiday for two months there and they couldn't get in contact with me for a while.
"Look, it's fairly obvious that James McCartan and Aidan O'Rourke, we weren't the first port of call.
"It's neither here nor there for us. We were asked and we were fully aware of what was done before. The decision was there for whether we wanted to take the job or not."
Down have endured a difficult period in their rich history with the five-time All-Ireland champions last winning Ulster back in 1994 when McCartan was a livewire in attack.
They went on to lift Sam Maguire later that season but their only silverware at senior level in the 27 years since has been a Dr McKenna Cup triumph in 2008.
McCartan is confident that the talent is there to build on the ground work carried out by previous boss Tally though, who has already been in contact with the new manager.
"My thought process is, I suppose it's going to sound a bit corny, but when you're asked to help out your county I've always found it hard to say no. That's basically it.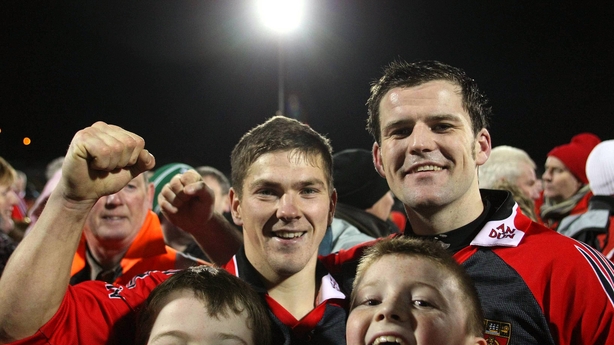 "I've been involved at various levels for numerous years. Sometimes when they come and ask me to do something I put my head in my hands and sink to my knees but [I] usually end up trying not to let them down so we're back to that again."
"We're not coming back to try and fail or to try to lose, we do intend to try and see if we can improve on things.
"Paddy was there for three years, probably three difficult years with the fact that Covid kicked in.
"In fairness, he rang me yesterday and we had a long conversation. He gave me all the information that he could with regards to where he felt the panel was. It was certainly much appreciated.
"We're obviously trying to build on what was a difficult time for him with regards the Covid end of things.
"Whenever he was there, there were some great performances, even in defeat. Against Mayo [a 2019 All-Ireland qualifier] a couple of years ago in Newry, a 10-point lead against Cavan [2020 Ulster SFC semi-final] that didn't work out in the end.
"We've shown in patches that we can compete and we we're going to have to try and build on that."
With the Dr McKenna Cup due to return in early January, McCartan said that the first aim would be to make up for lost time, with regards selecting a panel, while he is currently chatting to a number of individuals about joining the management team.
"First things first, it's about trying to get a panel of players together," he said.
"We probably don't have the luxury of being able to run many trials. We're starting from a static position so we're going to have to try and short circuit the trial season and go straight to trying to get the players together. We'll probably pick some sort of extended panel."
McCartan's appointment comes just in time for the 2020 provincial draws which are set to take place on RTÉ Radio 1's Saturday Sport.