Feargal Logan and Brian Dooher made history 10 days ago by becoming the first joint managers to lead a team to All-Ireland SFC glory.
Adding to the achievement was the fact that it was their first year in charge of Tyrone, following the end of the triple-title winning, 18-year reign of Mickey Harte.
Tyrone were still contenders under Harte, having reached the final as recently as 2018, but an early exit in last year's Ulster championship to Donegal meant expectations weren't too high this summer. From the outside at least.
Centre-back Kieran McGeary, the frontrunner for the Footballer of the Year award, thinks a big season could have been on the cards either way.
"It's hard to honestly tell," he tells RTÉ Sport. "At the start of the year, people were probably saying that Mickey made a good decision stepping away from the Tyrone team.
"But we started to pick up a bit of momentum, pick up a few championship wins. Big (Cathal) McShane was back, Conor McKenna was starting up, we had a number of new boys.
"There are no guarantees to say it would have happened and nothing to say that it wouldn't if Mickey was still there.
"It's the ingredients of it all. It's Mickey in the past trying to get the whole thing rolling. Feargal and Brian came in and brought serious men with them who were all for the one thing. If you give good men an opportunity, they'll do great things."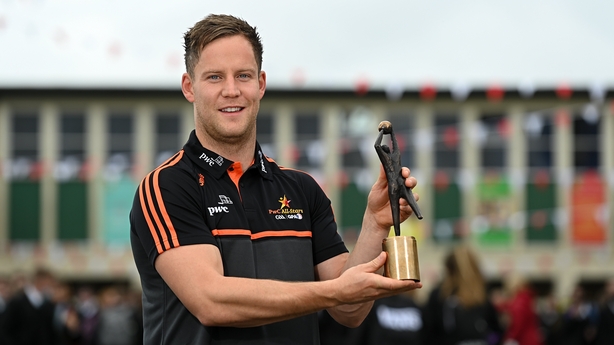 Logan and Dooher managed a number of the current Red Hand squad to U21s glory in 2015 and McGeary – captain that year – suggests the duo's biggest impact was empowering the players on the pitch and connecting with them off it.
"One of the big words used this year, was that 'We trust ye, we trust ye. Ye will know what to do in the moment'.
"As a team, we had small things this year, one of them was 'Head, legs, heart' and if you were to use those three things in your game, that would take you through it.
"Playing without fear was one of my big ones. The ability to know that you're trusted was a massive one, that you're being trusted to make a decision. If you made mistakes, you'd soon hear about it. Brian was still a ruthless man, but in a really good way. You were trusted, but your own ability was trusted - you weren't asked after why did you do a thing. You had your reason for doing it in the moment.
"We always talked about 'the we, the we, the we' and giving the ball to the best person in the best position. If somebody's goosed, you sprint up the field for them because you know you've got the legs to do it. It was just small things like that which were the trust.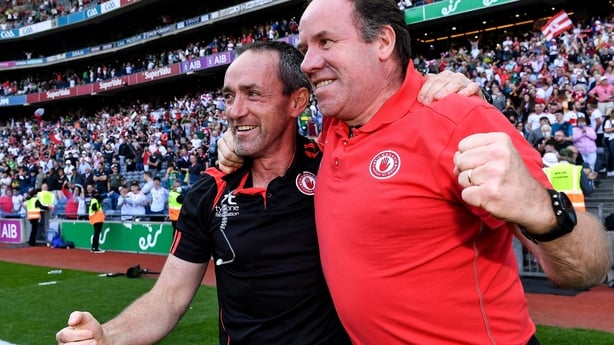 "There was always a great laugh over the analysis. Video analysis is always serious, but it always finished with a joke, or a picture from the game. It wasn't always just serious, serious, serious.
"They're always asking how you were getting on. They are nearly more concerned about you as a person than as a player. Even to go back to the unfortunate Covid situation that we had around the camp, boys would have went above and beyond for you. They are men that have families, they are men that everyday jobs that they must attend, and their first priority was the team. When you have people like that in and around your backroom setup, you're never going to be far away from silverware.
"They did bring in their small footballing ideas, which went a long, long way. Sometimes, keeping it simple was the main thing. If you look at Brian Dooher's game, when he played and captained two All-Ireland winning teams, his main ingredient was hard work. When you get that driven into a team who listen, it's hard to stop them."
A small insight into just how strong 'the we' was is supplied by a text McGeary received from one of his team-mates, minutes after finding out he hadn't made the final panel of 26 – 'If I can help you in any way in the next 48 hours, just let me know.'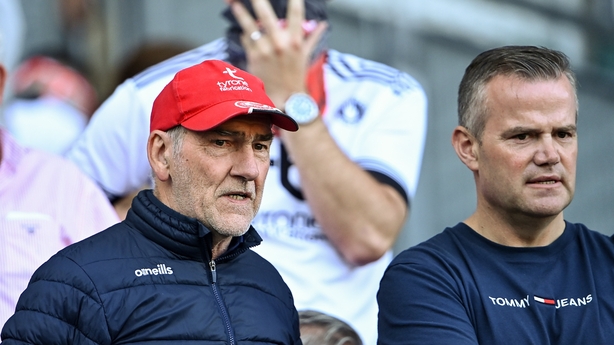 Harte is now with Louth but McGeary says he has remained one of the team's biggest supporters.
"He's been very supportive all year. I remember seeing him on the pitch after we beat Donegal and he was delighted for a lot of the boys. He was like, 'Yes lads, you have one more step to win the Ulster here.'
"Mickey always had his eye for Sam all the time. He nearly put the glasses on you to see what was in front of you. He was a big man for imagining it was there. I suppose he got the ball rolling for a lot of the players. He always talked about how you don't have that many years and that it'll fly.
"A few of us seen him the night of the banquet. He slipped in and out without saying a word. He's nearly the one that planted the seed for a lot of the players that are there. He slipped in and out and said hello to whoever he got to see. It was fantastic. He's a great man and deserves all the credit he gets."
As for their beaten opponents Mayo: another final loss, another round of sneers. McGeary understands the hurt of supporters and jibes from pundits but believes the Connacht champions deserve nothing but respect for their consistent ability to contend.
"Seven All-Ireland final defeats for some of them - that's not easy," says the 2018 runner-up. "And it's not, then, nice to be criticised after trying your best, management or players.
"They were the pace-setters and trend-setters for a team that can continue to achieve at a top level. We were always quarter-final, first round or semi-final, over the last number of years. Mayo have been back, and back and back all the time.
"That's credit to those players. That's resilience, to do that, regardless of what anyone has to say about management or individuals."