Eamonn Murray said that his Meath side "are all heroes and will be heroes for life," after their fairytale All-Ireland final triumph on Sunday.
Playing in their first senior ladies football final, the Royal County produced one of the all-time upsets in Gaelic games to deny Dublin a fifth crown in a row at Croke Park.
"If they never kick another ball it doesn't matter, they'll never be forgotten. Never," manager Murray told RTÉ Sport afterwards.
"It is special, but it's nothing more than our county board and clubs deserve. It was Feargal Harney ringing me initially day and night to do the job; it's a special night for him as well. I won't take all the praise.
"Special day, special for all the local radio people and the local papers, it's class. It's a day I'll never forget."
Cavan native Murray, a long-time resident of Boardsmill, near Trim, admitted that the county's ambitions had been far more modest after only earning promotion from the intermediate grade last year.
"I never dreamt of that at all," he said of yesterday's win.
"The plan was to stay in Division 2 in the league, we won that, and hopefully stay in the championship.
"You saw what happened to Tipperary and Tyrone, they won the last two (intermediate titles) and didn't hang around long so we didn't know what to expect really.
"Playing Cork (a two-point defeat in the group stages), we knew that day there was something special here, even though we didn't play well that day.
"Winning the league was very important, we're getting all tough games next year."
Murray said he was worried as the team was leaving Meath that the occasion might get to his players but that his fears were completely unfounded and they weren't fazed at all by playing in front of the biggest crowd of their lives.
"I thought there was a bit of hype around Trim this morning. I wasn't that happy about it," he said.
"There was a lot of people around, getting photos and stuff off them, and I wondered was that going to affect them, banners on the way up, all that sort of stuff.
"But then in the dressingroom I said, 'This team is ready', because they were so calm, no shouting, no roaring, nice and calm, very focused. And the fitness levels they have are second to none. They did all that training themselves because of Covid during the lockdown."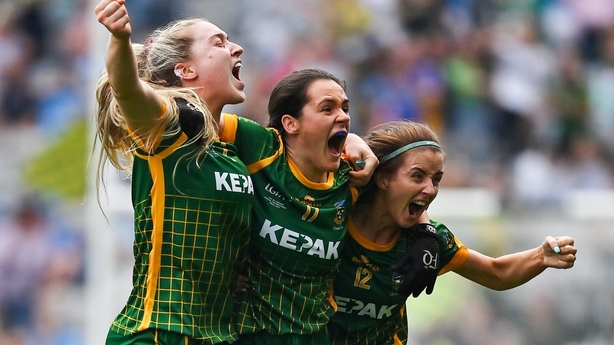 Dublin boss Mick Bohan admitted that his side had been beaten by the better team and highlighted the Dubs' failure to find the net as pivotal.
"We were very lucky today that we didn't concede a goal," said Murray. "That defensive system we have, I think that proved that it is working."
Wing-forward Niamh O'Sullivan, who scored 0-03 from play and was one of Meath's top performers on the day, said: "It's just amazing. It still feels a bit surreal.
"We knew coming up that no-one would give us a chance but ourselves. The lads had us well drilled and said 'Look, if we can perform the way we can, we'll win this game'.
"It was so important that we didn't focus on Dublin that we tried to play our game plan. I think we really did that.
"I think every girl that came onto the pitch put in an incredible performance.
"We're a very close-knit team. We work for each other and you could see that out on the pitch."