Colm Cavanagh says Tyrone have been given a new lease of life by joint managers Brian Dooher and Feargal Logan after "playing with the handbrake on" during the final few years of Mickey Harte's reign.
Former midfielder Cavanagh was delighted with Tyrone's high-risk, high-reward approach as they upset Kerry in last weekend's All-Ireland semi-final.
It was in stark contrast to the end of his inter-county career, where he felt the Red Hands fell short in big games due to a fear of making mistakes.
"The last couple of years, watching and playing with Tyrone, there was an awful lot of playing with the handbrake on and a fear of making mistakes," he said.
"Being part of those teams, you just knew you were going to get pulled up in a video analysis.
"Boys were nearly afraid to take those chances whereas watching Tyrone this year, there's no doubt guys made plenty of mistakes at the weekend and have done in games gone by, but definitely they're taking a lot more risks and getting the rewards for it.
Tyrone's organisation, skill and their ravenous intent was too much for Kerry, says Kevin McStay #rtegaa #thesundaygame pic.twitter.com/XzfQiIECyl

— The Sunday Game (@TheSundayGame) August 29, 2021
"It's probably one of them things, change of management, style, approach. You see some of the things happening in the games, kicking long balls in, sometimes aimlessly, that would never have happened over the last couple of years.
"It's definitely changed this year. Even chatting to a few of the guys, they tell you they're playing with a lot more freedom and, I wouldn't say enjoyment, but they're able to take that risk that they probably wouldn't have taken in years gone by.
"Does it justify the decision to change managers? It's very hard to say. It's a different panel. I do think they are playing a lot freer and seem to be a lot happier in terms of the way they're taking the field and playing.
"Under Mickey and Gavin (Devlin), who are great guys, they were very methodical in the way we were setting up. Everything was very scenario-based. I'm sure Feargal and Brian have something similar but the handbrake seems to have been let go."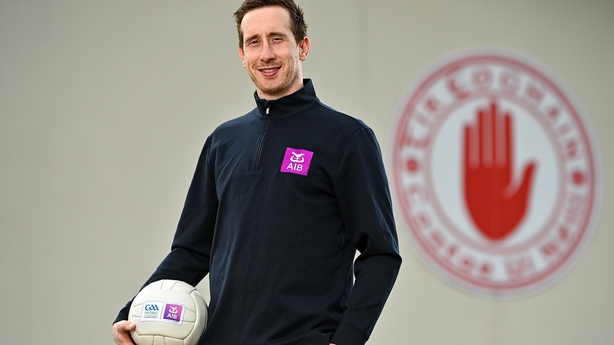 Cavanagh was asked by Dooher and Logan to reconsider his decision to retire from inter-county action. It was an attractive proposition but work commitments ruled out a comeback, although Cavanagh felt he had "too many miles on the clock" anyway.
"There was a draw but when I looked at it from my own point of view, the circumstances I had with work were very difficult," he said.
"My lifestyle at the moment doesn't suit inter-county football. I'm travelling over and back to England most weeks and I knew in the back of my head there was going to be a problem at some point down the line.
"When you get to 34 years of age, your priorities have to start shifting."
Cavanagh said there has been a switch from hope to expectation among Tyrone supporters following their win over Kerry, but believes there will be little to separate themselves and a Mayo side that plays with "a chaotic pace, pure heart, soul and aggression".
Colm O'Rourke on the optimism that young people who have had Covid should take in watching Tyrone's performance against Kerry #rtegaa #thesundaygame pic.twitter.com/0EtpJeAvch

— The Sunday Game (@TheSundayGame) August 29, 2021
Cathal McShane made a telling impact from the bench against the Kingdom, scoring 1-03, but Cavanagh would resist promoting him to the starting line-up for the All-Ireland final.
"The starting forwards didn't light it up, a lot of defenders seem to be scoring," said the AIB ambassador. "But the way Tyrone are looking at it, you could nearly argue they're finishing with a stronger team than they're starting with.
"There's a bit of a risk with that, were Mayo to get too far ahead and you're trying to bring lads on to change a game when it's too late. But there were question marks over McShane's fitness for the last four to six weeks, whether he's fit for a full game. I genuinely don't know, it doesn't seem like he is or the lads would probably be starting him.
"I think there's an argument there to be had (in starting him) but you're looking at Dublin in recent years and how Kevin McManamon came on and changed games. Tyrone are going to need that.
"If you start McShane or Darragh Canavan, have you the same firepower off the bench? I don't think you do. If the game was going away from them and McShane was starting, it's very hard to change that. I think they'll stick to what they're doing."