What can you say when your team has just lost an All-Ireland final by 17 points?
For Cork manager Kieran Kingston, it was a gracious acknowledgement that they were beaten by a historically great hurling side, the first from Limerick to retain the Liam MacCarthy Cup.
"Huge credit to Limerick, huge congratulations to Limerick," he told RTÉ Sport.
"I said at the press conference before the game that we were going up against a team that was the best I've seen since the great Kilkenny team.
"We know how good they are, they're unlucky not to have four All-Irelands in a row, and we saw that there today.
"From our perspective, it was like trying to stop the tide with a bucket. Not a lot you could do, no matter what you tried – go short or go long. I think they were just at another level to Cork today. We've got to be honest and say that."
Cork had bounced back from the concession of an early goal with one of their own through Kingston's son Shane, but it was one-way traffic after that as the Treaty coasted to a 3-32 to 1-22 triumph, their third in four years.
"We responded well and got the goal, maybe could have had another couple," he said.
"We had chances but we didn't make the right decisions and they started picking us off, picking off puckouts whether we went long or short, we got turned over in the tackle an awful lot.
"We took the ball into the tackle and they turned us over, they're a physically huge team, they tackle really well and use the ball really well."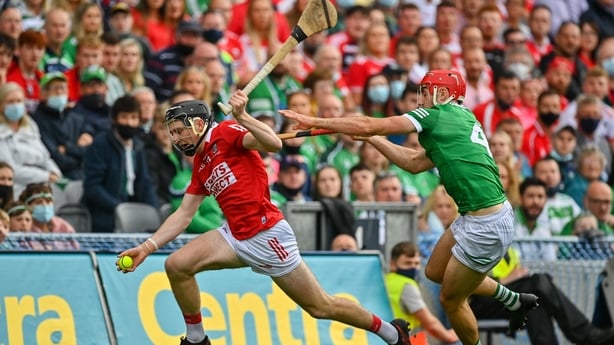 Cork came into this final on a wave of optimism following two U20 All-Ireland victories in the last month and a long-awaited first minor win in 20 years on Saturday.
Despite today's result, the age profile of the team suggests they will remain contenders in the coming years. But the Rebels' wait for Liam MacCarthy is now a record 17 years and Kingston is as impatient as any to end that run.
"Thirteen guys (starters) playing in their first All-Ireland final today, we came up here on the back of a lot of talk around Cork hurling and the narrative on Cork hurling – the minors winning last night, Noel Furlong and his team, the first time in 20 years, and the U20s won the last two after 22 years, which was great.
"The seniors getting to the final was another bit of momentum, I suppose, unexpectedly. But it's really until we start performing at this level that we can say that, 'Yeah, Cork hurling is in a good place.'
"It's great to have underage titles, many counties have had them before, but it's when you start winning at this level that you say, 'Cork are back.'"