The Ulster GAA Council is aiming to stage their 2024 showpiece provincial football final as one of the first red letter fixtures at the new Casement Park stadium.
After planning permission for the multimillion-pound redevelopment in west Belfast was yesterday given formal approval, Ulster GAA will now observe a three-month window where the applicant or third parties may decide to present issues.
But following a wide-ranging, four-year consultative process aimed at re-attaining planning permission, Ulster officials are hopeful that many queries have already been dealt with.
"A lot of issues have been carefully addressed and discussed over the past four years," head of operations at Ulster GAA Stephen McGeehan told RTÉ Sport.
"It may or may not happen that some issues may be brought forward. The last time we received some objections which delayed the project. We are hopeful that we will be given the space to proceed with the next phase of the project. If there are no issues we could be on site by early November."
Over 11 years ago, Ulster GAA first unveiled its intentions to build a major new provincial stadium and later confirmed Casement Park in west Belfast as the preferred venue.
Planning approval for a 38,000-capacity stadium was given in 2013.
A year later that approval was quashed in a High Court legal challenge brought by some residents. Further setbacks came in 2015.
In 2017, Ulster GAA submitted new plans, including reducing the stadium capacity from 38,000 to 34,000.
During the consultation stage of the most recent planning application, which was approved yesterday. Ulster council officials engaged with 5,000 people in a 32-week community consultation on the project.
95 per cent of those stated they were in favour of the new design.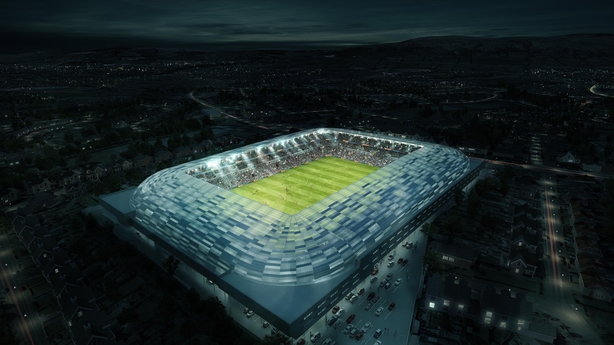 The new stadium is expected to cost at least £110m (€129m), more than £30m above the original estimate, which is down to delays in launching the project.
Original proposals centred on the Northern Executive paying £62m (€68.5m) of the cost, with the GAA paying the remaining £15m (€16.5m).
Casement's proposed redevelopment was part of a Stormont programme which also saw major upgrades to Belfast sports grounds for soccer and rugby.
The project is the last remaining element of the NI Executive's Department for the Communities Regional Stadia Programme which has seen the completion of the Irish FA and Ulster Rugby's stadia.
Kingspan Stadium received £14.7m (€17.3m) while Windsor Park received £28.75m (€33.8m) for smaller upgrades which brought their capacities to around 18,000.
McGeehan said the GAA's financial commitment to the project has always been £15m (€17.6m).
"The GAA's has always been £15m and we are still good for that," he said.
"There have been delays for years and huge costs attached to that over the past seven years whilst all issues were being dealt with.
"But when this process started over a decade ago the various governing bodies were asked what their strategic needs and capabilities were, and we responded to that.
"The IFA (Irish Football Association) have since had their strategic requirements delivered at Windsor Park, the same for rugby at Ravenhill, and that has been great for those bodies. It was relief when we got word of our planning yesterday, we are still in a position to meet our contribution to the project, and we will look to the Northern Ireland Executive to fulfil their commitment they made over a decade ago."
Ulster GAA will now launch an extensive, far-reaching, and inclusive community engagement programme in the coming weeks to help realise the significant opportunities that the stadium will deliver for the local community.
It's hoped that the project will create long-term economic, community and social benefits for the area.
"Planning permission is a significant milestone," McGeehan added.
"It means we can work towards determine what the bottom out cost of the project will be and look to secure funding and receive approval of the business case.
"If all goes well major construction could begin by early 2022. The project will take two years to complete."