Brian Cody hailed the "honest to goodness physicality" that characterised Kilkenny's dramatic Leinster SHC win over Wexford and said his team's response when down to 14 in extra-time was the decisive factor in the contest.
The defending Leinster champions began the extra-time period in the worst fashion possible, goalkeeper Eoin Murphy hauling down Conall Flood, being sent to the sin-bin before Mark Fanning drilled home the ensuing penalty.
Kilkenny now trailed by three points and had to play the next 10 minutes a man down. It was in that period where Cody felt his charges won the game.
"It was an amazing game," Cody told Brian Carthy on RTÉ Radio 1's Saturday Sport after the game.
"The game threatened to go both ways during the 70 minutes. It looked like they had all the momentum, we'd come back. It just yo-yoed along like that. But the final whistle came in normal time and it was level.
"Straight away, we're facing into extra-time. And extra-time started for us started with losing a player, our goalkeeper, and them scoring a goal from a penalty. That's something you don't want to happen obviously.
"That put them in the driving seat. But I think our response in that 10 minutes really was the decisive part in the game. We ended that 10 minutes with Wexford going ahead by a point from a free, which really showed phenomenal characters and resolve from our players. And it was needed.
"Because when you're down a player out there, it's hard going. And they play that game where they run at you and run at you.
"It took ferocious effort from everybody. That, for me, was massive. And the last 10 minutes, the players just finished magnificently."
After a league campaign in which all the talk was of whistle-happy refs presiding over free-taking competitions, Fergal Horgan applied a more laissez-faire style reminiscent of past championships.
These battle conditions were much more to Cody's liking and the Kilkenny manager extolled the quality on show.
"People talk about physicality going out of the game. But thanks be to God, there was physicality in the game. And good honest to goodness physicality. It's an integral part of hurling. Skill to burn, magnificent scores, excellent defending - it was just two very, very good teams.
"With 10 minutes to go in extra-time, we were a point behind and we won the game by... I don't know how much to be honest. It was a terrific battle, great game to be involved in, a serious, serious game."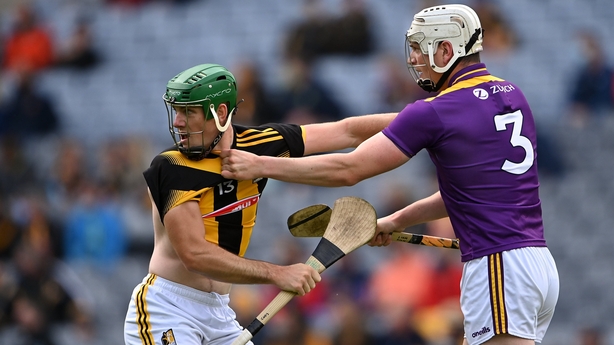 Kilkenny fans may have momentarily thought they wouldn't get to extra-time. Leading by just one point in injury-time, Conor McDonald rattled their net after flicking the ball away from Eoin Murphy on the edge of the square. However, the umpire was quick to wave the white flag, initially causing confusion before Hawkeye endorsed his call that Liam Ryan's shot had cleared the crossbar before the Kilkenny keeper batted it down.
It was a rare occasion when the attacking team were praying to see 'Níl' appear on the big screen in Croke Park.
"He (the umpire) went for the white flag first," points out Cody.
"But hawkeye takes part in the game as well. So, of course, that (a goal) would have made it serious for us. But look, the ball was over the bar and we went on and did the job."
Hawkeye ??

— Eoin Murphy (@eoinscruff) July 3, 2021
Kilkenny now face Dublin in a Leinster final for the first time since 2014. Cody is adamant he wasn't surprised that it's not Galway, much touted after their league showing, that they're facing.
"Dublin had a terrific win today, we wouldn't have seen it. But obviously we will have a look at it. Everyone is asking me am I surprised. I'm not surprised. I know exactly how good Dublin are. I know exactly how good Galway are. And everybody else does too.
"And they (Galway) still are in the championship so that's not going to change. If I was asked before today's two games, who is going to win both games, I would have said I really don't know.
"Any of the four teams could have won today. But thanks be to God, we're one of the teams that won it."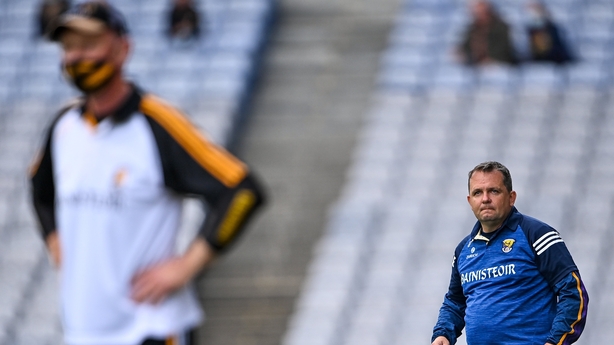 Wexford boss Davy Fitzgerald said he believed his team were better over the course of the 70 minutes and said a couple of calls cost them at crucial moments - in particular citing a free not awarded to Jack O'Connor with just over 10 minutes remaining.
"I feel we were the better team in the 70 minutes, that's my honest opinion," he told the Irish Examiner.
"I think one or two little things went against us. But you have to say fair play to Kilkenny, they'll never give in, they'll stay with you all the time. Total respect for that. But I honestly believe we were the better team in the 70 minutes.
"I thought a big turning point was Jack O'Connor's free. I 100% believe that was a free to Wexford. Eoin Murphy gets it and puts it over the bar. So instead of us being two points up, it was a two-point swing."